Hand Therapy
Hand Therapy at UC Davis Health was established in July 1992 to evaluate and provide specialized services to patients with hand and upper extremity problems. Experienced certified hand therapists work closely with the referring physicians to provide quality care to our patients. We provide comprehensive and specialized services for patients with various problems such as carpal tunnel syndrome, tendon injuries, peripheral nerve injuries, and fractures.
Patients Who Benefit from Hand Therapy
Hand Therapy offers a comprehensive rehabilitation service for patients who are disabled as a result of acute or chronic hand and upper extremity injuries, have auto-immune and genetic disorders, or are status post an elective surgery. Some of the diagnoses treated include:
Arthritis
Arthroscopic surgery of wrist, elbow and shoulder
Carpal tunnel syndrome, cubital tunnel syndrome and radial tunnel syndrome
Crush injuries
Tendonitis/Tendonosis
Dupuytren's contracture
Flexor or extensor tendon repair
Fractures
MP and PIP arthroplasties
Peripheral nerve repair
Peripheral neuropathies
Complex regional pain syndrome (CRPS)
Replantations
Tendon transfers
Lateral and medial epicondylitis
Amputations
Services offered
Comprehensive services include:
Custom splinting and prefabricated splinting
Modalities (heat, ice, fluidotherapy, contrast baths, electrical stimulation)
Desensitization
Edema control
Therapeutic exercises
Pain control
Range of motion
Strengthening
Sensibility testing (Semmes-Weinstein and two-point discrimination)
Sensory discrimination
Work conditioning
Patient education regarding injury and anatomy, activity modification, assistive devices, and joint protection
Wound care
Scar management
Prosthetic training
How to get an Appointment
We require a prescription from a physician for services to be provided. For outpatient services, the prescription can be mailed, faxed or hand delivered to the Physical Medicine and Rehabilitation Department Therapies reception desk in Suite 1100 of the Ellison Ambulatory Care Center (4860 Y Street, Sacramento). Prescriptions from within the UC Davis system are automatically routed to the rehabilitation department. Authorizations will be obtained if needed, and then you will be contacted for an appointment. Should you not receive an email or automated call, please don't hesitate to call our office directly at 916-734-6700.
What to Expect
Our office staff will take your insurance information and have you fill out any needed paperwork. Please bring to your appointment your insurance cards and any medical records you may have as well as the prescription from your doctor. Please be sure to check with your insurance for co-pays and coverage information. Dress so you can move easily and comfortably.
Meet Our Hand Therapy Team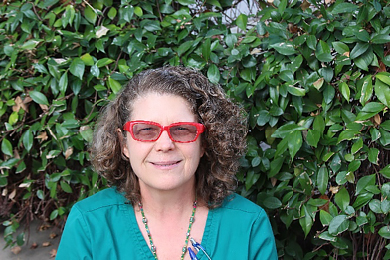 Jean Kotal
Jean received her Bachelor of Arts in Theatre Design and Technology from Northern Illinois University 1984 and worked in professional theatre for several years in the Bay Area. She returned to study and received her Post Baccalaureate degree in Occupational Therapy from Loma Linda University in 1994. She has worked at U.C. Davis Medical Center since 1995, treating patients on the Acute Care, Acute Rehabilitation and Outpatient settings. In 2006, Jean joined the Hand Therapy team focusing on upper extremity post- operative total shoulder replacements, rotator cuff dysfunction, fractures, tendon/ nerve laceration and burn patients for the upper extremities. In 2007, Jean became a Certified Lymphedema Specialist through Klose Lymphedema Training, treating post cancer patients. She has also serves on the board of directors for the Sierra Hand Therapy Foundation that provides networking and education for local and foothill hand therapists. Jean received an Advanced Practice Certification in Hand and Upper Quarter Rehabilitation at Drexel University in 2015. In her spare time, she enjoys dabbling in art and supporting art of all kinds- visual, music and theatre, and traveling with her family.
---
Kim Groninger
Kim received her degree in Occupational Therapy from the University of New Hampshire. She moved to California from Vermont and started working at UC Davis in 1996. She started on acute care and rotated through inpatient acute rehabilitation and outpatient neuro rehabilitation, primarily treating people with orthopedic, burns, and neurological injuries. In 2002 she became a Certified Hand Therapist and transitioned to Outpatient Hand Therapy and has been there ever since. Kim has been a member and served on the board of the local hand therapist organization, The Sierra Hand Therapy Foundation since 2000. Kim loves the variety of individuals and injuries she is able to work with in her career as a hand therapist. Working with the upper extremity from the shoulder to the hand, with infants to seniors, she finds her work very rewarding. Outside of work Kim is very busy with home life in the foothills. She is married and has young children at home as well as many animals. She enjoys traveling back to the east coast, skiing, horseback riding and working on home and yard projects.
---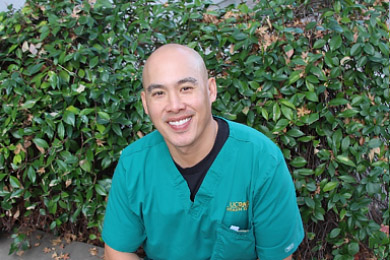 Jonathan Lum
Jonathan Lum graduated from California State University Fresno with a Bachelor's Degree in Kinesiology with an emphasis in Exercises Science in 1998. He returned to graduate school at University of Southern California where he received a Master's Degree in Occupational Therapy in 2001. He has been a certified hand therapist since 2009. Jonathan worked at USC Medical Center from 2001-2013 outpatient Hand Therapy, Sutter Medical Foundation in Fairfield outpatient Hand Therapy 2013-2015. He has worked at UC Davis Medical Center since 2015 and works in outpatient Hand Therapy.