Occupational Therapy
Occupational therapists assist patients in relearning a variety of daily activities, including eating, dressing, and personal hygiene. These activities are referred to as activities of daily living (ADL). Occupational therapists also help patients regain control and function of their arms and hands. Additionally, occupational therapist may assess the need for a wheelchair, specialized cushions, or other equipment that will allow patients to function safely and independently in the home and community environment. Therapists instruct both the patient and family on the use of this equipment, positioning and transferring techniques, and activities of daily living.
Services Offered
Services offered include specialized seating and wheelchair assessment for pediatric and adult patients on the inpatient and outpatient services, as well as evaluation and recommendation of other durable medical equipment such as bathroom grab bars, commodes, shower seats, and other assistive devices for daily living. Treatment of complex burn patients, including those needing special hand/upper extremity splints, is offered for both in and out patients.
How to Schedule an Outpatient Occupational Therapy Appointment
We require a prescription from a physician for services to be provided. For outpatient services, the prescription can be mailed, faxed or hand delivered to the Physical Medicine and Rehabilitation Department Therapies reception desk at 1535 River Park Drive Suite 1000, Sacramento, CA. Prescriptions from within the UC Davis system are automatically routed to the rehabilitation department. Authorizations will be obtained if needed, and then you will be contacted for an appointment. Should you not receive an email or automated call, please don't hesitate to call our office directly at 916-734-6700.
What to Expect
Our office staff will take your insurance information and have you fill out any needed paperwork. Please bring to your appointment your insurance cards and any medical records you may have as well as the prescription from your doctor. Please be sure to check with your insurance for co-pays and coverage information. Dress so you can move easily and comfortably.
Volunteer Opportunities for Occupational Therapy
UC Davis Health offers volunteer opportunities for undergradulate college students interested in the field of Occupational Therapy. These opportunities are coordinated through the UC Davis Health Volunteer Services. UC Davis Health Volunteer Services can be contacted at 916-734-2401. Volunteers may observe Occupational Therapy treatments and evaluations, and may be assigned to observe Occupational Therapists and Certified Occupational Therapist Assistants (COTAs) in the following settings: Outpatient, Inpatient Rehabilitation or Acute Care. In addition to observing Occupational Therapy sessions, other volunteer duties may include: assisting with computer exercise programs, filing, photocopying and cleaning. Volunteers typically work up to 4 hours per week up to 50 hours total. This placement is an opportunity for the volunteer to observe and learn rather than to participate in a structured and formal classroom experience.
Clinical Affiliation (Fieldwork) Opportunities for Occupational Therapy Students
UC Davis Health offers clinical affiliation opportunities for students currently enrolled in accredited programs in the United States for Occupational Therapy and Certified Occupational Therapist Assistants. In order for a student from a program to be eligible for a clinical affiliation at UC Davis Health, contracts between individual programs and UC Davis Health are required. To discuss potential clinical affiliations/ contracts, the Field Work Coordinator from the accredited Occupational Therapy or Occupational Therapist Assistant program should contact the following UC Davis Health Clinical Field Work Coordinators for Occupational Therapy:

Karen Jose, OTR/L, Clinical Field Work Coordinator
Bryan Barry, OTR/L, Clinical Field Work Coordinator
Meet our Outpatient Occupational Therapy Team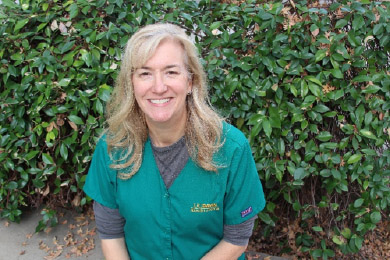 Carrie Newman
Carrie Newman received her Bachelor of Science degree in Biopsychology from U.C. Santa Barbara and her Master's degree in Occupational Therapy from Samuel Merritt University. She has worked at U.C. Davis Medical Center since 1997, treating patients on the acute care, inpatient rehabilitation and outpatient clinical settings. Carrie has specialized the last 17 years in improving independence with activities of daily living and functional mobility for clients with diverse neurologic problems in the outpatient setting. She works with clients across the lifespan with stroke, spinal cord injury, Multiple Sclerosis and traumatic brain injury, among others. Carrie is trained in NeuroDevelopmental Treatment and uses it in her daily practice. Carrie obtained her RESNA Certified Assistive Technology Professional certification to further enhance her skills when completing custom manual wheelchair and power mobility and seating evaluations for her clients. Her clinical interests include working with adult populations with neurological disorders to help improve their quality of life and recovery of function through the use of assistive devices, durable medical equipment, strengthening or adaptive techniques.
---
Teri Hayward
Teri Hayward has worked at UC Davis Medical Center, in Sacramento, CA since 2010, and serves as lead therapist in outpatient pediatrics, adult multidisciplinary ALS Clinic, and ocular lens implantation OT program. Teri earned Bachelor of Science degrees in Psychology, and Occupational Therapy from the University of Southern California.
During her 37 year career, her clinical interests have ranged from treating newborn to geriatric patients, in settings including inpatient acute care, outpatient hospital clinics, skilled nursing rehabilitation facilities, inpatient pediatric psychiatry, school based and private practice pediatric clinics.
Teri currently works as a senior pediatric OT in outpatient therapies, addressing functional and mobility deficits in children across a wide range of congenital and acquired neurological and physical diagnoses. She is trained in sensory integration and praxis treatment, earned a SIPT Certification in 1984 to further her diagnostic and treatment skills, and has specialized in treating children with various functional deficits, impacted by sensory processing challenges. Teri also has a passion for serving patients and their care teams, in the multidisciplinary ALS Clinic, providing individualized, therapeutic intervention and support throughout the progression of their functional decline. Teri provides custom manual wheelchair and power mobility device seating and positioning evaluations for children and adults, enjoys teaching the therapy preoperative classes for adults preparing for joint replacement surgery, and teaching functional mobility educational in-services for residents. Additionally, she has trained and provided pre and postoperative OT services for AMD patients with ocular telescope implants. Beyond professional endeavors, her most treasured accomplishment is as a mother and now grandmother. She's known as an energetic, outdoor adventurer by friends and family and is forever committed to serving others.