Physical Therapy
Inpatient Physical Therapy
Physical therapists working in the hospital teach patients mobility skills needed to become functionally independent. An individualized program is developed and discussed with each patient and with family members as appropriate. The plan includes a goals that are tailored to the strength and movement needs of the patient. Physical therapists help patients achieve these goals in a variety of ways including mat exercises, wheelchair instruction, and the use of parallel bars or other devices for gait training. The family is instructed in these techniques so that they will be prepared to help the patient achieve maximal independence at home and in the community.
Outpatient Physical Therapy
Our outpatient physical therapy staff are skilled in treating a variety of orthopedic conditions including, sprains, strains, tendonitis, bursitis, and contusions, as well as neurological conditions including spinal cord injuries, strokes and head injuries. Specialty programs include:
Low Back Pain (SLEEK)
Pelvic Floor
Parkinson's Disease (BIG)
Independent Gym
Vestibular Rehabilitation
Gait Training: Specialty Equipment, Re-Walk
Prehabilitation
Wound Care
Lymphedema
Clinic Support: Neuromuscular Disease, Amyotrophic Lateral Sclerosis, DMD, Amputee, OB/Gyn, Feeding
Amputee Rehabilitation
Cancer Support
Pediatric Sports Rehabilitation
Sports Concussion Management
How to Make an Appointment
We require a prescription from a physician for services to be provided. For outpatient services, the prescription can be mailed, faxed or hand delivered to the Physical Medicine and Rehabilitation Department Therapies reception desk at 1535 River Park Drive Suite 1000, Sacramento CA 95815. Prescriptions from within the UC Davis system are automatically routed to the rehabilitation department. Authorizations will be obtained if needed, and then you will be contacted for an appointment. Should you not receive an email or automated call, please don't hesitate to call our office directly at 916-734-6700.
What to Expect
Our office staff will take your insurance information and have you fill out any needed paperwork. Please bring to your appointment your insurance cards and any medical records you may have as well as the prescription from your doctor. Please be sure to check with your insurance for co-pays and coverage information. Dress so you can move easily and comfortably.
Volunteer Opportunities in Physical Therapy
UC Davis Health offers volunteer opportunities for undergradulate college students interested in the field of Physical Therapy. These opportunities are coordinated through UC Davis Health Volunteer Services. UC Davis Health Volunteer Services can be contacted at 916-734-2401. Volunteers may observe Physical Therapy treatments and evaluations. Some volunteer duties may include: observing patient exercises/treatments and manual therapy techniques, assisting with computer exercise programs, filing, photocopying or cleaning. Volunteers typically work up to 4 hours per week, for up to 50 hours total. This placement is an opportunity for the volunteer to observe and learn rather than to participate in a structured and formal classroom experience.
Clinical Affiliation Opportunities for Physical Therapy Students
UC Davis Health offers clinical affiliation opportunities for students currently enrolled in accredited Physical Therapy and Physical Therapist Assistant programs in the United States. In order for a student from a program to be eligible for a clinical affiliation at UC Davis Health, contracts between individual programs and UC Davis Health are required. To discuss potential clinical affiliations/ contracts, the Director of Clinical Education (D.C.E.) from the P.T. or P.T.A. Program should contact one of the following Clinical Coordinators of Education (C.C.E.):

David Clark, P.T., C.C.E.
Lucia Rael, P.T.A., C.C.E.
Meet our Physical Therapy Team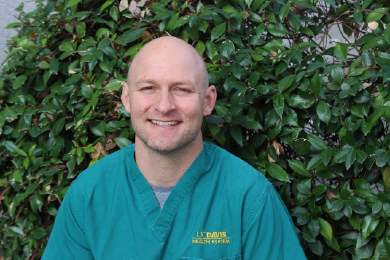 Casey Maynard
Casey attended Pacific Lutheran University in Tacoma, Washington for both his B.A. in Biology and B.S. in Physical Education Pre-Therapy, then earned his Master of Science in Physical Therapy from the UC San Francisco / SF State joint program. Beginning in 2006, he has continuously worked at UC Davis Medical Center in the outpatient setting, treating a variety of patients with impairments ranging from orthopedic joint and soft tissue injuries to neurologic diagnoses including CVA, TBI, spinal cord injuries and autoimmune diseases. Additional areas of interest include orthopedic manual therapy and sports rehabilitation. Since 2012, he has served as president of the Jireh Foundation, a local non-profit that funds equipment, supplies and services to improve the quality of life for underserved UC Davis Medical Center PM&R adult and pediatric patients. In his spare time, Casey enjoys golf and obstacle course racing.
---
Laura Perry
Laura graduated from UC Davis with her Bachelor of Science in exercise biology and completed her doctorate in physical therapy at the University of Southern California in 2013. Since then, Laura has been working primarily in the outpatient and acute rehabilitation physical therapy settings, treating patients with orthopedic, neurologic, and vestibular diagnoses. Laura started her career at UC Davis in 2017 where she works in the outpatient therapy department and also assists with the Neuromuscular Disease multi-disciplinary clinic. She specializes in working with patients with neurologic dysfunction, including patients with stroke, spinal cord injury, traumatic brain injury, and Parkinson's disease. She received her certification as a Neurologic Clinical Specialist from the American Physical Therapy Association (APTA) in 2018. In her spare time, Laura enjoys being outdoors, traveling, and spending time with her friends, family, and dog.
---
Joseph Ryan
Joe received his Bachelor in Biology from Santa Clara University and his Masters in Physical Therapy from Emory University. He has worked at UC Davis Medical Center since 1996, treating patients on the acute care, rehabilitation and outpatient settings. In 2004, Joe became Neurologic Certified Specialist through the American Physical Therapy Association (APTA). He has also served as Chair, Vice Chair and Newsletter Editor for the Northeast District of the CPTA. Joe has specialized the last 19 years in improving functional mobility in clients with orthopedic and neurologic problems in the outpatient setting, treating clients with stroke, spinal order injury, Multiple Sclerosis and Parkinson's Disease. Over the last 6 years, Joe has treated clients with benign paroxysmal positional vertigo and vestibular hypofunction. Joe currently oversees the STEP program at UC Davis, which helps expose high school students to various professions within the field of PM&R. He is Certified Clinical Instructor through the APTA and has mentored over 20 Physical Therapy students over the years. In his spare time, Joe enjoys spending time with his family, travel, coaching youth sports and wood working.
---
Romy Villaluz
Romy received his B.S. degree in Kinesiology emphasis in Exercise Science from Cal State University, Fresno. He then went onto obtain his A.S. degree in P.T. Assistant and is a practicing Physical Therapist Assistant experienced with treating a various patient population from acute inpatient to inpatient Rehab and to Outpatient setting for the last 12 years.
Romy's fascination with the movements of the human body and his excitement for health and well-being drew him to UC Living Fit Forever and is now the Manager of the various Wellness programs including UC LFF. Romy began running for fun and fitness in 2010 alongside his sister who had already been running half and full marathons. He has completed 8 marathons to date, including the Big Sur, Napa Valley and CIM as well as more than twice the number of half marathons. Come join him in classes throughout the week.
---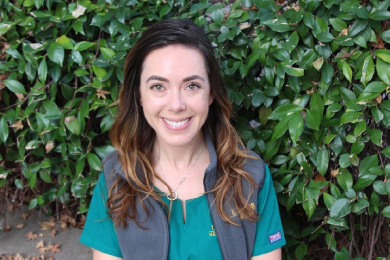 Madeline Smiley
Maddie completed her Bachelor's degree in Managerial Economics from UC Davis. She then received her Doctorate in Physical Therapy and Master's in Public Health from New York Medical College. Maddie has been working at UC Davis Medical Center since 2017. She currently works with women of all ages with pelvic floor dysfunction. Maddie's specialty areas include pregnancy, post-partum, incontinence and elimination disorders, as well as pelvic and sexual pain. Maddie is in the process of completing her certification in pelvic floor rehabilitation. In her spare time, Maddie enjoys traveling, Pilates, and cooking.
---
Jeffrey Mann
Jeff received his degree in Physical Education with an emphasis in Sports Medicine/Athletic Training and a Minor in Psychology at Humboldt State University. Jeff became a Certified Athletic Trainer and began his career as an Athletic Trainer working at high schools and a physical therapy aide in the outpatient clinical setting. After working at local high schools in Arcata, San Diego and Seattle areas, he then pursued his Physical Therapist Assistant license at Sacramento City College to continue to treat patients in the clinical setting. Jeff has worked in various outpatient settings, inpatient acute care and inpatient rehabilitation unit. He has been working at UC Davis Medical Center since 2005. He is a certified clinical instructor through the APTA and has had the opportunity to mentor more than 10 Physical Therapist Assistant students through the years. In his spare time, he enjoys coaching youth sports, golfing, traveling with family and following soccer.
---
Pauline Hutton
Pauline graduated from UC Davis with a Bachelor of Science in Biochemistry and from Northwestern University with a Bachelor of Science in Physical Therapy. She has worked in nearly all areas and settings of physical therapy in well over 25 years of practice. In her free time, she enjoys food, family, friends, and watching basketball.
---
Tyrone Jenkins
Tyrone worked as a Personal Trainer before deciding to continue his education in Physical Therapy. Tyrone graduated from the Cerritos Collage Physical Therapy Assistant Program in 2004. He has worked at UC Davis Medical Center since 2011 starting in the Rehabilitation Pediatric Unit and transitioning to outpatient Physical Therapy. Tyrone has assisted in managing and teaching Aquatic Therapy along with teaching core stability and postural awareness through S.L.E.E.K (Stronger Living, through Exercise, Ergonomics, Education and Kinesthetics) program, certified L.S.V.T (Lee Silverman Voice Training) BIG clinician progressing Parkinson's patients functional mobility.
In addition, Tyrone also serves as a clinical instructor certified through American Physical Therapy Association (APTA). Teaches pre operation classes for patient preparing for knee and hip replacements. He enjoys physical fitness, spending time with his family, reading and golfing.
---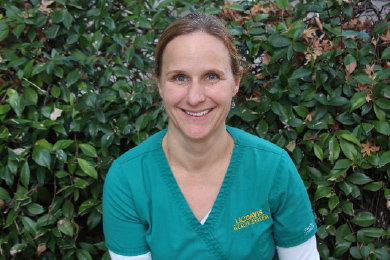 Sarah Angel
Sarah started her career in health care working as a massage therapist in small clinics 1998. Sarah graduated with her Master's degree in Physical Therapy in 2003 from the University of the Pacific in Stockton. Sarah has worked in many environments and with many populations of patients in Physical Therapy from pediatrics to geriatrics. She has worked extensively with patients who are newly post op from orthopedic surgeries in the hospital setting. In the outpatient setting, Sarah's focus is on finding what works for each individual within the setting of their own life. She finds joy in helping people incorporate taking care of their bodies and health into their busy daily lives. It is important to Sarah that the patient feels motivated and actively seeks to help the patient find what motivates them to work to feel better. Sarah feels that manual therapy is a highly effective treatment for correcting muscle imbalances and reducing pain and inflammation thus allowing patients to complete exercises more effectively and without increasing their pain. In her free time, Sarah enjoys spending time with family and friends, reading and being outdoors as much as possible.
---
Kurtis Hallam
Kurtis graduated from Andrews University in 2014 with his doctorate in physical therapy. He has since been working in the greater Sacramento/Roseville area in private practice outpatient clinics. His primary specialty is orthopedics with an emphasis in manual therapy treatment techniques. Aside from orthopedics, he also has an interest in vestibular rehabilitation in which he has taken several continuing education courses. When not at work Kurtis enjoys a variety of outdoor activities including; snowboarding, wakeboarding/boating, camping and golfing. Most importantly he enjoys spending time with his wife and two dogs Gus and Nana.
---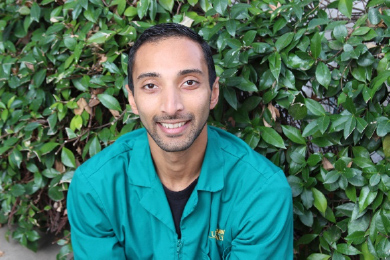 Kingsley Manoharan
Kingsley received his Bachelor's degree in Kinesiology with an emphasis in Exercise Movement Science and his Doctor of Physical Therapy from Boston University. He has worked at UC Davis Health since 2013, treating patients with orthopedic and neurological conditions. In particular, he enjoys rehabilitation in the setting of return to sport. He is also the Amputee Specialist working directly with physician and prosthetist to return patients to walking safely with prosthetic legs. Kingsley is a certified clinical instructor through the APTA. In his spare time, he enjoys snow sports, mountain biking, wood working, and spending time with his family.
---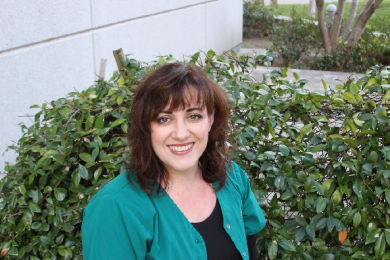 Tonya Tocchini
Tonya received her Bachelor of Arts in Sports Sciences from the University of the Pacific and went on to get her Doctorate in Physical Therapy from Western University of Health Sciences. Prior to joining UC Davis Medical Center in 2016, she worked in the private practice setting for over 9 years, was a clinic manager and specialized in Prosthetics for over 7 years. Tonya has worked in the outpatient setting most of her career; aiding to improve functional mobility and independence in patients with orthopedic diagnoses along with some neurological diagnoses. She also helped to start our UC Davis Health Physical therapy clinic within the Carmichael/Citrus Heights PCN in July 2018. Outside of work Tonya enjoys hiking, gardening, cooking, watching Broadway shows and traveling.
---
Kay Moultrie
---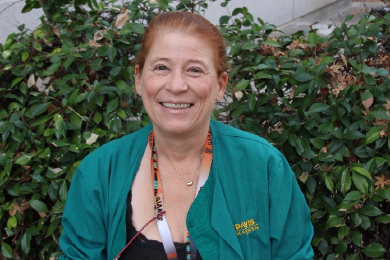 Michelle Bauer
---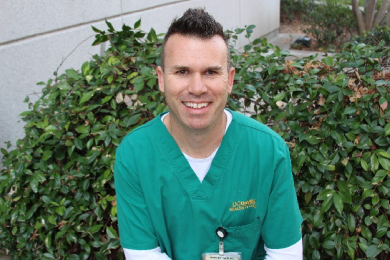 Sean Sumner
---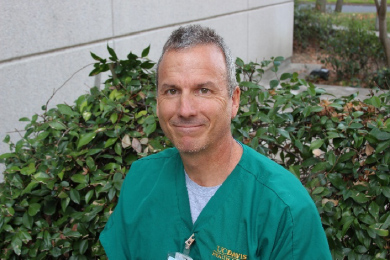 Steven Sylvester
Steve graduated from California State University, Sacramento with a master's degree in physical therapy in 2013. He has been working predominately in the outpatient setting ever since, and working at UC Davis Medical Center since late 2018. Promoting the profession is important to Steve, he is an APTA certified instructor and has mentored several students and written many letters of recommendation for students aspiring to attend PT programs. Steve utilizes Instrument Assisited Soft Tissue Manipulation, kineseotape, cupping and other manual therapies in his practice. Home exercise programs and patient participation are always promoted and he encourages patients to continually assess and improve their overall health. He has a lot of experience treating plantar fascitis, tennis and golfer's elbow, and other tendonitis. Steve loves travelling with his wife and enjoys many outdoor activities including; skiing, surfing, cycling, kayaking, fishing and hiking. He loves the greater Sacramento area for pursuing all these sports.
---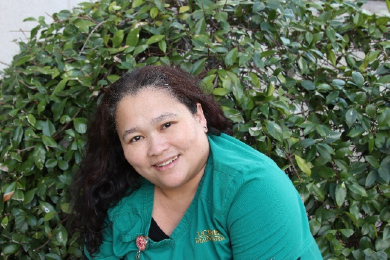 Marie Herrera


---
Lisa Griffin
---
Nicole Lee
Nicole graduated from CSU, Sacramento in 2000 with a Bachelor of Science degree in Kinesiology/Exercise Science. She graduated with her Master's degree in Physical Therapy in 2004. She has specialized in Pediatrics since she graduated and focuses most of her continuing education in the field of Neuro-pediatrics and Early Infant Development. She has worked in a multitude of environments including School Based Physical Therapy, High Risk Infant Clinic, Neonatal ICU and Inpatient/Acute Physical Therapy setting. She has spear-headed two programs at UC Davis Medical Center in the hospital to increase mobility and Physical Therapy in the Trauma ICU and Pediatric ICU. Outside of work Nicole enjoys Crossfit, Olympic Weightlifting and spending time with her husband and three children.