Frequently Asked Questions (FAQ)
What types of services are offered from the Center for Nursing Science?
We offer assistance with various research, evidence-based practice and scholarly initiatives, as well as review of clinical policies, manuscript submission and presentation review. See below for more details, email hs-nursescience@ucdavis.edu or make an appointment.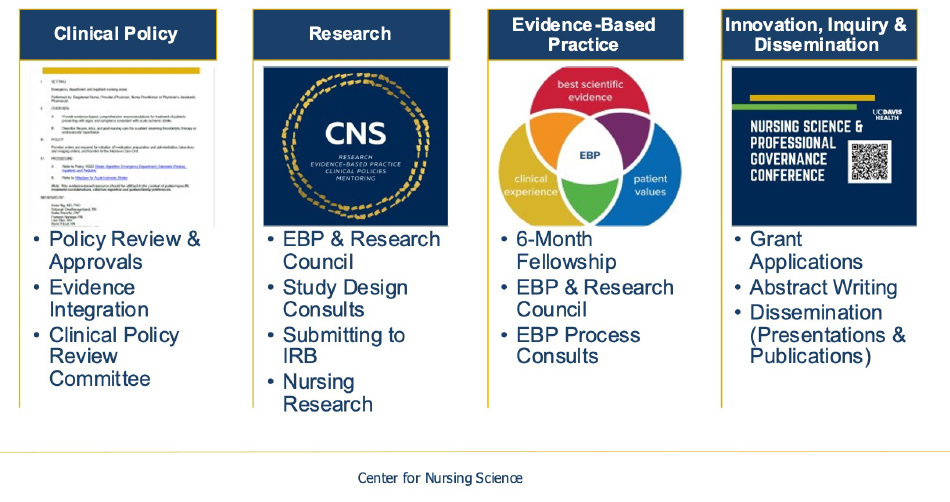 I am working on a presentation. Where do I find UC Davis Health PowerPoint templates for oral and poster presentations?
I would like to print a poster presentation for a conference or for our unit. What is the process for poster printing?
Links and resources are found in the poster printing resources section on the website.
I am conducting a scholarly or evidence-based practice project. Where can I find resources on accessing databases and finding evidence? Why can't I find subject guides on the Blaisdell Library Website?
The Blaisdell Medical Librarians have developed an Evidence-Based Practice Resources Subject Guide where resources, including point of care tools, practice guidelines, systematic reviews, and literature databases can be found. Note: The library website underwent a re-organization in Summer/Fall 2022 and therefore Subject Guides may look different...
I am working on a project. How do I know if I need to submit an application to the IRB?
I am interested and/or required to submit an abstract to the annual Nursing Science and Professional Governance Conference. What are the general submission deadlines and timeline?
Dec-Jan:
Feb-March:
March:
Authors Notified of Presentation Decision
March-April:
May:
Conference (held on Wednesday during Nurses Week)