Don't delay your care during the COVID-19 pandemic
If you're ill or hurt, our Emergency Department is prepared, safe and ready to serve you and your family.
UC Davis Medical Center Emergency Department
Welcome, we are here to provide you with the best health care possible. Before you visit, some important things to remember to bring are:
your ID
list of current medications
list of medication allergies
health insurance information
list of questions to ask a medical professional
Upon your arrival, a nurse will be available to greet you and ask you for your name, date of birth, and reason for visit. These will be entered into the computer.
Waiting area
When you first arrive in the waiting area, the first steps will be triage and registration. In a confidential space within the waiting room, the triage nurse will:
Ask you to further describe your condition
Assess your situation
May order initial tests or treatment for you
Registration may happen at any time after triage. You will be seen regardless of your ability to pay. At the registration window, your address and insurance information will be entered into the computer.
Wait times
---
We see the most seriously ill and injured patients in our emergency department — patients are seen by severity of medical need and not necessarily in order of arrival.
The person sitting next to you may be in worse condition than you, symptoms of illness are not always visible. We appreciate your patience and understanding if you are required to wait.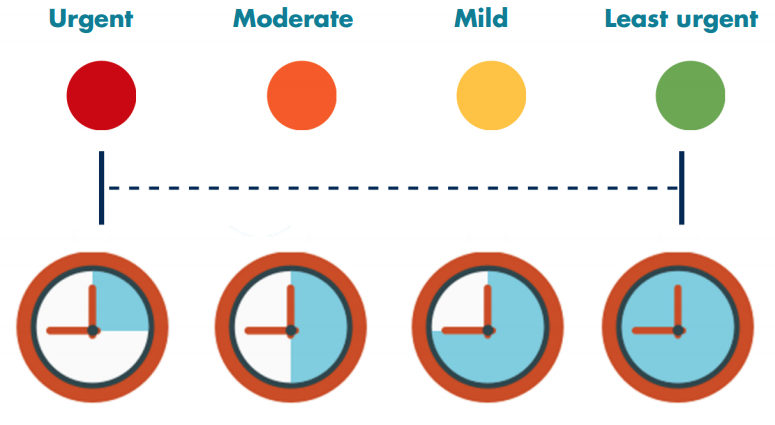 You may be called back every 2-4 hours to be reevaluated by the triage nurse while you wait to be seen in a treatment room.
If you experience any change in your condition (such as increased pain or bleeding), please notify the triage nurse.
You may also see a health care provider in the triage area and lab work or X-rays may be ordered.
A second doctor in the treatment area will discuss these results with you once you are placed in a treatment room.
Treatment
The Emergency Department team consists of doctors (interns, residents and attending physicians), nurses, technicians, and unit secretaries. Once in a treatment room, you will be:
Examined by a doctor or team of doctors who will make recommendations about your care.

Tests may be performed to learn more about your condition. You will remain in the treatment area while the tests are being run and your care team will let you know how long you can expect to wait before you get the results.

Once your tests are complete, your doctor will discuss your treatment options and plan the next steps with you.
Approximate test result times
---
Routine blood work
2 hours*
*Actual times may vary, and can be longer during busy times.
Discharge (leaving the Emergency Department)
When you are discharged, your care team will give you instructions to follow on leaving the Emergency Department and answer any questions you may have about your follow-up care. It is important that you can then follow up with a primary care physician.
Admission to the Hospital
If a decision is made to admit you to the hospital your Emergency Department nurse will care for you until your hospital bed is available. Your Emergency Department doctor will make arrangements for your care with the doctors and nurses in the hospital.
UC Davis Pavilion Pharmacy
---
Hours
8 a.m. – 7 p.m. weekdays
9 a.m. – 6 p.m. weekends and holidays
Location
Surgery and Emergency Services Pavilion
Just inside main entrance on X Street at 2315 Stockton Blvd., Sacramento, CA, 95817
Contact: 916-703-6100
Other pharmacies
If you would like to visit a different pharmacy, we have other options. For a full list of outpatient pharmacies please see our Outpatient Services page on our pharmacy website