School of Medicine celebrates implementation of modernized curriculum
Five faculty members honored for their contributions to I-EXPLORE
(SACRAMENTO)
Five UC Davis School of Medicine faculty members were honored this week for their key roles in the implementation of a revamped curriculum that modernizes medical education.
The curriculum, known as I-EXPLORE, has transformed what students learn and how they learn during their four-years of medical school. It was developed by faculty, residents, staff and students – with input from hundreds of others – quickly and during trying circumstances, including the coronavirus pandemic.
"I'm so impressed with all the work that the faculty have done," Kristin Olson, associate dean for curriculum and medical education, told dozens of attendees at an I-EXPLORE luncheon at the UC Davis MIND Institute on Tuesday. The gathering brought together faculty and staff to celebrate the curriculum's full implementation.
Olson also credited the school's Office of Medical Education staff, which "really rose to the occasion, learned lots of new things, learned about these new pedagogies, and how to support their implementation."
These are the award winners and their achievements:
I-EXPLORE stands for Integrated Explorative Patient- and Learner-Oriented Education. It replaced the previous medical school curriculum, which had been taught for at least the past 15 years.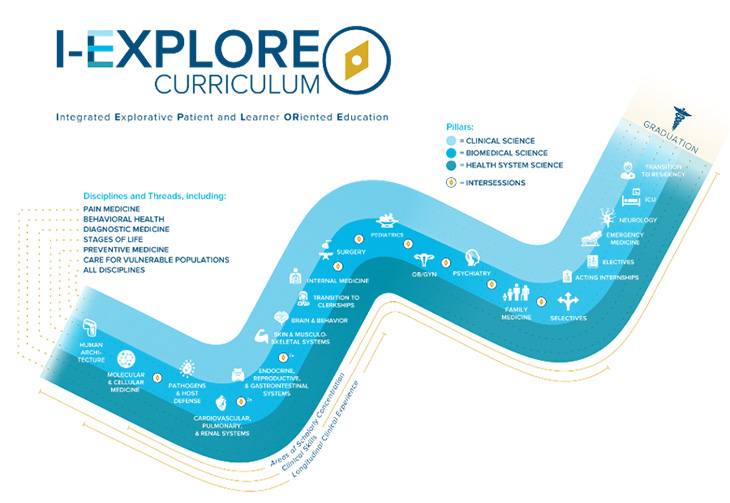 The new curriculum established an emphasis on the integration of biomedical science, clinical science and health system science. It also expanded education about health equity, moved up the timeline of student involvement in patient care, and provided students with more time and opportunities to explore their own interests.
The curriculum includes many strategies that better match the school's priorities and was implemented for all four classes over the past two academic years.
I-EXPLORE was adopted by faculty committees and an overwhelmingly positive faculty vote during a challenging time.
The pandemic had disrupted the health campus, and the School of Medicine was deep into preparing for its high-stakes accreditation review from the national Liaison Committee on Medical Education.
The nine months it took to adopt the curriculum proposal was an "incredibly rapid" process, said Mark Servis, vice dean for medical education and leader of the Office of Medical Education.
"In my time at UC Davis, just to give you a little bit of history," said Servis, who has been on campus since 1990, "this is by far the most significant achievement in medical education for the school, and you've all played an instrumental, critical role in that accomplishment."