Eye care professionals from Latin America train at UC Davis simulation center
Two-week event is a partnership with eye care nonprofit Orbis International
(SACRAMENTO)
Health care professionals from Bolivia, Chile and Peru gathered at the UC Davis Health Center for Simulation and Education Enhancement this week. They were here as part of a special training project conducted in partnership with global eye care nonprofit Orbis International.
The two-week training program, which began Oct. 10, brings together nearly 50 ophthalmologists, ophthalmology residents, nurses, and biomedical engineers from Latin America to learn eye health skills from UC Davis physicians, nurses and staff.
The ophthalmologists and ophthalmology residents train on the Flying Eye Hospital, a plane-based ophthalmic teaching hospital currently parked at Moffett Federal Airfield in Mountain View. The nearly 25 nurses and biomedical engineers take turns training in the simulation center at UC Davis Health.
"We are excited to be teaming up with Orbis to provide training for our colleagues from Bolivia, Chile and Peru," said Mark Mannis, professor and chair of the UC Davis Department of Ophthalmology. "The UC Davis Eye Center is committed to preventing blindness and improving eye health around the globe. We are especially glad to help in regions where access to eye care is limited."
Niroop Ravula, an anesthesiologist and associate clinical professor in the UC Davis Health Department of Anesthesiology and Pain Medicine, volunteers with Orbis International. He helped coordinate the training sessions as well as the nonprofit's last visit to the simulation center in 2015. He said the focus is on a train-the-trainer methodology. Participants learn about topics such as equipment sterilization, crisis management and operating room procedures, and take this knowledge back to their home countries to train other health care team members.
"We are empowering the local doctors, nurses, and health care professionals so that when they return home, they can pass along what they've learned and further reduce morbidity and mortality," Ravula said. "We teach them in simulation about managing common health issues and crises, but also the importance of working as a team and how to close the communication loop."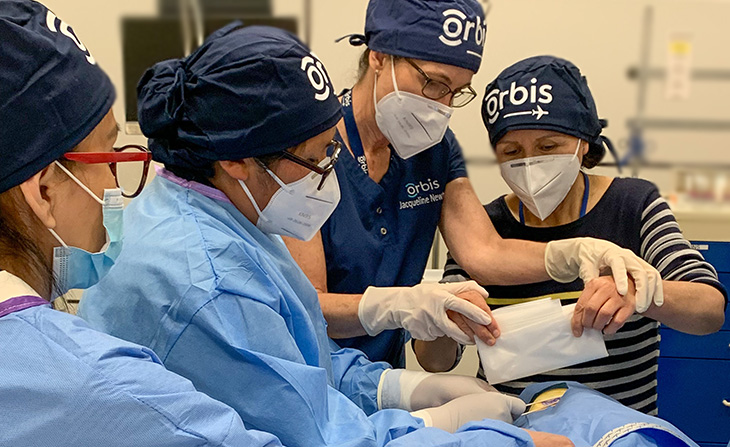 Participants taught to look for red flags during surgery
The all-day training sessions at the center begin with morning lectures given by UC Davis Health physicians and nurses on topics like the differences between pediatric and adult airways and how to handle medical code events. These lectures are followed by hands-on workshops focused on a variety of skills, including CPR and defibrillation. In the afternoon, participants experience simulation scenarios that emphasize what to do during medical events, such as a cardiac arrest, as well as how to bolster teamwork and communication skills during medical cases.
Jacqueline Newton, of Cape Town, South Africa, has spent the last 14 years working for Orbis as a staff nurse traveling all over the world. During the training sessions, she teaches participants how to maintain sterile surgical environments through proper gowning and handwashing and helps them understand their roles and what red flags to look for during the surgical process. The instructors gauge each participant's level and adjust their training methods as needed.
"The simulations allow them to practice the tasks and skills, building confidence so that they are more relaxed and familiar with the process when it comes time to prep a patient and do the surgery," Newton said. "Plus, we are able to include more people during a simulation session than in a clinical care setting, so the impact and reach are much greater."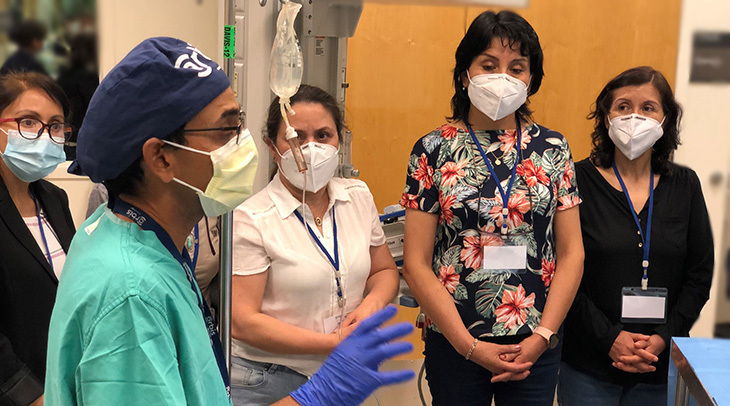 Participants find trainings applicable to real-life situations
Orbis Staff Nurse Elisa Urruchi, of Peru, also conducted simulation training sessions. Additionally, she served as an interpreter helping participants connect with teachers and staff who do not speak Spanish. She translated the comments of three of the visiting professionals about their experiences.
"It's a marvelous experience. I've had some simulation training before, but nothing that compares to here because the manikins and equipment are so realistic. It's amazing to see that these types of supplies exist," said Daniela Limachi, of Bolivia.
Rosa Chavez, of Peru, agreed.
"It's so much more than I expected, and all the trainings are applicable to real-life situations. I'm paying close attention to the training process because I want to take as much back home to the nurses I work with so we can replicate these procedures and change behaviors," Chavez said.
"It's been an intense week, but I am so happy and content," said Mireya Montecino, of Chile. "I especially like the trainings focused on pediatric anesthesia and all the things you have to consider to give your patients the best care possible."
Ian Julie, associate professor of emergency medicine and medical director for the simulation center, gave lectures to the participants focused on airway management and best practices for handling medical codes.
"It's exciting to work with health care professionals from different countries and to share our knowledge so that these professionals are prepared to deal with any and all emergencies that might occur in the course of the surgeries they provide around the world," Julie said. "By practicing various scenarios in the simulation center, we can help prepare them to tackle any serious medical issues that arise in the course of their invaluable efforts."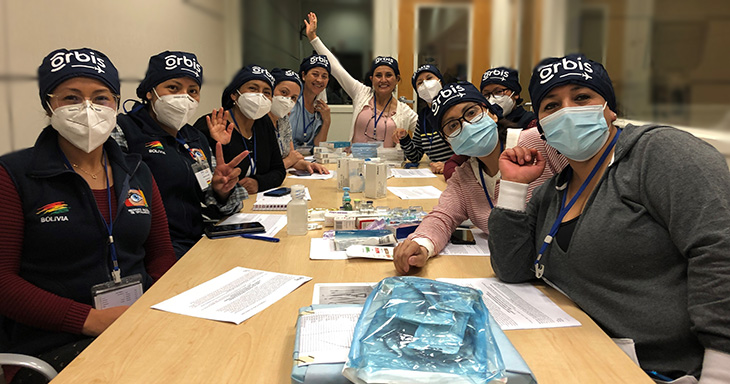 About the UC Davis Center for Simulation and Education Enhancement
The UC Davis Center for Simulation and Education Enhancement is a state-of-the-art health care simulation center focused on interprofessional medical education and research activities. Since its humble beginnings on the first floor of the UC Davis Medical Center, the simulation center has grown to include more than 10,000 square feet of dedicated simulation space on the third floor of the UC Davis Center for Health and Technology. In addition to patient simulators with advanced lifelike physiology, the center features a trauma bay, operating room, inpatient unit, six-bay patient ward area, task training room, technology-enhanced classrooms and standardized patient exam rooms. It's accredited as a Comprehensive Education Institute by the American College of Surgeons. For more information, visit the website.
About the UC Davis Eye Center
The UC Davis Eye Center provides world-class eye care, pioneers collaborative vision research, and trains the next generation of specialists and investigators to become leaders in the Sacramento region and beyond. The Eye Center team aims to transform vision care and develop cures for blinding eye diseases, from cornea to cortex. To learn more, visit the website.
About Orbis
Orbis is a leading global non-governmental organization that has been a pioneer in the prevention and treatment of avoidable blindness for four decades. Orbis transforms lives by delivering the skills, resources and knowledge needed to deliver accessible quality eye care. Working in collaboration with local partners, including hospitals, universities, government agencies and ministries of health, Orbis provides hands-on ophthalmology training, strengthens healthcare infrastructure and advocates for the prioritization of eye health on public health agendas. Orbis operates the world's only Flying Eye Hospital, a fully accredited ophthalmic teaching hospital on board an MD-10 aircraft, and an award-winning telemedicine platform, Cybersight. For the past ten consecutive years, Orbis has achieved Charity Navigator's coveted four-star rating for demonstrating strong financial health and commitment to accountability and transparency, placing Orbis in the top 3% of U.S. charities. For the past two years, Orbis has earned GuideStar's platinum Seal of Transparency. In 2022, Orbis earned "accredited charity" status from the Better Business Bureau by meeting all 20 of their standards for charity accountability. To learn more, visit the website.