Medical student awarded grant to study lung cancer therapies
Matthew Lara receives the 2023 Daniel T. O'Connor, M.D. Memorial Research Grant
(SACRAMENTO)
Matthew Lara grew up in a home where he looked forward to dinnertime conversations with his father, a physician-researcher, and his mother, a nurse, because they helped satisfy his deep appetite for science.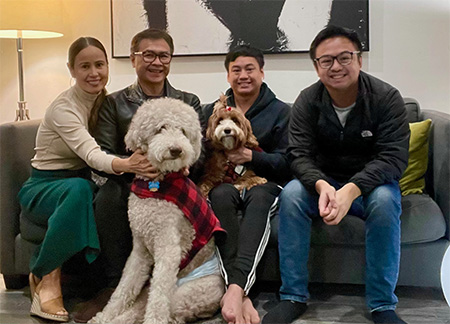 One evening, while in high school, Lara asked a question that changed his life. If two people get lung cancer, and one is under 50 years old, and the other is older, he asked his dad, who will have a better outcome?
His father essentially answered: Great question, son. Why don't you look it up yourself? Here's the URL for the California Cancer Registry, a major source of cancer statistics, websites, publications and tools to customize queries.
Lara jumped online and became a kid in a candy store. With the help of other experts, he tapped the registry to create a poster for an international conference — and he was barely a sophomore at Davis High School.
Lara is now a student in the UC Davis School of Medicine, which, for him, includes a steady dose of lung cancer research. He's also the 2023 recipient of the Daniel T. O'Connor, M.D. Memorial Research Grant (DTOC), named after an alumnus known for his scientific accomplishments.
The grant will allow Lara, who enters his fourth year of medical school this summer, to take a year off from the classroom and clinical rotations and focus solely on research.
"I'm so grateful for the DTOC grant because having funding and a year of protected time for research is invaluable for a medical student," Lara said. "This is such a great opportunity to work on so many projects I have going on right now and contribute to the field I love."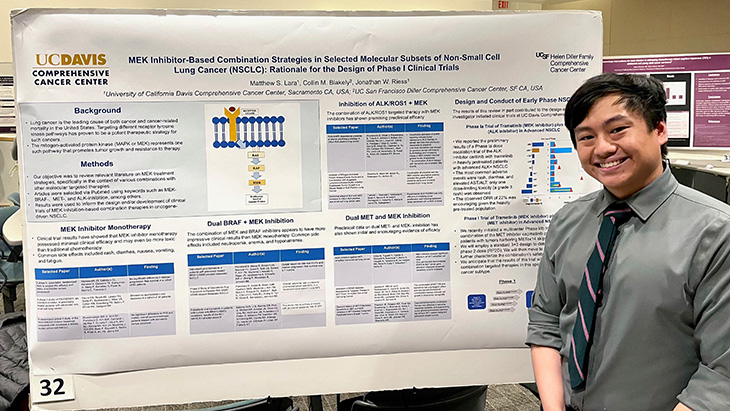 Daniel T. O'Connor's contributions
O'Connor was a 1974 UC Davis School of Medicine graduate who became an internationally renowned physician-scientist for his work at UC San Diego into hypertension and renal disease. A distinguished professor of medicine and pharmacology with over 400 original articles in major, peer-reviewed journals, O'Connor's research gave trainees invaluable skills in medical investigation. Many fellows and junior faculty who trained with him at UC San Diego went on to success in pharmacology, biotechnology, nephrology and other areas of academic medicine.
His widow Kellie Evans-O'Connor, along with other members of his family, and friends and colleagues, established the endowment following his death in 2014.
The grant is awarded each year to a medical student who is focused on a career in academic medicine and whose research project embodies the values that were important to O'Connor: high quality research in translational medicine that utilizes a multi-disciplinary, highly collaborative, "bench to bedside" approach.
Lara is an ideal fit for the grant, said his mentor, Jonathan Riess, the medical director of thoracic oncology at UC Davis Health.
"He is a fast study and picks up complex biologic and medical concepts quickly," said Riess, who specializes in lung disease and head and neck cancer. "He is easy to work with and eager to learn and apply medical knowledge to translate research findings into the wider scientific community."
Lara's research journey
Lara was exceptionally young — just 16 — when he presented his poster on non-small cell lung cancer at the 2013 American Society of Clinical Oncology Conference in Chicago, a "who's who" of cancer researchers. His poster concluded that younger patients with lung cancer tend to have better survival rates than older patients.
Some experienced researchers assumed he was a doctor. Others thought he was a medical student.
"I'm actually a sophomore in high school," Lara explained, over and over.
Lara credits his parents for nourishing his passion for research. His father is Primo "Lucky" Lara Jr., the director of UC Davis Comprehensive Cancer Center and a well-known medical oncologist and researcher.
After graduating from Davis High School, Lara attended Stanford University as a chemistry major. He spent summers at UC Davis labs, first under Kit Lam and Phil Mack, and later under Riess to study the effect of targeted drugs on cancer patients.
Lara enrolled at the UC Davis School of Medicine in 2020, and was offered a spot on a special pathway for student researchers called Academic Research Careers for Medical Doctors, or ARC-MD. The pathway steers students through medical school in five years intertwined with extensive research.
ARC-MD allows Lara to continue the research he started as a teenager, which he hopes will lead to the discovery of a treatment for lung cancer patients. So far, he has published four cancer-related papers as the lead author in peer-reviewed journals.
Riess says Lara's work is exceptional.
"Fighting evolution" to prevent cancer cells from growing
"He already has developed a novel clinical trial that he is leading of a targeted therapy combination for lung cancer patients with a specific mutation. It is the first clinical trial to open in our UC-wide Lung Cancer Consortium," Riess said.
The research involves cutting-edge studies focused on a type of medicine, known as a MEK inhibitor, that blocks an enzyme that controls cell growth. When the right MEK inhibitor targets the MEK enzyme, it can stop it from activating other proteins in its pathway, and thus reduce cell growth, especially in an incurable form of lung cancer.
"A lot of my research is focused on this sort of evolving, constantly unmet need of drug resistance," Lara said. "These cancers become resistant to our best therapeutics, so you target this one part of this pathway and for a while it will work, and the cancer will stop growing, but then it will find a way to engage in different side pathways, or maybe use different proteins within the same pathway just to get around that block."
My goal as a researcher is to become not only a doctor but someone who is able to run clinical trials and contribute to science and translational research."
Trying to outsmart the spread of cancer cells, he said, is an endless battle. "It's like fighting evolution itself."
Lara is eager to step up the fight against cancer when he begins his dedicated research year in a few weeks, thanks to the DTOC grant, which provides funding for a monthly stipend, travel expenses and other needs. Once he's done with the research year, he'll spend another year in patient care clinical rotations before starting a residency program.
"My goal as a researcher is to become not only a doctor but someone who is able to run clinical trials and contribute to science and translational research, which is what ARC-MD wants us to be," Lara said. "And I know the O'Connor grant is also very focused on that."
It's been about 10 years since Lara learned about the state's cancer registry, which propelled him into becoming a dedicated researcher. And although a lot has changed in his life since then, one thing hasn't.
He lives at home. He still looks forward to the highly scientific conversations at the family dinner table.