Mother-daughter nurses started their careers on the same birthing unit
Mary Rose and Cresencia Corey are now officially UC Davis Health coworkers and advocates for women's health
(SACRAMENTO)
Cresencia wonders if her new UC Davis Health coworkers are scratching their heads. That's because in October she began her nursing residency at the university birthing suites, which is exactly where her mother started her own career over 30 years ago.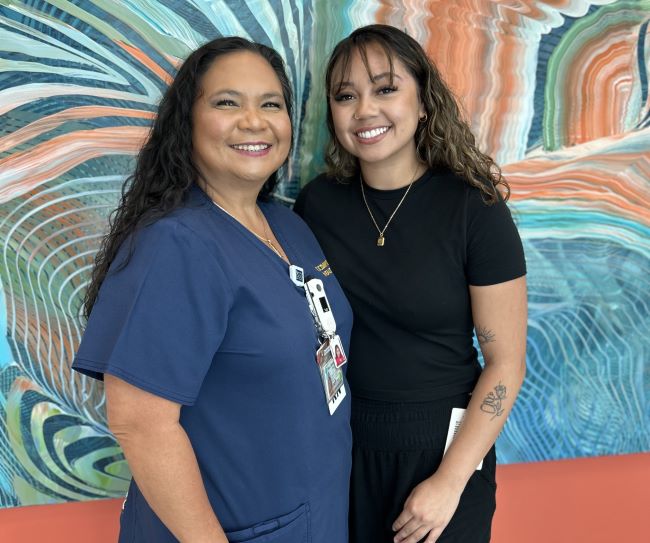 And if their last names look familiar, it's because Cresencia Corey's mom, Mary Rose Corey, still works at UC Davis Health, in Employee Health Services.
Talk about twinning.
Cresencia Corey listens with admiration to her mom during our interview in an office building next to UC Davis Medical Center. You can tell they are close.
Mary Rose beams with pride about her daughter's journey: her degree in child development from Sacramento State, her pivot to nursing, and the many hours of diligent studying she has completed. She remembers giving birth to Cresencia, in the very labor and delivery unit her daughter now works. The obstetrician who delivered Cresencia, Nina Boe, still works for the department.
It all seems like kismet, as if it were meant to be.
Three generations of nurses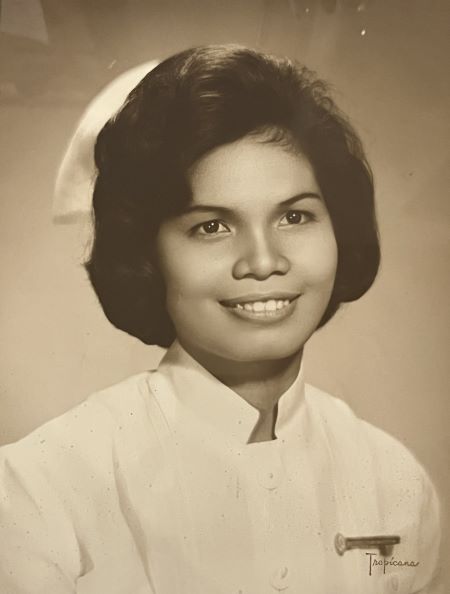 The story extends even further. Cresencia's grandmother and Mary Rose's mother, Erlinda Q. Albalos, was also a nurse, specializing in pediatric oncology. She cared for young cancer patients and later worked in general pediatric units in the Philippines, Hawaii and Stockton, California.
It was her mother's tender interactions with patients that caught Mary Rose's attention as a girl. At first, she was a bit jealous — it was her mom, after all — but Erlinda spoke to them so gently. They trusted her.
"I was in awe," said Mary Rose. "They were so appreciative of what she was doing for them."
That connection is what inspired Mary Rose to pursue her own nursing path once she grew up. She started at UC Davis Health as a nurse extern, shadowing nurses and assisting with taking vital signs, collecting specimens and other duties in labor and delivery and postpartum care. When she found herself in the newborn nursery, she knew she had arrived. She would give babies their medications, their vitamin K shots, take their vitals, bathe them and stamp their footprints.
"It was just so rewarding: this newborn, this baby that is so new to the world," she said. "And I get to play with them!"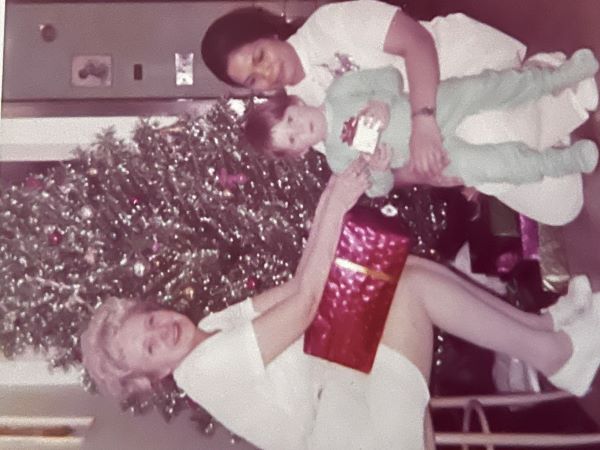 Mary Rose bonded deeply with the newborns and families in the unit, but after a couple of days, these patients would go home. She longed for deeper relationships and the ability to care for patients over longer stretches of their journey. So, in 1999 she became a nurse practitioner. Finally, she was able to see patients from early in their pregnancies through their postpartum checkups.
Some of her favorite memories are prenatal ultrasounds, especially when older siblings came along. Mary Rose would invite the children to hold the transducer wand. Their eyes lit up listening to their baby brother's or baby sister's heartbeat.
"It always sounds like a horse to them!" Mary Rose chuckled.
Similar path, new perspective
Cresencia is already checking some of her mother's nursing experiences off her own list. As an extern at UC Davis Health's Labor and Delivery unit, she helped families fill out birth certificates. Sometimes she was one of the first people to hear a baby's new name.
She graduated from nursing school in September and passed the National Council Licensure Examination (NCLEX), a required test for licensed registered nurses, the following month. Then she was officially hired full time.
"I just felt like all my wishes came true," Cresencia said. "It sounds cheesy and corny, but passing the NCLEX really just solidified that I am capable of doing what I've dreamed about for so many years. It's just so great."
She's excited that UC Davis Health makes it a priority to include the backgrounds and preferences of all patients. She wants to help advocate for women's birth plans, which can vary depending on a patient's religion, culture, past experiences, and more.
"Not every woman is going to want to birth the same way," Cresencia explained. "I just want to be a part of a change in the right direction."
She got her passion for advocacy from her mom, she said. All her life she's seen Mary Rose champion women's health on behalf of her patients.
Today, Mary Rose runs the Flu Vaccine Clinic for Employee Health Services. Even though they won't cross paths at work too often, mom and daughter are only a short walk away. And both carry dear memories of grandma along with them.