Radiology and biomedical engineer wins Tracy Lynn Faber Award
Award recognizes women making significant scientific advances in medical imaging
(SACRAMENTO)
Emilie Roncali, an assistant professor with both the Department of Radiology and the Department of Biomedical Engineering at UC Davis, has been awarded the 2022 Tracy Lynn Faber Memorial Award from the Society of Nuclear Medicine and Molecular Imaging (SNMMI). The award recognizes her outstanding contributions to advancing women in the medical imaging sciences.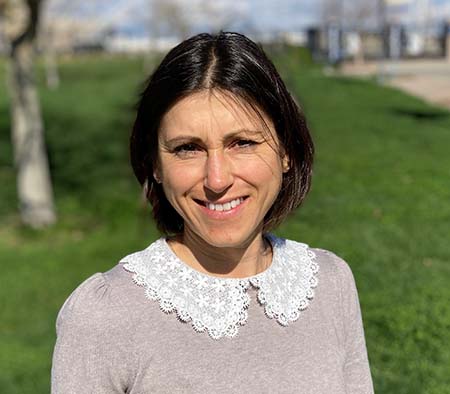 Roncali's research involves measuring the level of absorbed radiation and identifying the appropriate personalized dose for each patient. She is helping develop nuclear medicine therapy treatments that directly target tumors and spare normal healthy tissues.
Her research includes molecular imaging and therapeutic treatments, with an emphasis on new technology for positron emission tomography (PET) and quantitative dosimetry for radionuclide therapy. She is currently focusing on personalized dosimetry for radiopharmaceutical therapy. Dosimetry measures, calculates and assesses the ionizing radiation dose absorbed by the human body.
Roncali is a member of two focus groups for the National Cancer Institute (NCI). She's also an investigator of the Informatics Technology for Cancer Research (ITCR) initiative to develop new dosimetry methods for targeted radionuclide therapy (TRT), with the goal of improving treatment planning and optimizing TRT clinical trials. Specifically, she is developing image-based and simulation-based dosimetry for yttrium-90 radioembolization for advanced liver cancer treatment.
Roncali received her Ph.D. in biomedical engineering from the Ecole Centrale de Paris, France before joining UC Davis for her postdoctoral training. Her PET simulation tools are frequently released in open-source software broadly used in the field of nuclear medicine technology development.
The Tracy Lynn Faber Memorial Award, which includes an honorarium and a plaque, is given each year to support advancement of women in medical imaging sciences by SNMMI's Physics, Instrumentation and Data Sciences Council. The award is given either to an individual (woman or man) who has significantly promoted advancement of women in medical imaging sciences, or to a woman in early- or mid-career who has made one or more significant contributions to medical imaging sciences.
Roncali will receive the award during the SNMMI Annual Meeting in June, which will be held in Vancouver, British Columbia this year.
UC Davis Comprehensive Cancer Center
UC Davis Comprehensive Cancer Center is the only National Cancer Institute-designated center serving the Central Valley and inland Northern California, a region of more than 6 million people. Its specialists provide compassionate, comprehensive care for more than 100,000 adults and children every year and access to more than 200 active clinical trials at any given time. Its innovative research program engages more than 240 scientists at UC Davis who work collaboratively to advance discovery of new tools to diagnose and treat cancer. Patients have access to leading-edge care, including immunotherapy and other targeted treatments. Its Office of Community Outreach and Engagement addresses disparities in cancer outcomes across diverse populations, and the cancer center provides comprehensive education and workforce development programs for the next generation of clinicians and scientists. For more information, visit cancer.ucdavis.edu.