Trio of medical students create community health conference
First-ever UC-wide gathering included poster session, health equity experts and lessons on policy advocacy
(SACRAMENTO)
When three UC Davis medical students noticed the lack of opportunities to gather with peers from across California to discuss their common interest in community health, they decided to do something about it.
They created — and hosted — a two-day conference.
The first-ever University of California Community Health Conference, held last Friday and Saturday in Sacramento, drew about 150 students from all six UC schools of medicine.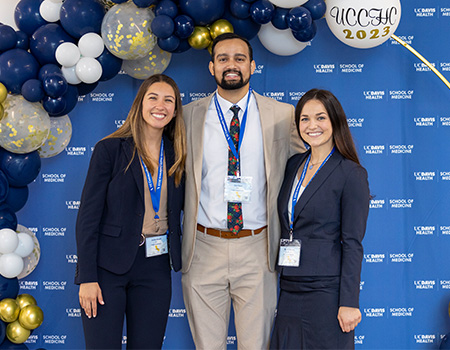 The three students — Emilie Allaert, Om Patel and Shania Bennett — spent months planning the event. It included a poster session and lectures from some of UC Davis Health's top, national experts on health equity. Attendees also enjoyed social activities and conversations about their passion for volunteering in student-run clinics. As part of a session on political advocacy, the students boarded buses for a field trip to the state Capitol.
Remarkably, the students put it all together while simultaneously taking a full load of classes and studying for their first in a series of national medical board exams. All three are now headed into their third year of medical school.
"We feel like there are not a lot of opportunities for UC medical students to get together, yet we do a lot of the same work, we run student-run clinics and serve with community-based organizations," Allaert said.
"We really feel it's important to exchange ideas and present a more united front as medical students from the University of California," added Allaert, whose devotion to community health includes a stint in the Peace Corps five years ago.
The conference was conceived in Florida
Allaert, Patel and Bennett got to know each other well as first-year medical students attending a national student medical conference in Florida in April 2021, hosted by the University of Miami.
They looked at themselves and wondered if they could pull off a conference like it, based on California's specific needs and demographics.
"We have such a great system here at the University of California," Allaert said, "why don't we do something similar?"
The thought stayed on their minds for many months.
This past school year they decided to go all in.
They received the green light from medical school leadership, created a web page and social media accounts and invited experts. Then they got the word out to their peers in San Diego, Riverside, Irvine, Los Angeles, San Francisco and of course, the UC Davis School of Medicine in Sacramento.
They turned to crowdfunding to help with the costs of boxed meals, T-shirts and lanyards. They tapped sponsors, such as residency training programs and the military (Bennett is a US Airman in the military's Health Professions Scholarship Program).
UC Davis national experts taught valuable lessons
The conference included talks by three UC Davis Health physicians:
"It's an incredible honor to hear them speak — they not only teach us, but have done the work, they talk the talk and walk the walk," Allaert said. "They teach us that being a physician also means being leaders in our community, and that health extends past the walls of the hospital, which is an important lesson for future physicians."
The poster session with an emphasis on community health, including student-run clinics, drew hundreds of people to Betty Irene Moore Hall.
"Community Health was our main focus because we're all in a certain way working at local clinics and we see a lot of the changes that we can make at those clinics," Patel said, "and we're trying to make that into a bigger impact that we can have in the state of California."
When they first started to plan the conference, Allaert, Patel and Bennett thought it would be nice to make it an annual event, hosted by a different school each time.
So far, a school hasn't fully committed to take on the conference, but that doesn't worry Allaert.
"I think it's really valuable if we get this opportunity and we continue it," she said, "even if it's a little work."