A record-setting 11 UC Davis physician assistant students earn national award
Scholarships benefit students with passion for rural service
(SACRAMENTO)
Renee Wadsworth grew up in Northeastern Shasta County. There are no stoplights, only a stop sign. And the closest fast-food restaurant is a 90-minute drive away.
She remembers what it was like to visit a health care provider.
"I remember I'd get someone that I liked, but then, they'd move away," said Wadsworth, a second-year physician assistant (P.A.) student at the Betty Irene Moore School of Nursing at UC Davis.
Not only do rural areas have a tough time attracting and keeping providers, but they often lack access to basic care because of socioeconomic challenges or distance. That's the reality that Mario Navarro, a first-year P.A. student, experienced when he lived in San Bernardino County.
"The county went bankrupt. Companies left, which sparked rampant growth in homelessness," Navarro recalled. "Coupled with the opioid crisis, the health care system was and remains overwhelmed. In the last decade, there was a 103% increase in opioid-related treatment admissions in San Bernardino County — which I witnessed firsthand as an EMT."
Commitment to rural communities
Those experiences shaped Wadsworth and Navarro. They sparked their desire to attend UC Davis and become P.A.s and, one day, return to rural communities similar to those in which they grew up.
Those dreams are also a major reason why Wadsworth, Navarro and nine of their fellow UC Davis P.A. students earned scholarships from the National Health Service Corps (NHSC). The scholarships are awarded to students pursuing primary care health professions training in return for a commitment to provide primary health services in a Health Professional Shortage Area. NHSC identifies areas that have a shortage of primary, dental or mental health care providers in order to distribute scholarship participants where they are needed most.
Each student wants to pursue their passion to become a primary care provider and join a community of caregivers with a shared desire to serve people with limited access to health care.
"Being blessed with this scholarship opens my opportunities to any area and I want to go to where I'm needed most," said student Mike Needham, who grew up in a rural area. "So many people have to travel 30 minutes up to two hours to see a provider. I want to work in those areas. I want to cross that bridge and help those people."
Benefits for current students, future patients
The scholarship pays for tuition and other education-related expenses, and also provides a monthly stipend to assist with living expenses. For every year of tuition, the student must commit to practicing in a rural, urban or frontier community that has limited access to care, upon graduation and licensure. The UC Davis P.A. program lasts 27 months, so these scholarships require that much time served in rural practice.
This is the first time such a large number of School of Nursing first- and second-year P.A. students have earned the scholarships. The recipients are:
Kristine Babayan
Aliyah Bell
Jesse Duro
Emmanuelle Ganzon
Mario Navarro
Michael Needham
Hieu Nguyen
Thuy Dung Nguyen
Leticia Garcia Reyes
Putue Teh
Renee Wadsworth
These School of Nursing students join the more than 1,500 NHSC scholars in residency or school preparing to serve.
"The fact that so many of our P.A. students earned this honor shows how we're preparing future providers," said Stephen Cavanagh, School of Nursing dean. "We recognize the need for skilled, culturally competent professionals and have built a program that prepares leaders in a variety of settings."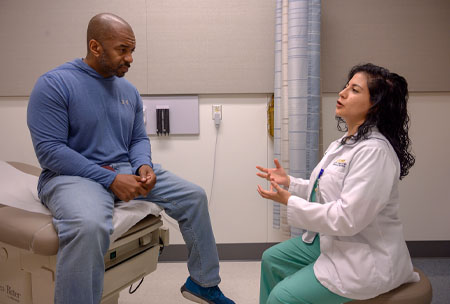 Leaders beyond graduation
In alignment with the school's vision to advance health, the mission of the P.A. program is to educate health care professionals to deliver care as leaders and members of interprofessional health care teams. The goal is to improve the availability of culturally relevant primary health care to underserved populations throughout California.
"I chose UC Davis because of its emphasis on primary care and rural care," Wadsworth said. "The goals of this scholarship, my goals and the school's goals are a perfect match."
While recipients cannot choose where they will ultimately serve, they are guaranteed that their goal to care for the underserved will be achieved.
"Because of my cultural background as a first-generation college student and Mexican- American, I really want to stay in California to provide primary services to these communities," Navarro said. "It would be nice to go back to my community, but I'd be satisfied wherever because the need is so huge."
"Now, I really have the opportunity to live out my dreams and really help the people I wanted to help from the beginning," Wadsworth added.