Amy R. Brooks-Kayal named Andrew John Gabor Presidential Chair
Endowed position will support research of breakthrough treatments in epilepsy and other seizure-related disorders
(SACRAMENTO)
Amy R. Brooks-Kayal, professor and chair of the Department of Neurology, has been inducted as the inaugural holder of the Andrew John Gabor, M.D., Ph.D. Presidential Chair. It is named for Andrew Gabor, a national leader in epilepsy research and chair of the UC Davis Department of Neurology from 1981 to 1991. Gabor passed away in 2016.
The investiture ceremony was held Monday, April 11 at Larry N. Vanderhoef Commons on the UC Davis Health campus. About 70 guests attended in person. An additional 30 virtual attendees watched a livestream of the ceremony.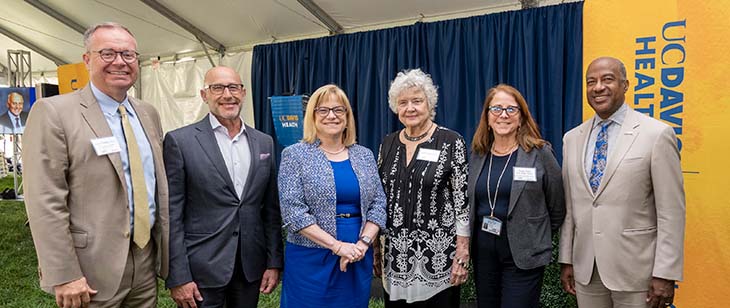 The endowed chair was created by Gabor's wife, Judith Bailey Gabor, along with her family, to support the research and development of breakthrough treatments in epilepsy and other seizure-related disorders. Judith Gabor worked at UC Davis Health as a systems analyst, programmer analyst and statistician before her retirement. Gabor and members of her family attended the ceremony.
Speakers for the event included UC Davis Chancellor Gary S. May, Vice Chancellor of Human Health Sciences and CEO for UC Davis Health David Lubarsky, Vice Chancellor for Development and Alumni Relations Shaun Keister, Interim Dean of the School of Medicine Susan Murin, Emeritus Professor Fredric Gorin and Professor Brooks-Kayal.
Endowed chairs are prestigious academic positions that come with funds to support innovative research.
"Thanks to extraordinary donors like the Gabor family, world-class scientists like Dr. Brooks-Kayal, and all our teams involved in these projects who have made advancements in epilepsy care possible, we will be able to do more research that will improve lives throughout Northern California," Lubarsky said.
Dr. Gabor's storied career was only possible because he didn't shy away from the challenges before him – he tackled them head-on. As the inaugural Andrew John Gabor, M.D., Ph.D. Presidential Chair, I hope to do the same."
Chancellor May also recognized and thanked Judith Gabor and her family for their generosity. "With sustained funding, endowed faculty like Dr. Brooks-Kayal are able to carry out their research and make a global impact," May said.
Epilepsy is a neurologic disorder characterized by recurrent seizures. About 3.4 million people in the U.S — or about 1 in 26 — have epilepsy. Although the onset of epilepsy is common in children and older adults, it can occur at any age.
A legacy at UC Davis Health
Gabor was director of the electroencephalography (EEG) laboratory at UC Davis from 1969 until his retirement. He was the author of numerous papers on seizure disorders. His later research focused on neural networking — programming computers to read sleep EEGs, significantly reducing the time it took to analyze the data.
"Through his life's work, Dr. Gabor made an incredible impact on the lives of our patients, students, residents, faculty, and the field of neurology," Murin said. She noted the endowed chair would be a catalyst for future groundbreaking discoveries.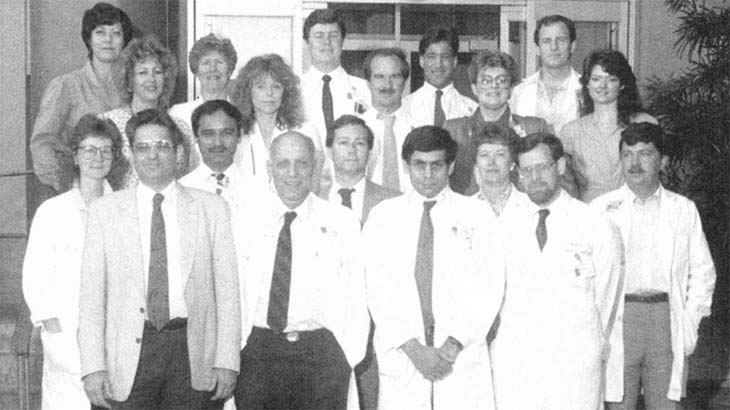 Professor Emeritus Gorin, who was recruited by Gabor to join the faculty of the UC Davis Department of Neurology in 1985, spoke about his colleague. He noted Gabor's many achievements in epilepsy research and his devotion to teaching and mentoring. "He had a wonderful way of getting things accomplished as chair that combined data and some humor to prove a point," Gorin said.
Inaugural holder specializes in complex epilepsy
Amy Brooks-Kayal is an internationally recognized epileptologist and a leader in research on novel therapies for epilepsy. She joined the UC Davis faculty as chair of the Department of Neurology in 2020.
As a clinician, Brooks-Kayal specializes in the care of children and teens with difficult-to-manage or complex epilepsy. As a researcher, she has identified cellular and molecular changes involved in the transition of the brain from normal to epileptic, defined critical cellular signaling pathways that regulate these changes and targeted these pathways to develop novel therapeutics for the prevention, treatment and cure of epilepsy.
During her acceptance speech, Brooks-Kayal noted parallels and connections between her and Gabor's career interests.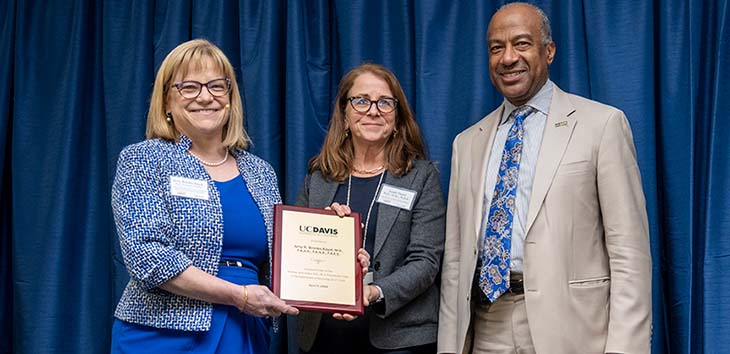 Brooks-Kayal outlined why research into epilepsy and other seizure disorders is so critical. "Epilepsy remains a common, poorly understood and stigmatized disease. Approximately 50,000 people die every year from epilepsy-related causes, more than die from breast cancer. And despite about 50 antiseizure medications, one-third of people with epilepsy have seizures that cannot be controlled with current therapies," Brooks-Kayal said.
Brooks-Kayal is the inaugural holder of the endowed chair, but the endowment was given by the family in perpetuity, meaning it will pass to another faculty researcher one day.
"Dr. Gabor's storied career was only possible because he didn't shy away from the challenges before him – he tackled them head-on," Brooks-Kayal said. "As the inaugural Andrew John Gabor, M.D., Ph.D. Presidential Chair, I hope to do the same, with an ambitious agenda worthy of Dr. Gabor's legacy."
View photos from the event or watch a video of the ceremony.