Arrhythmia services at 25: Transforming cardiovascular care and saving lives
Chancellor May visits electrophysiology lab to celebrate arrhythmia services at the medical center
(SACRAMENTO)
UC Davis Chancellor Gary S. May visited the Electrophysiology Laboratory (EP Lab) at UC Davis Health to celebrate the 25th anniversary of arrhythmia services at the academic medical center.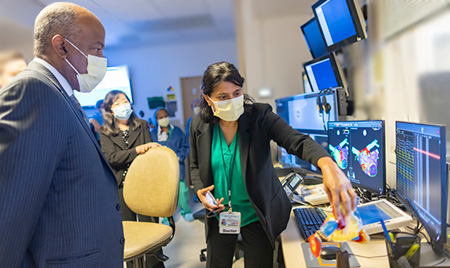 An electrical engineer himself, May toured the EP Lab in the Pavilion, which opened in 2010 as part of a 470,000-square-foot addition to the medical center. He observed the newest engineering technologies to monitor and map the electrical systems of the heart as well as treat heart arrhythmias. He chatted with faculty, staff and fellows, thanking them for their efforts in patient care.
"Innovation is at the heart of our mission at UC Davis," May said. "It's truly inspiring to see our researchers, students, faculty and staff working side by side and using the newest technologies to provide the most advanced and sophisticated care for our community."
May was guided through the tour by Susan Murin, interim dean of UC Davis School of Medicine, Thomas Smith, chief of cardiovascular medicine, and Uma N. Srivatsa, director of arrhythmia services and clinical professor of cardiovascular medicine.
Following their visit to the EP Lab, Smith and Srivatsa led May through a display of the latest technologies utilized by arrhythmia services in patient care. Included in the display was a virtual reality tour of the left atrial chamber of the heart.
"It's a remarkable facility with state-of-the-art technology that allows us to provide the patients we treat with the highest level of cardiac care," Srivatsa said. "We're excited to have the Chancellor here to showcase the incredible work of our arrhythmia services team and advanced imaging tools."
Our Electrophysiology Laboratory physicians use our leading-edge-technology to restore patients' quality of life and eliminate the disabling symptoms caused by cardiac arrhythmias."
Electrophysiology Laboratory
UC Davis Health Cardiac Electrophysiology offers comprehensive diagnostic and treatment services for patients with cardiac arrhythmias. The complete range of services includes:
active clinical and research programs
drug therapy programs
internal and external cardioversions
pacemaker and AICD implantation
The need for these treatments is significant. Heart disease is the leading cause of death in the United States, followed closely by stroke as the fourth highest cause of death. The term "arrhythmia" refers to any problem in the rate or rhythm of a person's heartbeat. During an arrhythmia, the electrical impulses may be too fast, too slow, or erratic, causing an irregular heartbeat. Approximately one in 18 people, or 5% of the U.S. population has an arrhythmia.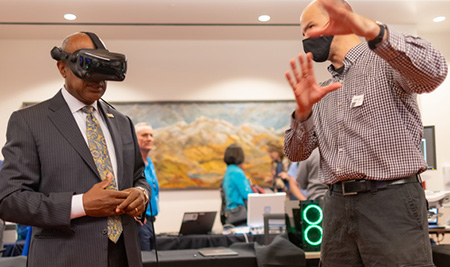 Performing innovative treatments
With its comprehensive range of specialties, technologies, clinical trials, outreach programs and focus on patient care, UC Davis Health is widely recognized as the premier cardiovascular care provider in Northern California.
Within the last few months several innovative procedures have been performed in the electrophysiology laboratory:
Implanted the first-ever removable leadless pacemaker (Aveir) in a pediatric patient.
Implanted the first removable leadless pacemakers (Avier) in adult congenital patients with a tetralogy of fallot and a ventricular septal defect.
"We're very proud to provide state-of-the-art care for patients with all types of cardiac arrhythmias, as well as provide non-operative solutions for patients with structural heart disease," Srivatsa said. "Our EP physicians use our leading-edge-technology to restore patients' quality of life and eliminate the disabling symptoms caused by cardiac arrhythmias."