Child with MIS-C receives life-saving care at UC Davis Children's Hospital
Pediatric expertise helps stop the deadly COVID-19-related syndrome
(SACRAMENTO)
Six-year-old Santiago Alvarado's first signs of Multisystem Inflammatory Syndrome in Children (MIS-C), the severe condition associated with COVID-19 that affects children, were some simple chills.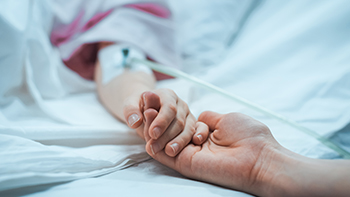 "He was playing outside and said, 'Mom, I'm cold.' He wasn't interacting with the kids. He wasn't being himself," said Yesenia Alvarado, Santiago's mother.
She thought maybe it was the flu. It was January – typically flu season.
She didn't want to think it was the novel coronavirus and really didn't want to think of MIS-C. She had read about how serious it can be and how it affects kids ages 4-12. She was worried.
The Centers for Disease Control and Prevention (CDC) reported that as of Feb. 1, 2021, the number of cases meeting the definition for MIS-C in the United States surpassed 2,000. The CDC reports that California has been the hardest hit, with more than 250 reported cases. It has disproportionately affected Black and Hispanic/Latino children.
A 105-degree fever leads to the ER
As days passed, Santiago's condition worsened. Fevers. Stomach pain. A rash that look like little red dots on his stomach and back.
Yesenia had a video visit from their home in Stockton with her son's local pediatrician. He suggested that they come in person for an appointment the next day. By the next day, though, Santiago was much worse with vomiting, diarrhea and a soaring fever of 105 degrees that wasn't controlled by Tylenol or ibuprofen. His eyes and his hands were red. He complained of headaches.
Yesenia took him to the emergency room at Adventist Health Lodi Memorial and they tested him for COVID-19. His result was positive. From there, he was transferred to UC Davis Children's Hospital for the specialty care that he needed. This was possible, thanks to UC Davis Health's patient-centered partnerships with more than two dozen hospitals across Northern California, part of the academic health system's work to improve access to care across the region.
"The common symptoms we see with MIS-C are fever, rash, gastrointestinal signs like vomiting and diarrhea. But many systems may be involved, including the lungs, the kidneys, even the brain and the heart. These children tend to be really sick, so parents won't miss this," said Natasha Nakra, pediatric infectious diseases physician at UC Davis Children's Hospital, whose team has treated nearly two dozen children for MIS-C.
Two rounds of IVIG therapy
Santiago was diagnosed with MIS-C based on his fever and multisystem involvement. Laboratory tests confirmed this, showing markedly elevated levels of inflammation. A blood test confirmed a past COVID-19 infection.
He received intravenous immune globulin (IVIG) therapy, which is given in cases of severe disease. He was also treated with steroids and low-dose aspirin as a blood thinner because patients with MIS-C are at increased risk for blood clots.
"Children generally respond very well to therapy, with prompt resolution of fever and feeling better," Nakra said. "If they don't respond to this first-line therapy, there are other treatments that we can give."
In Santiago's case, he needed IVIG therapy twice – but then felt much better.
"With that second dose, his rash went away. He stopped complaining of any pain and the headaches were gone," Yesenia Alvarado said.
He spent 10 days in the hospital then was discharged back home.
"It was our first time at UC Davis, and it was an amazing experience," Yesenia Alvarado said. "Everyone was so nice to us."
Follow-up care after MIS-C
Santiago has had follow-up care with the UC Davis Health pediatric cardiology team to check on his heart function since MIS-C can create inflammation of the arteries. Two weeks after he was discharged from the hospital, an echocardiogram showed that his heart was working normally. He continues to take low-dose aspirin.
"Santiago seems back to normal now," Yesenia Alvarado said. "We did notice a change in his appetite since he was on steroids. He was very hungry, but otherwise he is back to his usual self. We are thankful."