CIRCLE Clinic donors bring trauma-informed comprehensive health services to Sacramento foster youth
(SACRAMENTO)
Katy and Dale Carlsen have partnered with UC Davis Health to transform a shared vision into reality: a comprehensive, trauma-informed program to support foster youth in all aspects of wellness, including mental health.
The first of its kind in Northern California, the CIRCLE (Comprehensive Integration of Resilience into Child Life Experiences) Clinic provides medical services for children in the foster care system, offering them access to a primary care medical home from UC Davis pediatricians, mental and behavioral health services, and other health-related care.
Katy Carlsen is a pediatrician, alumna of both UC Davis and the UC Davis School of Medicine resident program, and volunteer clinical faculty member at UC Davis Health, where she now trains today's medical residents. Her husband, Dale Carlsen, is the founder and former CEO of The Sleep Train Mattress Center.
"Katy and I believe in helping others and in particular children in foster care, as these kids did nothing wrong, but simply had parents that for one reason or another could not care for them," Dale Carlsen said. "Katy has been working on this project for over 10 years and we are excited to be part of the consortium helping to finally expand these kids' health care through a more comprehensive health model with UC Davis."
The Carlsens' $2.55 million gift to UC Davis Health provides start-up funds for the CIRCLE Clinic as well as an endowment for sustained support. The clinic is a collaboration between UC Davis and the Sacramento County Health Center, and partners with other UC Davis Health units like the MIND Institute and the Child and Adolescent Abuse Resource and Evaluation (CAARE) Center.
"We are deeply grateful to the Carlsens for their leadership and generosity that made the CIRCLE Clinic a reality. The excellent care we offer at the CIRCLE Clinic is a model for foster youth health care throughout the country," said Allison Brashear, dean of the School of Medicine.
"The Department of Pediatrics at UC Davis School of Medicine is committed to improving access to medical and mental health care for children, and we are pleased to partner with Sacramento County to serve the youth of our region," Brashear added.
It takes just one supportive adult to cultivate resilience in a child. It's that simple.
Building resilience in young people
The vision for the CIRCLE Clinic began with Katy Carlsen's mission to support youth in foster care. With the help, support and incredible drive of Albina Gogo, a professor of pediatrics who is now retired, a partnership was developed with Sacramento County Health Center, CAARE Center, the MIND Institute and Child and Adolescent Psychiatry. In her many years working in children's health, Katy Carlsen has strived to remove barriers for children in foster care and help ensure that their foundational needs are met.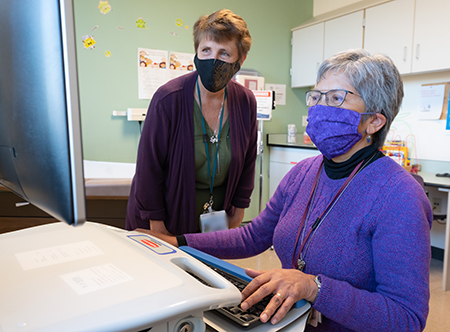 "My hope for the clinic and patients is that these children will receive child-centered, trauma-informed care that will build bridges for them so that they can practice their own resilience as children in the system," Katy Carlsen said.
"It takes just one supportive adult to cultivate resilience in a child. It's that simple."
Resilience, according to her, is the ability to tap into innate strengths and stable nurturing relationships to face adverse childhood experiences at a tolerable level of stress for the child and family.
"When we can identify the strengths of a child and family, we can build upon them so they can achieve the best health outcome possible for themselves," Katy Carlsen said. "The clinic is really well informed on child trauma and will focus on building resilience based on where the child and family are in their mental and physical health."
She added that UC Davis Health is the ideal hub for a community network to help the region's foster children.
"UC Davis Health is uniquely poised to build bridges and community partnerships for foster youth health care in the Sacramento area," Katy Carlsen said. "With the CIRCLE Clinic, we hope to support UC Davis in its efforts to become an integrated partner within other health care systems in the area and address the needs of youth in foster care."
Longtime champions for foster youth
The Carlsens are no newcomers to supporting youth in foster care. The couple established the Ticket to Dream Foundation in 2008 to support children and youth in foster care and the Our Little Light Foundation in 2011 to support children and families throughout the United States. Their foundations have helped more than two million children and youth in foster care and their families nationwide.
At Sleep Train, Dale Carlsen initiated many charitable outreach programs that are still in place today. The Sleep Train—now known as Mattress Firm—Foster Kids program has made significant contributions to children and youth in foster care across the country.
He is a 1984 graduate of Sacramento State University and in 2013 the university awarded him an honorary doctoral degree for his commitment to making life better for foster children.
Katy Carlsen earned her bachelor's degree from UC Davis in 1987 and earned her medical degree at UC Irvine Medical School in 1991, before completing her pediatric residency with UC Davis Health in 1994. In addition to her work with UC Davis, she served as medical consultant for California Children's Services in Placer County for 20 years until her retirement in December of 2020. She worked for Kaiser Permanente as a general pediatrician prior to that.
"UC Davis and Sacramento are home to me," she said. "As a medical professional and foster care advocate, I'm looking forward to helping UC Davis attain new heights for foster children's health care in our area."
With their gift, the Carlsens are also lead donors to the university's $2 billion comprehensive fundraising campaign, "Expect Greater: From UC Davis, for the world," the largest philanthropic endeavor in university history. Together, donors and UC Davis are advancing work to prepare future leaders, sustain healthier communities, and bring innovative solutions to today's most urgent challenges.