Customized human milk provides targeted nutrition for premature babies
(SACRAMENTO)
Premature babies in the Neonatal Intensive Care Unit (NICU) at UC Davis Children's Hospital will get customized breast milk, fortified with the nutrients they need to support their growth and wellness, thanks to a new Miris human milk analyzer machine donated by the Children's Miracle Network (CMN).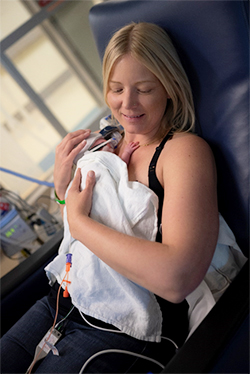 The NICU team launched a "liquid gold" campaign this month to inform families with babies in the NICU about the new machine and the importance of breast milk. The campaign encourages mothers to provide a five-milliliter breast milk sample for analysis.
"The machine will tell us what we need to add to the breast milk to help the preemies grow," said Kara M Kuhn-Riordon, neonatologist and assistant clinical professor of pediatrics at UC Davis Children's Hospital.
Based on the analysis for calorie content and key nutrients such as protein, fat and carbohydrates, the milk is fortified to suit each infant's growth needs.
"We are so excited about this individualized, targeted nutrition for the babies," said Kuhn-Riordon. "We work with mothers to provide babies with the best nourishment they can get."
Born at least three weeks before their expected delivery date, premature babies usually have very low birth weight. They need extra protein, fat, vitamins and minerals to help them grow and build strong bones. Fortified breast milk provides these babies with the nutrients needed to support their growth and brain development.
UC Davis Children's Hospital's Neonatal Intensive Care Unit (NICU) is a designated Level IV nursery, the highest level for the most acute care, in the Sacramento region. Its special care nursery is a Level II-designated unit for children who are seriously ill but expected to recover more rapidly.
The NICU admits infants who are born at UC Davis Children's Hospital or are transferred from other hospitals within the 33-county service area stretching from Central California to the Oregon and Nevada borders.