Fetal interventions help baby with hydrops
Aria's life was saved by the UC Davis Fetal Care and Treatment Center team
(SACRAMENTO)
Amanda Brazeal was pregnant for the second time. She expected an easy delivery. She could not have known that her developing baby would have hydrops, a life-threatening condition in which an abnormal amount of fluid builds up in the fetus.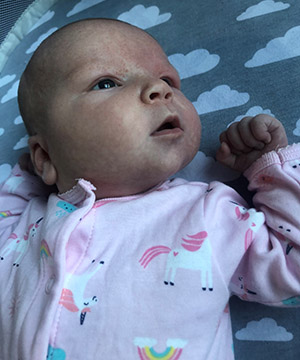 But Amanda's 20-week ultrasound at the Prenatal Diagnostic Center in Stockton revealed a buildup of excess fluid in her developing baby's chest. Doctors told her it was bilateral pleural effusions. They also diagnosed her developing baby with cystic hygroma, a fluid-filled sac created by a blockage in the lymphatic system.
"We weren't sure what was going to happen. But we opted to have the doctors do what they could," Amanda said.
The doctors Amanda relied on were part of the team at the UC Davis Fetal Care and Treatment Center in Sacramento, the region's first comprehensive, multidisciplinary fetal diagnosis and therapy center.
The complications continued. Excess fluid in the fetus's tissues brought the hydrops diagnosis. If left untreated, hydrops is usually fatal. It occurs in one out of every 1,000 pregnancies.
Amanda had never heard of the condition. Doctors told her to treat it, they would insert a small needed into her developing baby's chest to drain the fluid – all while in the womb.
"I came back a couple of days later and the fluid came back," Brazeal said.
This time, the doctors tried a different procedure and placed a small tube called a shunt into the fetus's chest to help remove the excess fluid. After doing this twice, her health care team was hopeful.
"Amanda came to UC Davis twice a week during the entire coronavirus pandemic so we could evaluate her baby. Initially we were very worried that we were going to have to deliver Amanda very early and her baby was going to be very sick," said pediatric surgeon Payam Saadai.
But fate had other plans. Aria Quin Lee Riley was born at 37 weeks in June, weighing 9 pounds, 14 ounces. The newborn only spent a week in the UC Davis Neonatal Intensive Care Unit, a designated level IV nursery, and then was safely home.
"It was a stressful time, especially during COVID-19. But our experience has been really good with the team," Brazeal said.