Four tips to help support parents after pregnancy loss
(SACRAMENTO)
The heartbreaking news of model and TV personality Chrissy Teigen's pregnancy loss this week has heightened awareness of miscarriage, which affects one in four women in the U.S. Teigen joins a growing list of celebrities who have openly shared the pain of their loss.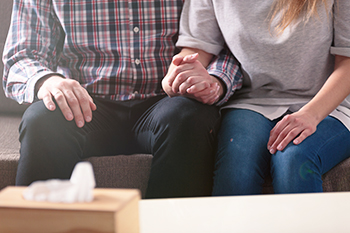 "Talking about pregnancy loss is healthy," said UC Davis social worker Brenna Rizan, who works within the Department of Obstetrics/Gynecology.
For parents grieving a loss, Rizan offers the following advice:
Remember to take care of yourself. Eat healthy, exercise and get enough sleep.
Take your time. There is no expiration date on grief.
Do things that would normally cheer you. Watch a funny movie. Hold and be held by your loved ones.
Your body is still going through a postpartum experience so following up with your doctor is important.
Family and friends can also support grieving parents by not dismissing the loss and the parents' grief.
"Don't say things like, 'Everything happens for a reason,' 'The baby is in a better place,' or 'You can try again,'" Rizan said.
She also recommends that family and friends help support grieving parents in the following ways:
Don't avoid the subject of miscarriage or pregnancy loss. Use the child's name.
Send a meal.
Offer to watch their other children so parents can have alone time.
Support memory making to help parents memorialize the baby that was lost.
For grieving parents who already have children, Rizan recommends using the "honest approach," developed by Courtnee Hoogland, a past member of the Child Life and Creative Arts Therapy Department:
Hug, hold and provide children with affection and opportunities for closeness. When children have experienced the death of a loved one they need contact with trusted and loving adults to reinforce their own safety and security.
Open up and talk about feelings and emotions. When family members and close friends communicate and share feelings, children will likely open up and share as well. This is an effective way to cope through the grieving process.
No one child grieves the same way. It is important to keep in mind that children of different ages understand death in a variety of different ways, ultimately impacting the manner in when they grieve.
Expressive arts such as drawing, writing poems or songs, play opportunities or other activities can be very healing and appropriate for children during the grieving process.
Simple, short answers are most helpful. Young children do not need a long, detailed explanation. In most instances, if family and friends have opened the lines of communication and children have questions, they will ask.
Tell the truth. Above all, remain honest with children. When children trust adults will be truthful with them, their sense of security and safety increases.
Related stories
Miscarriages are more common than people think - KCRA (Interview with Brenna Rizan)
Facebook Live: Discussing miscarriages with Dr. Mitch Creinin