Meet the UC Davis Good Manufacturing Practice Facility's new homegrown leader
(SACRAMENTO)
The UC Davis Good Manufacturing Practice (GMP) Facility has a new director: Brian Fury. He replaces founding director, Gerhard Bauer, who recently retired. Fury has been with the Institute for Regenerative Cures since 2011, is Bauer's mentee and has been part of the GMP's establishment and growth journey.
"Brian is doing an outstanding job. He is very professional and has a natural charisma that works really well to lead teams and work with our industry partners. Our GMP facility is a very happy place and is thriving under his leadership," said Jan Nolta, director of the Stem Cell Program and the UC Davis Gene Therapy Center in the Institute for Regenerative Cures at UC Davis Health.
We asked Brian about the GMP facility and its recent California Institute for Regenerative Medicine (CIRM) award of $1.7 million.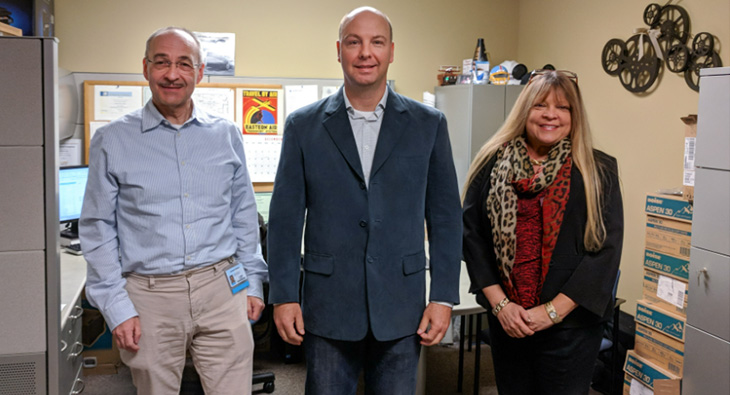 What does it mean to you to be GMP director?
It's a very inspiring place to work. Everything that we do here touches people and has an immediate impact on their lives. Professor Nolta is fond of saying: We're saving patient lives, and that is our number one mission. We have the core values in place to really push that mission forward.
Interestingly, I'm a product of the CIRM program that was established by California taxpayers in 2004. I did my Master's degree through the CIRM Bridges program in Stem Cell Research in partnership with UC Davis. I started in Dr. Nolta's lab in 2009, working on HIV gene therapy and hematopoietic stem cells. There, I met Professor Gerhard Bauer, who was then the director of the GMP planning and facility design group.
As my role on a study was ending, the newly built GMP was working on a CIRM-funded grant to support stem cell therapies for a rare disease known as epidermolysis bullosa. I remember sending Jan and Gerhard an email asking if they knew any labs in need of help. Almost immediately, I received a response from Gerhard saying, "We do." He was gracious enough to take me onto his team.
Over the last 13 years, we have built up the GMP facility together almost as a small company within the university setting. We established a fee-for-service contract business model that allowed us to work with practically anybody, including academic partners and private commercial entities anywhere in the world.
We get to work with products that have been developed over many years by others who've been bringing these solutions through basic and translational research. Our job is to scale this up appropriately to produce enough to start treating patients. We have the opportunity and the privilege to help develop and engineer those processes that will facilitate larger-scale manufacturing in an effort to make as many treatments as possible both accessible and affordable for as many patients as possible.
Our driving motivation is that everything we touch potentially goes into a patient and hopefully saves lives. It is a privilege to be a part of such an endeavor.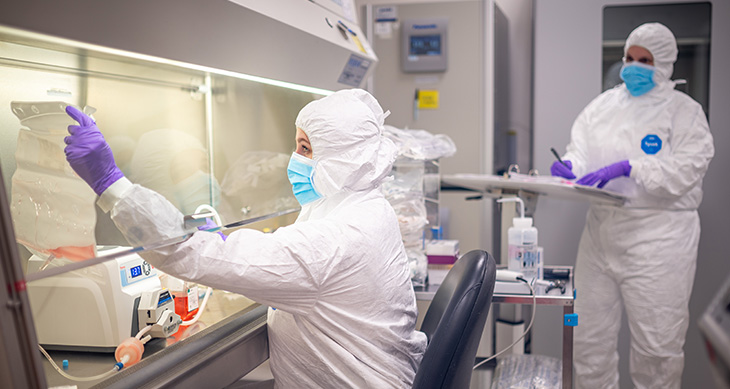 Tell us about the GMP Facility and what makes it stand out.
We are the largest academic GMP facility in Northern California. Our 6000 square-foot facility is a class 10,000 cleanroom manufacturing space with six independent manufacturing cleanrooms.
Over the last 13 years, we've been manufacturing for phases one, two and three clinical trials. We have submitted more than 30 INDs (investigational new drug applications) to the U.S. Food and Drug Administration (FDA) and have received 100% approval. We are actively working on about 24 different projects — both commercial and academic — and actively manufacturing for over 10 indications, with new therapies being worked on continuously. We also work with partners, both nationally and internationally, academic institutions, as well as private commercial startups. We specialize in cell and gene therapy products for use in clinical applications.
Our team is highly knowledgeable and experienced. We understand the concerns put forth by federal regulators, allowing us to push projects forward.
Can you share one example of a successful new drug initiative in which the GMP Facility was involved?
One good example is the UC Davis-initiated California CAR T program. The goal of this program, championed and supported by our CEO David Lubarsky, is to provide patient care manufacturing of immunotherapies to treat cancer. Our CAR T program makes this treatment affordable and accessible to people in our 33-county catchment area. Now, it is also available to patients in the Bay Area since we manufacture for UC San Francisco. We are providing CAR-T products for over half of the state!
Also, the FDA recently approved our manufacturing plan, so we now have a budget and a process to begin this movement toward affordability and access to patient care. By bringing the cost of manufacturing down, it allows insurance companies to participate in this improvement process. This increases accessibility for many patients who can't afford the cost-prohibitive currently approved therapies on the market.
Our driving motivation is that everything we touch potentially goes into a patient and hopefully saves lives. It is a privilege to be a part of such an endeavor. So, that's very exciting."
The GMP Facility recently received a CIRM grant. What is this grant for?
This is a two-year $1.7 million grant. Its purpose is to establish a California-based GMP manufacturing network. What this allows us to do is to standardize a lot of our GMP manufacturing capabilities across California. It also creates a network so that we can work together and harmonize a lot of our operations.
This grant is focused on infrastructure in terms of staffing and personnel. It frees up resources to put in new systems but not for facilities. We hope that in the future, CIRM will have applications for infrastructure in terms of facilities expansion. The current focus of this grant is more on 'Quality by Design' systems and manufacturing processes.
Tell us about the GMP Facility collaborations with the industry.
We collaborate with many industry partners. One example is our partnership with Orgenesis to initiate mobile manufacturing platforms at UC Davis. The goal is to facilitate more accessible patient care production. It extends our reach into our larger service area and to facilities and institutions that may not have some of the needed production resources. It is a way to quickly bring manufacturing capabilities to places, bring down the cost of manufacturing, and extend accessibility to more patients.
We also helped take a private company from a small-scale open-system product manufacturing-based platform to large-scale phase III clinical manufacturing in closed-system bioreactors. This growth has now positioned them to apply for a Biologics License Application (BLA) and begin exploring the possibility of commercializing their products. So, that's a precedent!
We are providing CAR-T products for over half of the state!"
What is next for the GMP Facility?
Expansion, for sure. We are seeing huge growth in our field and the industry. There is such a need for GMP manufacturing right now. Our desire is to be able to meet as much of that demand and to bring these novel and promising therapies to patients.
Another interesting development is the role the GMP is playing in bringing partnerships to Aggie Square. As a stem cell program and GMP unit, we are constantly in conversations with our executive leadership, strategic partners and cell and gene therapy groups to help recruit and attract established industry partners to UC Davis' Aggie Square. The intent is to bring commercial manufacturing and related services to the UC Davis ecosystem.