Multiple surgeries at UC Davis Children's Hospital save preemie's life
Born early and diagnosed with NEC, today Alfredo Moran-Arias is thriving
(SACRAMENTO)
Ruby Moran was 20 weeks pregnant when she was involved in a head-on collision. Although she and her unborn baby survived the car accident, weeks later, pregnancy complications would turn their world on its head.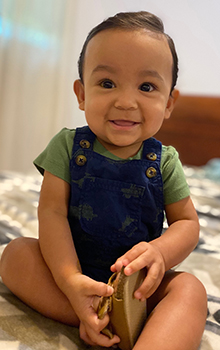 "It all happened so fast," Moran said. "I was so scared."
Moran's baby was not due until November, but Alfredo Moran-Arias was born at UC Davis Children's Hospital on Aug. 18, 2019. He weighed a little over 2 pounds when he was delivered at 27 weeks gestation and was admitted to the UC Davis Neonatal Intensive Care Unit (NICU).
"As a new mom, you imagine the birth of your child and how it's going to go," Moran said. "I did not picture this."
Moran got more troubling news a week into Alfredo's NICU stay. Alfredo had Necrotizing Enterocolitis or NEC.
"We had never heard of NEC so initially, we didn't know about the prognosis," Moran said. "When we found out, we were terrified."
Necrotizing enterocolitis is mostly seen in very preterm newborn infants although rarely, it can be seen in term babies as well. It's a serious illness that causes inflammation and tissue death in the intestines. This combination can destroy sections of the intestine leading to perforation or rupture. This makes bacteria inside the intestinal tract leak into the blood stream and sometimes out into the abdominal cavity.
"When inflammation of the intestines leads to tissue death, the segments of dead intestine have to be surgically removed and in these cases an ostomy - an opening (stoma) from an area inside the body to the outside - is required," said Mark Underwood, chief of neonatology at UC Davis Children's Hospital. "NEC is a common cause of death in very preterm babies like Alfredo. Those who survive sometimes require more than one surgery and can have long-term challenges with growth and development."
But with the help of doctors and nurses in the UC Davis NICU and skilled pediatric surgeons who operated seven times – most recently, last month – Alfredo has beaten the odds so far.
"He's a fighter and hasn't given up," Moran said. "I am so proud of him and am blessed he is still here with us."
"I can't thank UC Davis Children's Hospital enough. My son is doing so well," Moran said. "It really is the best hospital and the people are amazing. They made us feel like family and kept us all smiling and full of hope."
Related Links:
Constantly connected: A webcam for every NICU bed
UC Davis Children's Hospital is the Sacramento region's only nationally ranked, comprehensive hospital providing care for infants, children, adolescents and young adults with primary, subspecialty and critical care. It includes the Central Valley's only pediatric emergency department and level I pediatric trauma center, which offers the highest level of care for its critically ill patients, as well as a level I children's surgery center. The 129-bed children's hospital includes the state-of-the-art 49-bed neonatal and 24-bed pediatric intensive care and pediatric cardiac intensive care units. For more information, visit children.ucdavis.edu.