New effort to help children manage pain
(SACRAMENTO)
UC Davis Children's Hospital patients can now receive help for their pain from an interdisciplinary team of pediatric pain consultants who take a holistic approach. The team is available for inpatient and outpatient consults and can provide guidance on pain management and therapeutic options in collaboration with patients, families and care providers.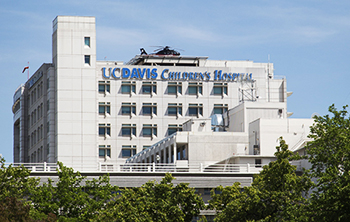 "The experience of pain is always physical, emotional, and cognitive. It is real and impacts a child's life in many ways," said UC Davis psychologist Brandi Hawk, who is part of the pediatric pain consultants team. "To provide the best care for our patients, we need to assess and address all three aspects of pain before, during, and after any potentially painful procedure and in long-term care for patients with chronic pain conditions."
The UC Davis Pediatric Pain Consultants team includes a core group of specialized physicians and a pediatric pain medicine psychologist, along with care from pediatric pharmacists, pain pharmacists, palliative care specialists, child life and creative arts therapists and physical and occupational therapists.
"For any professional, it is easy to get stuck focusing on what we always do or see. As pediatric pain consultants, we are able to see patients through a different lens to help referring physicians find new ways to support their patients," Hawk said.
This team is funded by a Children's Miracle Network at UC Davis grant.