Once a NICU baby, Haley Nagle gives back as a NICU nurse
In celebration of the Year of the Nurse, we spotlight one nurse who makes a difference in the NICU
(SACRAMENTO)
Born at 36 weeks and weighing just 3 pounds, Haley Nagle spent her first three weeks of life in the Neonatal Intensive Care Unit (NICU).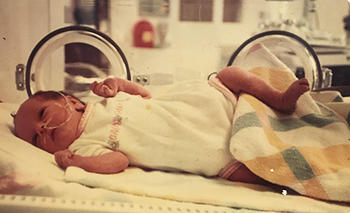 It was an emotional time that her parents will never forget. It also cemented her desire to give back as a NICU nurse.
At 3 years old, she remembers taking care of her babysitter who was sick, giving her grapes and trying to help her feel better.
At the age of 13, her best friend had cancer and she watched her battle the disease.
"I would visit her in the hospital, and I remember how her nurses would treat her like a teenage girl, not like a diagnosis," Nagle said.
Nagel, who grew up in the Sacramento area, graduated from nursing school at the University of Portland and landed her first job as a home health worker for medically fragile children.
"I loved it. I'm so glad that they gave me that opportunity as a 22-year-old. I was a nurse in a family's home. You learn that it's not just a job. The families depend on you and have that trust in you," Nagle said.
But her dream of becoming a NICU nurse beckoned her back to the Sacramento area. For the past six years, Haley Nagle has called Davis 5, the UC Davis NICU, home.
"Every day I'm thankful to be working with these babies and these parents who are going through the unimaginable and my coworkers, who are so smart," Nagle said. "Being a NICU nurse is the profession that never stops giving. It's very rewarding to feel that you're making a true difference."
Her day typically involves checking and double-checking patients' orders, running safety checks on emergency equipment and teaching parents how to feed their baby for the first time or how to give their baby a bath. It's those special milestones that families never forget.
"When I was growing up, my mom would talk about how those NICU nurses made her feel like I was a human, not a premature baby," Nagle said. "The nurses gave me Cabbage Patch Kids doll's clothing that I could wear. My parents still have those clothes 28 years later. It meant something to them."
These days, Haley says she finds herself going to the linen room and finding baby clothes or a special blanket to give to NICU parents.
"It's now come full circle," Nagle said.
Related links