Rheumatologist Nancy Lane discusses latest research on osteoarthritis and osteoporosis
(SACRAMENTO)
In less than two decades, adults 65 and over are projected to outnumber children for the first time in U.S. history. Musculoskeletal diseases such osteoporosis and osteoarthritis are common in older people.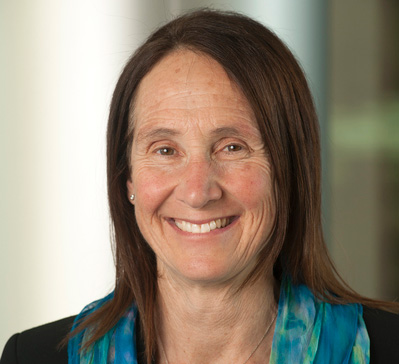 Internationally recognized physician scientist Nancy E. Lane has made it her life's work to address the rheumatological needs of the aging population.
Lane, a distinguished professor of medicine, rheumatology and aging research at the UC Davis School of Medicine, discovered a compound, Llp2a-alendronate, that has the potential to improve common types of bone degeneration by directing stem cells to the surface of diseased bones to regrow new tissue. She was recently named a 2022 Fellow of the National College of Inventors and was selected as one of the top 1,000 female scientists in the world by Research.com.
We talked with Lane about her groundbreaking research into osteoporosis and osteoarthritis.
What are you exploring in your latest research?
Recently my team has been taking a deep dive into understanding blood vessels and how they form in the bone. Blood vessels bring energy and oxygen to build bones, so we are trying to understand if they become abnormal with aging, inflammation and when we give anti-inflammatory steroids such as glucocorticoids.
We are also looking at muscle composition in individuals who have osteoarthritis of the knee. We have learned that there is a lot of fat in the muscle of older individuals who have this condition. This intramuscular fat may explain why people become weak when they have arthritis.
Additionally, we have been looking at muscle energy. We have learned that mitochondrial energy and their function is normal in elderly individuals with osteoarthritis in the knee. This is important because we prescribe exercise to patients with knee osteoarthritis thinking they will stay physically fit and maybe strengthen their muscles around their arthritic joint. Our current findings show that exercise is something patients can do.
How would you like to build on these findings?
We do not have yet a therapy to improve muscle and prevent deterioration in strength or any muscle-focused medications. I believe it's a combination of bones, joints and muscles together that deteriorate.
So, we are currently working on a study that analyzes why older adults have trouble walking as they get older. The Study of Muscle, Mobility and Aging (SOMMA) is funded by the National Institute on Aging aims to use biopsies, novel biomarkers, advanced imaging and intensive physical and cognitive assessments to uncover the biological processes that contribute to changes in mobility and physical fitness with aging.
The study is very granular, down to muscle biopsies and gene expression, and we're working to find the cause of muscle deterioration.
How can aging Americans prevent osteoporosis?
One of the challenges with osteoporosis is that it is silent until it isn't. It is rare for patients to be diagnosed early with osteoporosis. Every woman at the time of menopause should be assessed for osteoporosis risk factors. All men should be assessed at age 70.
If the individual has had fractures as an adult, or if there is a history of a parent having a hip fracture, then the patient should have a bone density scan so they can see if there is an underlying issue that needs to be treated. Unfortunately, evaluating bone density has become less popular in the United States.
One way we are positively addressing prevention at UC Davis is our Fragility Fracture Program. After a fracture, we are providing comprehensive treatment to patients to prevent future fractures. It is a good first step, but we still have an awful lot of work to do to identify these patients early.
What do you believe needs to be the focus for osteoarthritis and osteoporosis research?
For osteoporosis, we have quite effective medications that can build bone. Our group did a lot of work with the parathyroid hormone, which is a bone-growing peptide, and the anti-sclerostin antibodies, which grow bone fast.
Once you grow bone you can hang onto it. It's just a matter of getting the people diagnosed, treated and not lost to follow-up. I think that's the biggest area that needs to be addressed.
For osteoarthritis, it is more difficult because we have no treatments other than joint replacements.
But we do know that simple things such as weight loss and exercise can really help the patient's general health and joints. So, it's also about getting people into the system to work with a rheumatologist and putting them on a helpful treatment regimens.
Over the course of the next decade, I truly believe we will have medications and therapies to reverse the course of osteoarthritis and probably regenerate joints. But we don't have them yet.
How can research into osteoporosis and osteoarthritis be more equitable?
We don't focus much on osteoporosis and osteoarthritis preventive care in ethnic minorities and men. Where it becomes even more of an issue is when we start to do clinical trials. People who have more manual jobs can't take time off in their day to be in a study. So, we end up getting highly educated people who have more time and resources to participate.
That doesn't reflect the general population. So, we really do need to somehow find a way for those more disadvantaged, ethnically and socio-economically diverse individuals to take part in our studies.
What did it mean to you to be named a Fellow of the National Academy of Inventors?
It was a nice honor to be named a Fellow of the National Academy of Inventors. What makes it special is that I was nominated by my colleagues who recognize my creativity and contributions to science through my patents.
There is a community of musculoskeletal disease researchers who have inspired me throughout my career. I am indebted to my mentors and all the people who believed in me. In return, I hopefully have inspired and helped them too.