Sleepiness leads to dangerous diabetes diagnosis
Ameiah Williams' visit to the doctor was just in the nick of time
(SACRAMENTO)
It is well known that teenagers need more sleep than kids at other ages, but that didn't explain why 13-year-old Ameiah Williams was falling asleep at the table while doing homework.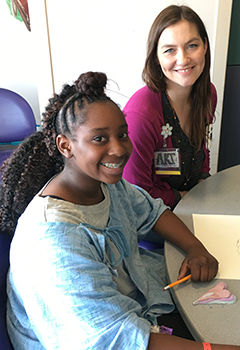 "It just wasn't like her," Ameiah's mom Josette Williams said. "She was completely out. It was hard to wake her."
Williams spoke with a doctor friend and told him what was happening with her daughter. She was surprised when he said to take Ameiah to get her blood sugar tested … now.
At the appointment, Williams could tell something was really wrong.
"The medical assistant's face told a story," Williams said. "I just didn't know what it was."
She soon learned. Ameiah's blood sugar levels had spiked and she needed to go to the UC Davis Pediatric Emergency Room immediately.
"I had never experienced anything like this before. I was in shock," said Williams, who also has two younger daughters. "But not Ameiah. She just rolled with it. She was so brave."
The teen's blood sugar was at 456, a dangerously high level. Called hyperglycemia, this can lead to a diabetic coma where you can't awaken or respond to sights or sounds. Left untreated, a diabetic coma can be fatal.
"High blood sugar levels occur when your body produces too little insulin, or your body cannot use insulin properly," said pediatric endocrinologist Abigail Fruzza, Williams' physician. "Medical treatments can include administering intravenous insulin on a continuous basis and IV fluids to treat dehydration."
Ameiah was admitted to the hospital, where she began treatment.
"This was a very scary experience, but the UC Davis Children's Hospital staff was amazing with Ameiah and with me," Williams said. "They were so calm and assured us they had everything under control."
"With the help of UC Davis, nurses like Richard – he was so cool – and with my parents and church family's support and prayers, I was able to experience my treatment with positivity," patient Ameiah Williams said.
By the time Ameiah was discharged four days later, she had learned to administer her own medication injections, manage her diet and understand her diabetes. Now, more than two years later, the almost 16-year-old is an aspiring chef who continues to manage her diabetes and visits Fruzza three times a year.
In the meantime, her mom still keeps in contact with the UC Davis Pediatric Diabetes Clinic through MyUCDavisHealth. The tool helps her securely and confidentially communicate with the care team, review medical records and ask questions via computer, tablet or smartphone. The tool has helped Williams feel more connected between appointments.
"I am so grateful for what UC Davis has done for Ameiah and hold them in such high regard," Williams said. "They are like family and it's nice knowing I can reach out any time."
UC Davis Children's Hospital is the Sacramento region's only nationally ranked, comprehensive hospital providing care for infants, children, adolescents and young adults with primary, subspecialty and critical care. It includes the Central Valley's only pediatric emergency department and level I pediatric trauma center, which offers the highest level of care for its critically ill patients, as well as a level I children's surgery center. The 129-bed children's hospital includes the state-of-the-art 49-bed neonatal and 24-bed pediatric intensive care and pediatric cardiac intensive care units. For more information, visit children.ucdavis.edu.