Shorter therapy for caregivers of children with behavioral challenges is effective
New study compares PCIT and PC-CARE programs
(SACRAMENTO)
A new program for caregivers of children with behavioral challenges may be more effective than an established parent intervention. The program, developed at the UC Davis CAARE Diagnostic and Treatment Center, is called Parent-Child Care (PC-CARE). PC-CARE showed more improvements in child behavior when compared to Parent-Child Interaction Therapy (PCIT) and parents stuck with it longer.
"Parent retention is a major issue for many parenting intervention programs," said Susan Timmer, director of mental health research at the UC Davis CAARE Diagnostic and Treatment Center.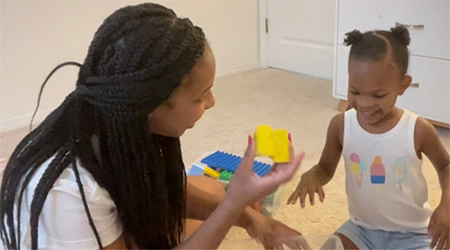 In a UC Davis Health study published in Child Psychiatry and Human Development, researchers compared parent retention and child improvement in caregiver-child pairs taking part in either the Parent-Child Care (PC-CARE) program or Parent–Child Interaction Therapy (PCIT) over a seven-week period.
The study found that parents were 2.5 times more likely to finish seven weeks of PC-CARE intervention than the same amount of time in PCIT. Over the same period, PC–CARE also showed greater rates of improvement in child and parent outcomes compared with PCIT.
What is PCIT?
PCIT was developed to treat disruptive behavior in children aged 2 to 7 years. It specifically targets children with severe conduct and emotional regulation problems, including opposition, defiance and aggression.
With PCIT, caregivers learn effective parenting techniques to reduce a child's behavior problems and improve the quality of the parent-child relationship. Families remain in treatment until parents have demonstrated mastery of the treatment skills and rate their child's behavior within normal limits. While treatment length varies, it averages about 14 one-hour weekly sessions.
But research shows that parents often drop out of such programs.
Why PC-CARE?
"We wanted to develop a brief program that addressed problems with client retention reported in research on parenting interventions in community settings," said Timmer, the lead author on the study and one of the pioneers of PC-CARE.
PC-CARE is a seven-session parenting intervention for caregivers of children aged 1-10 years. Each one-hour session includes parenting skills, observational assessment and caregiver coaching. Parents are asked to use the new skills at home throughout the day, and to spend five minutes per day playing with their child. Parents document their playtime and skill use on a "Daily Care" sheet.
Still, PCIT and PC–CARE have a lot in common. They both emphasize:
caregiver warmth and positive parenting approaches
the power of caregivers' attention to reinforce children's behavior
the power of children's observation and imitation of their caregivers
consistent consequences and rewarding positive and desired behavior.
PC-CARE works well for caregivers of children with behavioral problems
The researchers studied 204 caregiver-child pairs (69 PC-CARE and 135 PCIT) referred for treatment by Behavioral Health Services between 2016 and 2019.
The children, aged 2-7 years, were enrolled in Medicaid. They showed at least one of the following behavioral issues: adjustment disorder, disruptive behavior and conduct disorder, emotional disorders such as anxiety, depression, and trauma-related disorders like post-traumatic stress disorder.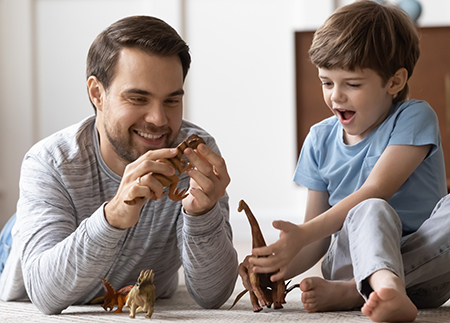 The therapy providers used clinic rooms furnished with a two-way mirror and audiovisual equipment to deliver both PCIT and PC-CARE. They coached caregivers from an observation room behind the mirror, using an earpiece to avoid children hearing the coach. In 28 cases, the therapists provided an in-home session for caregivers who couldn't come to the clinic.
The researchers measured disruptive behavior and caregiver stress levels. They found that PC-CARE had significantly greater rates of improvement in reported child behavior problems and parenting stress.
Findings also showed that PC-CARE participants were 2.5 times more likely than PCIT caregivers to complete the seven sessions. Around 84% of children completed PC-CARE, compared with 65% of children finishing at least seven sessions of PCIT and 46% completing the whole PCIT program.
While children entering PCIT showed significantly higher intensity and numbers of behavior problems compared to those entering PC-CARE, the researchers found no link between clinical behavioral problems and dropping out of either PCIT or PC-CARE within the first seven sessions.
"Our study supports the use of PC-CARE as a brief parenting intervention to treat moderate behavior problems. It suggests that PC-CARE will help kids and families facing mental health issues, particularly those in underserved communities who might have difficulty accessing quality care," Timmer said. "We look forward to extending and testing this work in different contexts and with children from various backgrounds."
Co-authors on this study are Brandi Hawk, Maria Usacheva, Lindsay Armendariz, Deanna K. Boys and Anthony J. Urquiza.
Related stories:
Fewer behavior problems in young foster care kids after PC-CARE program
CIRCLE Clinic donors bring trauma-informed comprehensive health services to Sacramento foster youth
First-of-its-kind health clinic for foster children opens in Sacramento
The CAARE Center Diagnostic and Treatment Center
The CAARE Center Diagnostic and Treatment Center's mission is to provide patient care, teaching, research and prevention initiatives on behalf of abused and neglected children and children and youth identified as high risk. A large part of this mission includes the delivery of quality mental health services to children and youth ages 0 to 21 and their families. The CAARE Center is recognized nationally as a model program for the evaluation and treatment of child maltreatment as well as training of mental health providers in empirically based treatments.