Strategies for supplementation to breastfed newborns vary widely among U.S. hospitals
(SACRAMENTO)
A study led by UC Davis Health researchers found considerable differences in the management of breastfed infants across U.S. hospitals. The study, published in Hospital Pediatrics, explored the hospitals' criteria for medically-indicated supplementation of healthy breastfed infants, pumping recommendations and methods for delivering supplementation.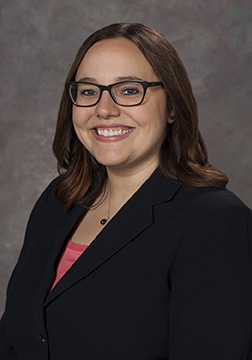 There is no unified, specific criteria or guidelines for which breastfed newborns have a medical indication requiring supplemental feedings with donor human milk or formula. With the absence of best practices and standard recommendations for supplementation, there was a need to identify current practices and procedures in U.S. hospitals.
"We wanted to identify the practice patterns and provider perspectives on supplementation of healthy breastfeeding newborns across the U.S.," said Laura Kair, associate professor of pediatrics.
Kair led a survey of 71 U.S. hospitals who are members of the Better Outcomes through Research for Newborns (BORN) research network. These hospitals care for around 10% of newborns born in the U.S.
The study examined criteria hospitals use for when and how to deliver supplemental feedings to breastfed infants and explored hospitals' pumping recommendations. It found that the approaches used varied considerably across and within hospitals. It highlighted how frequently hospitals' pumping recommendations were inconsistent with best practices.
How do neonatal departments in U.S. hospitals approach supplementation?
Breastfed infants have fewer ear, gut and respiratory infections, lower risk of leukemia, and improved neurodevelopment than infants who are not breastfed. Women who breastfeed have lower risk of heart disease and breast, endometrial and ovarian cancers. Therefore, identification of ways to best support postpartum women and infants to establish breastfeeding are important for optimal infant and maternal health.
The first few days after birth are a critical time in the establishment of breastfeeding, as frequent feedings help ensure adequate breast milk production. Supplemental feedings, when necessary, can help prevent dehydration and neonatal jaundice requiring phototherapy; however unnecessary supplementation puts the mother and the infant at increased risk for low milk supply and early breastfeeding cessation.
Many hospitals reported using infant weight loss as a criterion for supplementation. The most commonly reported weight loss threshold for initiating supplementation was baby's weight loss of 10% or more compared to the birth weight. Other weight loss thresholds for supplementation reported by the participating hospitals include:
Any weight loss of 4% to 15%
Weight loss of 3% in a 24-hour period (mostly for late preterm newborns)
Weight loss exceeding the 75th percentile on the Newborn Weight Tool (NEWT) curves.
"We didn't expect to find such a wide variation in breastfeeding support practices, most pronounced for late preterm newborns," Kair said.
The study found that human donor milk availability is concentrated in hospitals with the highest prevalence of breastfeeding. Among hospitals with at least 81% breastfeeding initiation rate, 44% of them provided donor milk. This is compared to only 4% of hospitals with less than 80% breastfeeding initiation.
The most commonly reported method for supplementation was bottle feeding (59%), followed by supplemental nursing systems (SNSs) (52%) and finger feeding with a syringe (58%).
"To help improve maternal and child health and to narrow health inequities, there is a need to implement known best practices in hospitals across the U.S.," Kair said. "Implementing evidence-based management of supplementation among U.S. hospitals has the potential to improve the care of newborns."
Lactation consultant availability and hand expression education were more consistent among hospitals.
###
Co-authors are Carrie Phillipi of Oregon Health and Science University, Allison Lloyd-McLennan of Benioff Children's Hospital, Kimberly Ngo of University of California, Davis, Heather Sipsma of Benedictine University, Beth King of Academic Pediatric Association and Valerie Flaherman of University of California, San Francisco.
This study was funded by a Building Interdisciplinary Research Careers in Women's Health award (K12 HD051958) from the Eunice Kennedy Shriver National Institute of Child Health and Human Development (NICHD), Office of Research on Women's Health, Office of Dietary Supplements, and the National Institute on Aging (NIA). This work was also supported by the National Center for Advancing Translational Sciences (NCATS) and the National Institutes of Health (NIH) (UL1 TR001860).
Article: Kair et. al. (2020). Supplementation Practices and Donor Milk Use in US Well-Newborn Nurseries, Hospital Pediatrics, DOI: https://doi.org/10.1542/hpeds.2020-0037