The infant formula shortage is making parents desperate. But do not do these 4 things.
(SACRAMENTO)
Stores across the country are reporting a shortage of infant formula. This comes following a recall of contaminated baby formula by Abbott Nutrition and the closure of its manufacturing plant earlier this year, which has exacerbated existing shortages due to supply chain issues.
What should parents do during this challenging time? UC Davis Health experts encourage parents and caregivers to reach out to their pediatrician or health care provider or their local Women, Infants & Children (WIC) office, if they are having trouble locating infant formula.
"Families can also check with online suppliers and local area food banks. If they use a specialized formula and are unable to find a suitable alternative formula, they should contact their doctor's office to determine an alternative," said Laura Kair, medical director of Well Newborn Care at UC Davis Children's Hospital.
Our UC Davis Children's Hospital team answered some frequently asked questions about infant formula during this shortage.
Is it OK to make my own formula for my infant?
No. The American Academy of Pediatrics (AAP) and the Food and Drug Administration (FDA) strongly advises against homemade formula, which has led to infant hospitalizations and deaths.
"Homemade recipes are circulating on the Internet now. We warn families against making their own formula at home. These can have too many nutrients or too much water that babies can't break down. There are also contamination risks," said Serena Yang, division chief of General Pediatrics at UC Davis Children's Hospital.
Can I add water to infant formula so it will last longer?
"No, it is never safe to dilute formula because too much water can be dangerous to the baby's health," Kair said. "Be sure to always follow the instructions on the back of the can."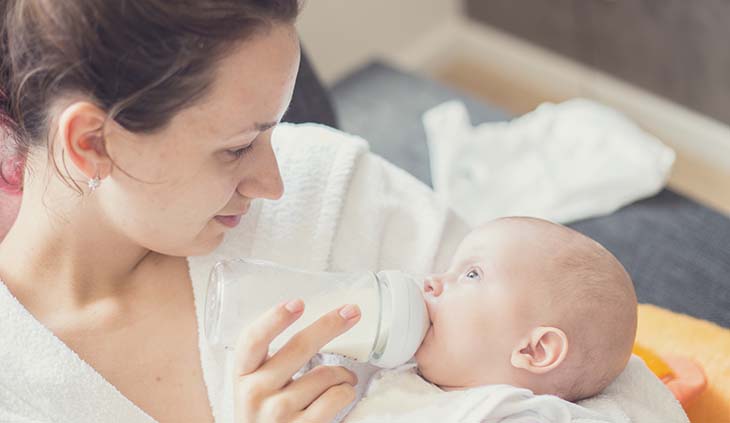 Is it safe to buy breast milk over the internet?
No. Health care providers are warning parents not to purchase breast milk from the internet. "One important study demonstrated that milk purchased on the internet may be adulterated with cow's milk and is at a significantly higher risk of being contaminated with harmful bacteria," said Kara Kuhn-Riordan, UC Davis neonatologist. "Families with our most vulnerable patients (for example, preterm babies) may be able to seek out the purchase of breast milk from an accredited donor milk bank, although this can be cost-prohibitive for many families." The Human Milk Banking Association of North America accredits nonprofit milk banks, including two locations in California, and sets guidelines for pasteurized donor human milk.
What about imported formula made outside of the U.S.? Is this safe to buy?
Infant formula outside of the U.S. does not meet FDA requirements and is often distributed by third-party vendors that are not required to follow U.S. safety standards. "Since infant formula manufactured in other countries is not reviewed thoroughly by the FDA, it makes me highly concerned about its safety for babies," said Adrienne Hoyt-Austin, UC Davis general pediatrician and lactation consultant. "Also, if parents purchase formula and are unable to read labels printed in languages other than English, that could lead to incorrect mixing and distribution of formula to their child."
How can a pediatrician help?
Your child's pediatrician can assist in a few ways. Here are some scenarios they may offer during a consultation:
Some children can "age out" of formula (i.e. older than 12 months) and safely stop formula.
Sometimes infants can safely switch to another formula, especially if there are questions about trying one brand versus another. "I have had many conversations with families about the equivalence between Similac Advance versus Enfamil versus a store brand," Hoyt-Austin said. "It can be reassuring for families that they don't 'have' to have a particular brand when it's not medically indicated."
Pediatricians can screen for use of WIC and offer that as a resource to obtain formula.
They can advise on any other concerns about mixing formula, weight changes, etc.
"We are always here to support our patients. Please use us as a resource to help you and your baby," Hoyt-Austin said.
Related links
Are there shortages of infant formula due to COVID-19?
Fact sheet: Helping families find formula during the infant formula shortage
What Should Parents Do If They Can't Find Their Baby's Formula? - CBS13 Sacramento