Today is Hispanic Nurses Day
Celebrating their contributions, working to grow their numbers in the profession
(SACRAMENTO)
For 21 years, Art Hernandez has served transplant patients as a registered nurse at UC Davis Health. He's come a long way from the days he slept on the floor in a two-bedroom house he shared with 14 siblings and his parents. During the day, he worked in the fields in Tulare County.
"I was that migrant farmworker kid. It's hard to forget," he recalled.
Hernandez ultimately benefitted from his nursing education. His hopes of helping even more people prompted him to return to school and earn a family nurse practitioner degree six years ago. When he's not at UC Davis Medical Center, he's providing culturally competent and holistic care at the Sacramento Native American Health Center.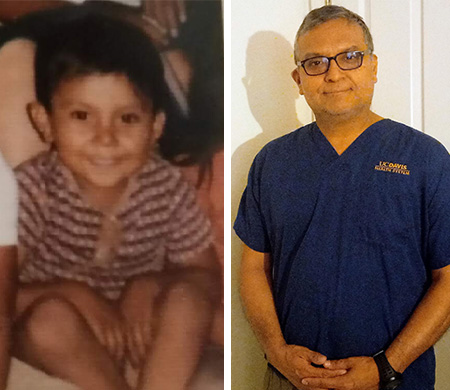 As a Hispanic in nursing, he knows he's in the minority in the profession. According to the National Association of Hispanic Nurses (NAHN), out of the nearly three million registered nurses in the United States, only 3.6% are Hispanic, even though Hispanics make up 17% of the total population.
Sandra Calderon, also a nurse practitioner and president of the Sacramento chapter of NAHN, argues that students simply are not aware of the opportunities that exist in the nursing profession.
"I want people to know what nursing is and what it can offer them," Calderon said. "Nursing is going from poverty to prosperity for our culture."
Members of NAHN routinely visit area high schools to talk about the profession they love and illustrate to students of color the possibilities of a future in nursing.
"A lot of our stories are very similar," she explained. "We want to help others overcome the things we went through and give tips and mentorship on how to avoid the mistakes we made with the different resources out there."
Challenges, resilience and triumph
It's the same message that Calderon, Hernandez and other Hispanic UC Davis Health nurses shared last week with UC Davis Health employees. "Celebrating Hispanos in Nursing: Our Challenges, Resilience and Triumph" showcased why these dedicated nurses chose the profession and encourage others to join their ranks.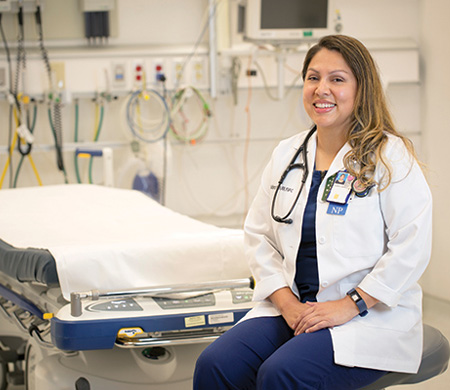 Rather than waiting for the once-a-year Principles of Community Week, leaders of the UC Davis Health Patient Care Services Diversity, Equity and Inclusion (DEI) Council strive to highlight and celebrate national nursing organizations, including LGBTQ+ and disabled nurses year-round.
"To be truly equitable and inclusive, our stories as Hispanic nurses need to be told. Our sacrifices, contributions and impact on our communities need to be shared," said Misara Bambao, DEI Council chair. "When our Hispanic patients see someone who looks like them, speaks their language, knows and understands their culture, it brings value to both the patient and the nurse."
Embracing the diversity of both nurses and patients is a focus for UC Davis Health leaders as well. In the past two years, more than 100 nurse leaders have completed Anti-racism and Cultural Humility Training, which gives participants the tools to recognize and meet patients' unique cultural, social and communications needs.
"In honor of Hispanic Nurses Day, I want to recognize and celebrate our Hispanic nurses for all that they do for our patients, today and every day," said Toby Marsh, chief Nursing and Patient Care Services officer at UC Davis Medical Center. "Their skills and compassion help make UC Davis Health the number one hospital in our region. I'm so grateful for the care and kindness they give to our patients and to each other."
I'm so grateful for the care and kindness [our Hispanic nurses] give to our patients and to each other.
Opportunities and growth
Hernandez says nursing as a person of color over the past 20 years has allowed him many opportunities.
"I have shared personal stories, learned from others and grown as a human being. I've been blessed to see how nurses from all social, economic and political hues can connect with patients and families, no matter their skin tone."
Calderon, who chose to deepen her impact by pursuing a Doctor of Philosophy Degree at the Betty Irene Moore School of Nursing, sees this as an opportunity to broaden perspectives.
"Even for those who are already nurses, I like to really focus on 'what's next for you,'" Calderon said.