UC Davis and Pfizer partner on two new COVID-19 booster vaccine clinical trials
(SACRAMENTO)
UC Davis Health is partnering with Pfizer on two new clinical trials to test the COVID-19 booster vaccine in healthy adults. At its Sacramento clinic, UC Davis is recruiting double-vaccinated participants to assess the efficacy of different strength booster doses and test heart muscle protein levels after a booster shot.
The Pfizer mRNA vaccine (COMIRNATY), also known as BNT162b2, was approved by the U.S. Food and Drug Administration (FDA) in August 2021. At the time, the recommended vaccination plan included a two-dose series of the vaccine. With the emergence of new variants like Delta and Omicron and people's waning immunity, it became clear there is a need for a booster shot.
"The development and approval of an effective COVID-19 vaccine was an important milestone in our fight against COVID-19. But there is still a lot to understand about the virus and the immune response the vaccine creates," said Timothy Albertson, professor and chair of the Department of Internal Medicine, who is leading both clinical trials at UC Davis. "This includes studying the continued efficacy and possible side effects of the COVID-19 vaccine."
The FDA authorized a 30-microgram booster dose of the Pfizer-BioNTech COVID-19 vaccine for people 12 years or older. That's the same strength as the initial two doses. The booster can be taken at least five months after the completion of the initial shot series.
Two clinical trials to test Pfizer's booster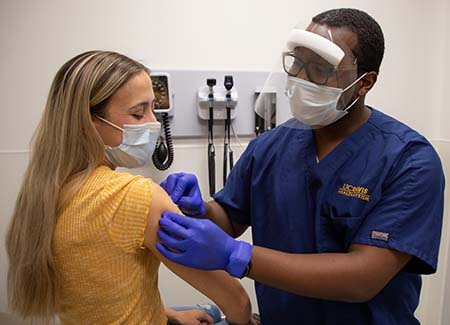 Clinical research coordinators from the UC Davis Pulmonary and Critical Care Medicine Research Unit are recruiting healthy adults who took two Pfizer shots, the last one at least five months before participation. To be eligible, these participants should also have no history of severe allergic reaction to the vaccine or any of its components, or of COVID-19 infection.
The first study aims to test if different doses of the booster produce similar immune responses. At their first visit, participants will be randomly assigned to get either the standard 30-microgram dose or a 10-microgram dose. They will come for a total of five clinic visits over one year.
"As the pandemic continues, it is important to learn about vaccine safety and the extent of the immune protection provided by a lower booster dose in adults who have received two prior doses," said Angela Haczku, co-principal investigator on the trials and the associate dean for translational research at UC Davis Health.
The second study will analyze the levels of troponin I, a heart muscle protein, before and after a booster vaccination. High levels of troponin are linked to heart injury. Participants will get both a booster and a placebo injection, four weeks apart. They will be randomly assigned to take either of these shots at their first visit. Participation includes five visits in total over two months.
UC Davis Health's top clinical research facility
The CTSC Clinical Research Center (CCRC) at the Cypress Building is providing professional patient care and research services to both clinical trials. It boasts a highly qualified staff who earned the Patient Safety Innovation Award in 2021 for supporting pioneering research on COVID-19 vaccines.
"Thanks to our experience in clinical practices and protocols, we at the CCRC are able to ensure the highest quality and integrity of research," said Christopher Kain, associate director and registered nurse at the CCRC. "We are proud to support our researchers in their quest to fight COVID-19."
For more information about these clinical trials, contact research coordinator Gabby Echt and check: https://clinicaltrials.gov/ct2/show/NCT04955626
Related stories: