UC Davis doctor first in the world to implant a retrievable leadless pacemaker in a child
(SACRAMENTO)
UC Davis Director of Pediatric Electrophysiology Dan Cortez is the first physician in the world to implant a retrievable leadless pacemaker in a child.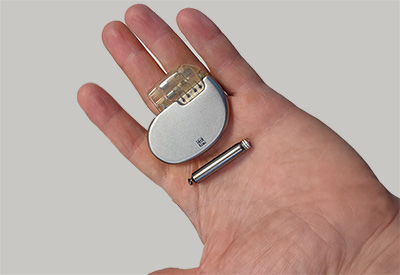 This new device is called Aveir VR and is manufactured by Abbott. It's designed to be easily retrievable when the battery needs to be replaced.
Most traditional pacemakers are surgically implanted through the chest to the outside of the heart, then connected to the heart by leads.
This retrievable pacemaker was implanted through the child's internal jugular vein in the Cardiac Catheterization Lab and has no leads. Instead, the heart absorbs it.
"It's amazing how small the device is. It's like the size of one AA battery," said Heather Hayes, whose son Matias was the first to have the procedure done last month. "My son now wears a medical bracelet to let people know he has a pacemaker because you would never know otherwise. No scars and no sign of it."
Before the procedure, Matias had a very slow heart rate of about 30 beats per minute. His skin was pale, and he had very little energy.
After the procedure, Matias's heart returned to a normal resting rate, and he had color back in his skin. He was more alert at school.
"His teacher at school noticed the improvement instantly," Hayes said. "It's been a blessing. Dr. Cortez is the best. He saved my son."
The pacemaker is expected to last through childhood and into adulthood, but if the battery needs to be replaced, this retrievable leadless pacemaker will be easy to remove.
"We're pleased to provide this leading-edge procedure to our patients. No incisions. Just a stitch placed in the neck the day of the procedure and removed the following morning," Cortez said.
Pacemakers are typically placed in children with congenital complete heart block, a rare condition that affects 1 in about 15,000 to 22,000 children.
In 2018, Cortez was the first physician in the world to implant a Micra leadless pacemaker through the internal jugular vein in a child.