UC Davis Health adds two new prenatal diagnostic center clinics
(SACRAMENTO)
As part of a continuing focus to help reduce the risk of high-risk pregnancies in inland Northern California, UC Davis Health has added two new Prenatal Diagnostic Center (PDC) clinics in Sacramento and Stockton, providing expecting mothers with comprehensive counseling, genetic screening and diagnostic testing for fetal anomalies such as chorionic villus sampling (CVS) and amniocentesis.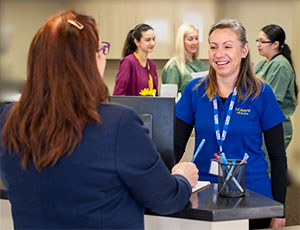 These two clinics are located at:
1111 Exposition Blvd in Sacramento
1801 E. March Lane in Stockton
These two clinics are UC Davis Health's first satellite PDC clinics, expanding UC Davis Health's services for pregnant women. Its main PDC is located in the Lawrence J. Ellison Ambulatory Care Center in Sacramento.
"These clinic locations provide more convenient access for patients with a high-risk pregnancy to receive maternal-fetal medicine services with UC Davis Health's board-certified perinatologists," said Shinjiro Hirose, director of the UC Davis Fetal Care and Treatment Center. "The PDC clinics partner with the UC Davis Fetal Care and Treatment Center, allowing for seamless access to our innovative fetal surgery center, if needed."
Those who are normally seen in the PDC:
Pregnant women who will be 35 or older on their due date.
Couples who already have a child with a birth defect or have a family history of birth defects.
Pregnant women with abnormal results from the California Prenatal Screening Test, a blood test that is usually combined with a special ultrasound in the first trimester to estimate the risk of specific birth defects.
"Pregnant women who have concerns about the health of their fetus now have more access to our world-class specialists in these community clinics," said Herman Hedriana, chief of maternal fetal medicine at UC Davis Health.
UC Davis Health specializes in high-risk pregnancies, with inland Northern California's most-advanced Neonatal Intensive Care Unit (NICU) and nationally ranked obstetrics-gynecology (OB/GYN) care, rated among the Top 20 best in the nation.
For more information about the Prenatal Diagnosis of Northern California, call 916-736-6888.