UC Davis Health earns 'Most Wired' recognition for 10th year in a row
Honor recognizes excellence in using technology to improve hospital and ambulatory care
(SACRAMENTO)
UC Davis Health has been recognized as one of the best healthcare organizations in the nation for effectively using technology to improve the delivery of care, according to the College of Healthcare Information Management Executives (CHIME).
For the 10th consecutive year, UC Davis Health has been recognized as a level 9 out of a possible 10 in the 2021 Digital Health "Most Wired" program. It assesses how effectively healthcare organizations apply core and advanced technologies to their clinical and business programs to improve health and care in their communities.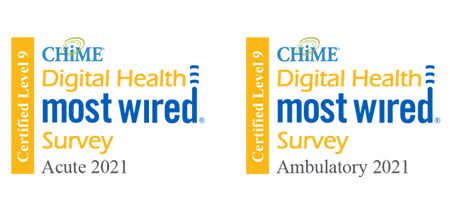 UC Davis earned this rating in both the acute and ambulatory categories, ranking in the top 3% of healthcare organizations in California for effective use of technology in delivering care.
"During the COVID-19 pandemic, we have made even more use of digital technologies, including telehealth and remote monitoring, to improve patient care and outcomes," said David Lubarsky, CEO of UC Davis Health. "This achievement is a testament to our Information Technology team, which has been working hard in the background to make patient care more accessible and our care teams more effective."
A total of 36,674 organizations were represented in the 2021 Digital Health Most Wired program. CHIME conducts an annual survey to assess the adoption, integration and impact of technologies in healthcare organizations at all stages of development. Organizations are scored in areas including:
infrastructure
security
business and disaster recovery
administrative and supply chain
analytics and data management
interoperability and population health
patient engagement
clinical quality and safety
Led by Chief Information and Digital Health Officer Ashish Atreja, UC Davis Health's Information Technology Department has worked diligently to engage patients in their care, empower them with education and clinical data, and help them easily communicate with their care team.
"As part of our Digital Davis vision, we are committed to advancing digital and data-driven care to continue to provide exceptional patient care and experiences," said Atreja. "Earning this award every year at such a high level speaks volumes about the hard work of our team and dedication to our mission."
Visit CHIME for more information about the Digital Health Most Wired program.