UC Davis Health orthopaedics first in region to offer weight-bearing CT scan technology
Weight-bearing CT scans: Improving foot and ankle care
(SACRAMENTO)
The UC Davis Health Department of Orthopaedic Surgery Sports, and Foot & Ankle Clinic now has the first weight-bearing CT scan machine in the Northern California region.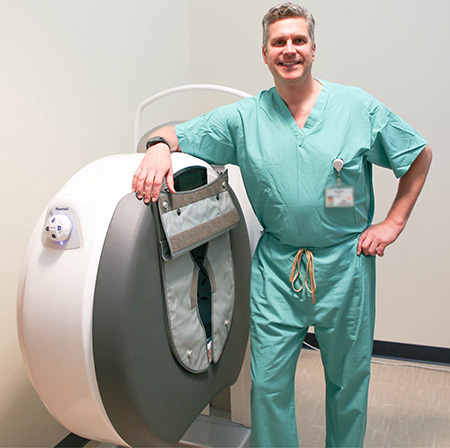 Also known as a weight bearing CT scanner, or WBCT, the innovative technology allows a patient to stand, rather than lie down, for a comprehensive scan of the feet, ankles and knees. The arms and hands can also be evaluated in a weight-bearing position. Images can be taken in less than 60 seconds and the process exposes patients to less radiation than traditional CT scans. Providers began using the new system with patients this week.
"We are grateful to partner with the UC Davis Department of Radiology to be on the front edge of diagnosing and treating musculoskeletal ailments in Northern California and beyond," said R. Lor Randall, chair of the UC Davis Department of Orthopaedic Surgery.
Because the feet and ankles support the weight of the whole body, WBCT imaging allows for a more precise evaluation of foot and ankle anatomy. In addition, a scan of the patient's feet while holding body weight rather than while lying flat, allows for a more accurate image of the foot and ankle alignment. It can also offer improved insight about injuries by allowing providers to observe movement that causes pain or other deformities in the foot.
"The weight-bearing CT scanner will allow us to have a better understanding of patients' injuries," explained Eric Giza, the foot and ankle division chief in the Department of Orthopaedic Surgery. "It allows us to create a 3-D model of the patient's foot and ankle which then aids in their diagnosis and treatment and expedites their recovery and return to function."
Progressing patient care
For orthopaedic patients, the new scanner experience is an improvement from a traditional CT scanner. Those can take as long as 30 minutes and require the patient to lie down on a bed and stay still while the bed moves through a short tube. Some patients with a fear of enclosed spaces and most children must often be sedated to obtain reliable images.
This new system enables UC Davis Health orthopaedic surgeons to determine the most accurate analysis and treatment options for patients. The WBCT scanner is leading-edge technology for the diagnosis and care of foot and ankle injury and illness. It can also be used for the evaluation of the knee, elbow and wrist.
"This new technology gives us better insight into a patient's pathology and allows us to create a more comprehensive plan of treatment," said Christopher Kreulen, associate professor in the Department of Orthopaedic Surgery.
The new diagnostic tool is located at UC Davis Sports Medicine on C Street. This allows patients to have advanced imaging in the same clinic where they see their orthopaedic providers. The goal is to expedite the timeline from diagnosis to treatment.
"Being the first in the region to have this technology helps further distinguish the high level of care our orthopaedic department provides to the community," Kreulen said.