UC Davis Health recruiting for study on using both implant, birth control pills
(SACRAMENTO)
Are two birth control methods better than one? UC Davis Health is one of three centers in the United States, investigating if patients are willing to use both a birth control pill and a hormonal birth control implant at the same time.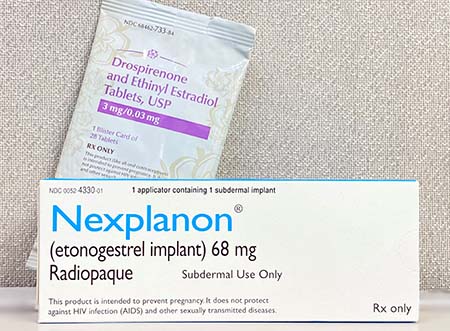 The 12-month study is recruiting those who are 18 years of age and older, who are currently using birth control pills or have a birth control pill prescription and intend to start taking them for pregnancy prevention.
"We all want to have control over when we want to start a family and how we achieve those goals. We are looking to see if using these two tried and true methods of birth control will give participants greater protection from accidental pregnancy without any unwanted side effects and potentially improved bleeding patterns," said Melissa Matulich, family planning physician and the study investigator at UC Davis Health.
The pill and implant are both currently FDA-approved methods to use as birth control. The implant, known as Nexplanon, is a small, flexible, plastic rod about the size of a matchstick that is placed under the skin in your upper arm. It releases a small amount of hormone every day. The study will provide and pay for the cost of the implant. Study participants will receive up to $350 for their time and involvement.
Galt resident Mady Bachmann just completed the one-year trial at UC Davis Health and said that the combination of two birth control methods helped lessen the side effects that she has experienced with birth control in the past. She reported having shorter and less painful periods and less spotting when using both methods. She also has had no nausea, weight gain or acne breakouts from these birth control methods.
"It's been nice to have a backup method always in place, in case I forget to take my birth control pill on time. The Nexplanon is always working," Bachmann said.
Bachmann now continues to use the Nexplanon implant with birth control pills, even though her participation in the trial is over.
"The combination has worked for me. I'm glad that I could be part of this," Bachmann said.
Forty participants will be enrolled at UC Davis. They do not need to be UC Davis Health patients to participate. They will need to attend four visits during the 12 months of the study. For more information, visit the UC Davis Health Study Pages.