UC Davis Medical Center receives Platinum Level Excellence in Life Support Award
Sacramento hospital is first in California to receive this honor
(SACRAMENTO)
UC Davis Medical Center has received the Platinum Level ELSO Award for Excellence in Life Support from the Extracorporeal Life Support Organization (ELSO) for its Extracorporeal Life Support Program. The program provides lifesaving support for failing organ systems in infants, children and adults.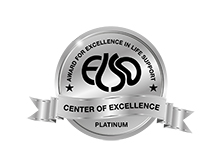 The Excellence in Life Support Award recognizes centers that demonstrate an exceptional commitment to evidence-based processes and quality measures, staff training and continuing education, patient satisfaction and ongoing clinical care.
The ELSO Award signifies to patients and families a commitment to exceptional patient care. It also demonstrates to the health care community an assurance of high-quality standards, specialized equipment and supplies, defined patient protocols and advanced education of all staff members.
Extracorporeal life support (ECLS), also known as extracorporeal membrane oxygenation or ECMO, is one of the most advanced forms of life support available to patients experiencing acute failure of the cardiac and respiratory systems. The ECLS machine does the work of the heart and lungs, artificially oxygenating the blood and returning it to the body, allowing the patient's heart and lungs to rest and heal.
A designated Center of Excellence has demonstrated extraordinary achievement in three categories:
Excellence in promoting the mission, activities and vision of ELSO
Excellence in patient care by using the highest-quality measures, processes and structures based on evidence
Excellence in training, education, collaboration and communication supporting ELSO guidelines that contribute to a healing environment for families, patients and staff.
At UC Davis Medical Center, ECLS is performed by a team of highly skilled physicians, nurses and cardiovascular perfusionists trained to provide extracorporeal life support. All patients treated using ECLS have a bedside nurse dedicated to the care of the patient as well as a second, specially trained nurse committed to the management of the ECLS machine. A physician trained in ECLS technology manages or co-manages each of the patients on ECLS, and a UC Davis Medical Center perfusionist is available at all times to assist with the equipment and patient management.
"Our Extracorporeal Life Support Program is a model for quality, interprofessional care at UC Davis. This designation reflects the dedication to advancing health care that we continuously strive to achieve at UC Davis. I'm proud of the commitment of our whole team to reach this level of achievement," said Laura Kenny, ECLS coordinator and the assistant nurse manager of pediatric critical care and Children's Hospital Critical Care Transport Team.
The Extracorporeal Life Support Organization (ELSO) is an international nonprofit consortium of health care centers and individuals who are dedicated to the development, evaluation and improvement of ECMO and other innovative therapies for support of failing organ systems in the neonate, child and adult. ELSO is made up of a broad multidisciplinary collaboration of physicians, nurses, perfusionists, respiratory therapists, technicians, researchers and industry experts. Global chapters of ELSO provide education and expertise in ECMO delivery around the world. For more information, visit elso.org.