UC Davis Medical Center sets record for COVID-19 patients amid Omicron surge
Adult and pediatric patient admissions have climbed sharply in recent days
(SACRAMENTO)
As the highly contagious Omicron variant surges, UC Davis Medical Center is reporting a record number of COVID hospitalizations.
As of Jan. 18., providers are caring for more COVID-19 patients than at any time during the pandemic. There are currently 126 hospitalized patients with active COVID-19 infections at the medical center. On Jan. 1, there were 37. The new number surpasses last winter's peak of 125 COVID patients.
Most of the COVID-19 patients have severe symptoms. A smaller number have mild symptoms or even asymptomatic cases that were detected through routine screening, but those patients still strain hospital resources as they must be isolated and require a higher level of care to avoid infecting staff and other patients. Some with mild cases still need COVID treatment because the virus can complicate other conditions that brought them to the hospital.
"We continue to see increasing numbers of infected patients, many requiring hospital admission, sometimes in the intensive care units," said Dean Blumberg, chief of pediatric infectious diseases at UC Davis Children's Hospital.
The highly infectious Omicron variant has spread rapidly. According to state and local health dashboards, COVID-19 cases, COVID-19 hospitalizations and emergency department visits for COVID-like symptoms set new, all-time-record high numbers for all of Sacramento County over the past week. UC Davis Medical Center started seeing record emergency department visits late last month.
"Even though Omicron appears to be somewhat milder than earlier variants, there are so many more people getting infected because of the increased transmissibility," said Brad Pollock, professor of epidemiology and chair of the Department of Public Health Sciences. "That means hospital capacity will continue to be taxed. Remember, only 70% of Californians are fully vaccinated. Those that are not vaccinated will drive most of the stress on our health care capacity."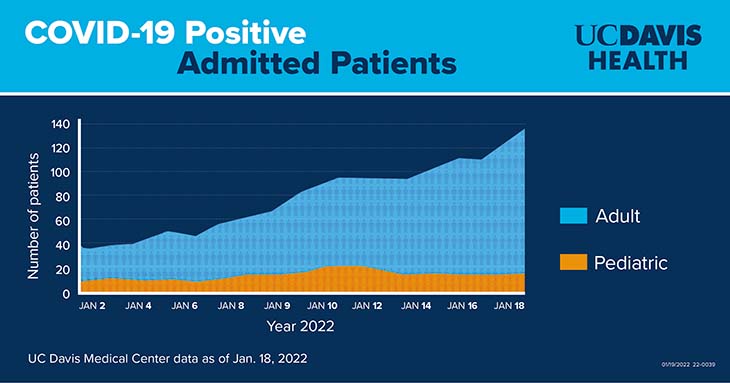 A spike in pediatric patient admissions
"A growing number of children are being admitted to the hospital, and we expect this to continue to increase both for acute COVID infection, but also due to the Multisystem Inflammatory Syndrome in Children, MIS-C, which may follow acute COVID infection by two to four weeks," Blumberg explained.
On Jan. 1, 2022 there were two UC Davis pediatric patients hospitalized with COVID-19. Today, there are nine. The number does fluctuate; a week ago there were 13.
A recent study by UC Davis Health researchers identified certain predictors of severe COVID-19 outcomes in children. The authors discuss their findings in this podcast.
Surging to meet patient needs
UC Davis Medical Center announced late last week it was one of a few hospitals in the region partnering with the California Department of Public Health to provide additional staffing to care for the increasing number of hospitalized patients.
As the region's only Level I Trauma Center, UC Davis Medical Center is equipped to handle rapidly changing patient needs and surges.
Prevention is possible
UC Davis Health experts agree that it's more important than ever to take extra precautions to avoid becoming infected or spreading Omicron to protect the vulnerable and preserve hospital capacity for those who need it most.
"People should know how much more transmissible this version of the virus is compared to the previous variants," Pollock said. "It is critical to use N95 masks if you can, limit gathering indoors with large groups, and make sure you are fully vaccinated and boosted to reduce your risks of having serious disease if you do get infected."
Learn more about which masks work best against the Omicron variant and how to spot a counterfeit.