UC Davis neurology chair receives international honor for research
Amy Brooks-Kayal is only the 10th woman to win the prestigious Bernard Sachs Award from the Child Neurology Society
(SACRAMENTO)
Chair of the UC Davis Health Department of Neurology, Amy Brooks-Kayal has been selected as the 2023 recipient of the Child Neurology Society Bernard Sachs Award. The prestigious award is given annually to honor a scholar of international status who has done leading research in neuroscience related to the care of children with neurological disorders.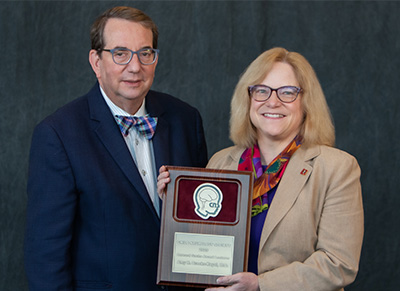 Brooks-Kayal's research, published in numerous journals, including Annals of Neurology, Experimental Neurology, and Epilepsia, focuses on how seizures affect the brain. Brooks-Kayal is also working to develop new treatments for epilepsy prevention and potentially, a cure. As a provider, Brooks-Kayal specializes in caring for children who have epilepsy that is complex or difficult to manage.
This isn't the first time Brooks-Kayal has been recognized for her work. She received the Founders Award from the American Epilepsy Society in 2019 and the Ambassador for Epilepsy Award from the International League Against Epilepsy (ILAE) in 2021.
She notes that this new honor is particularly rewarding on a personal level. Of the 47 recipients of this award from the Child Neurology Society, only 10, including Brooks-Kayal, have been women. The last woman recipient was nearly a decade ago.
"Advancing a diverse workforce is paramount to me and the importance of representation and mentorship in that aim cannot be understated. This is why I am incredibly proud to receive this award," said Brooks-Kayal of the accolade. "The previous women recipients of this award have been role models to me, women I could relate to and see my future potential in."
Having been selected by her colleagues adds even more to the achievement.
"This is a particularly meaningful honor as I was nominated by research colleagues and a former trainee. It's quite an august group of child neurology researchers and I am proud to be counted amongst them," Brooks-Kayal noted.
Brooks-Kayal earned her B.A. from Cornell University and her M.D. from Johns Hopkins University. She completed a residency in pediatrics at Children's Hospital of Philadelphia, as well as a residency in child neurology at the University of Pennsylvania and Children's Hospital of Philadelphia. Brooks-Kayal also completed a fellowship in neuroscience in clinical neurophysiology at the University of Pennsylvania/Children's Hospital of Philadelphia Program.
Brooks-Kayal hopes to help create an inclusive environment in neurology and neuroscience research to help diverse researchers thrive. She notes that a major challenge in STEM, particularly in neuroscience and neurology, is recruitment and retention. To address the problem, she says increasing the pipeline of people who enter and creating an environment where they can flourish and want to stay in the field is crucial.
"To advance the diversity in our field, we must provide mentors, role models, and funding for early career researchers from previously underrepresented groups, including women. A small step in that is increasing representation and being part of that is really meaningful to me," Brooks-Kayal explained.
Read the full profile of Brooks-Kayal from the Child Neurology Society