UC Davis School of Medicine tests potential COVID-19 treatments and vaccines
(SACRAMENTO)
19 months and nearly 43 million cases after the first confirmed COVID-19 infection in the U.S., the search for safe and effective treatments continues at the UC Davis School of Medicine.
As the pandemic spread around the globe, researchers at the School of Medicine partnered with drug developers and funding agencies to find and test potential therapies and vaccines to SARS-CoV-2, the virus that causes COVID-19.
"UC Davis School of Medicine, renowned for its research expertise, is a trusted partner on many COVID-19 clinical trials and research studies. We are immensely grateful to all our researchers who continue to be at the forefront of efforts to cure this terrible disease," said Allison Brashear, the dean of the UC Davis School of Medicine.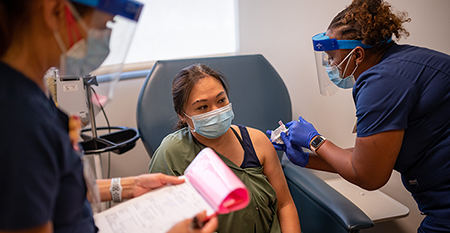 UC Davis received about $42 million in COVID-19 research funds in 2020-21. The School of Medicine's share was more than two-thirds of that, nearly $28.5 million.
With more than 75 COVID-19 research grants, the School Medicine conducted at least 28 studies to find potent treatments and vaccines.
Ongoing clinical trials for potential COVID-19 treatments
UC Davis School of Medicine researchers are currently recruiting for multiple clinical trials, including those using stem-cell-based therapies, monoclonal antibodies, and other experimental drugs. These include:
The researchers also recruited for multiple clinical trials, including:
COVID-19 vaccine testing
The UC Davis School of Medicine has also taken part in testing potential COVID-19 vaccines, including the now FDA-approved Pfizer vaccine for adults and the under-review Novavax vaccine for adults and children (12-17 years old).
Currently, researchers are testing a booster COVID-19 Pfizer shot to adults. They are also assessing SARS CoV-2 infection, viral shedding and potential transmission in young adults immunized with the Moderna's vaccine.
Developing rapid COVID-19 tests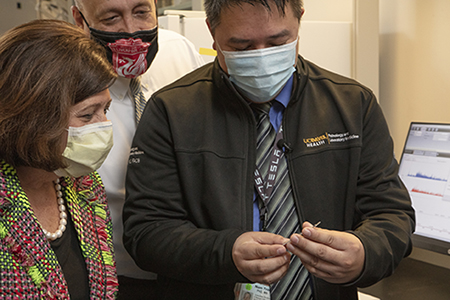 With the advent of the pandemic, clinical lab scientists at UC Davis Department of Pathology and Laboratory Medicine developed an in-house COVID-19 test. Their remarkable achievement was a testament to a great interdisciplinary teamwork culture spanning across many departments.
One notable collaboration between UC Davis School of Medicine and the industry is the development of a rapid COVID-19 test. The new test uses an analytical instrument known as a mass spectrometer, which is paired with a powerful machine-learning platform to detect SARS-CoV-2 in nasal swabs.
Other COVID-19-related studies at UC Davis School of Medicine
Researchers are also conducting studies to better understand COVID-19 and how it impacts people and their health. Some of these studies include:
"We take this opportunity to thank all of the participants who volunteer in our clinical trials," said Timothy Albertson, chair of internal medicine at UC Davis School of Medicine and principal investigator on multiple COVID-19 clinical trials. "Their contribution helps to save lives and push science forward."
Learn more about how to sign up for UC Davis Health clinical trials or studies here.