Virtual reality 'sneak preview' of California Tower allows staff to provide design feedback
(SACRAMENTO)
As design development advances on the new California Tower at UC Davis Medical Center, the design-build team recently held a series of mock-up tours for UC Davis Health physicians and nurses using physical models and virtual reality technology.
Staff were able to experience full-sized, three-dimensional models of proposed rooms in the California Tower and actually walked the space using virtual reality headsets and models. Staff provided feedback on construction design based on functionality for providing patient care in those spaces.
"Having the ability to not just imagine a 3D space, but to actually experience it is completely different," said Kenneth Furukawa, clinical professor of anesthesiology. "This experience has given me a lot of confidence that the work we are doing to build the California Tower truly makes sense for allowing us to provide exceptional patient care."
A mock-up is a full-size structural model made with the exact construction dimensions that will be used on a project. The mock-up gives designers, contractors, and clients the opportunity to assess a three-dimensional representation of the design. That allows functionality, aesthetics and quality to be evaluated down to the smallest detail.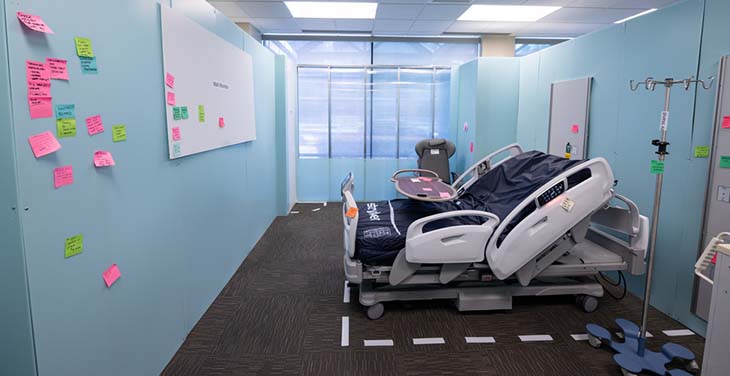 With the virtual reality mock-up, the teams are able to be in the spaces and experience the set-up and configurations, even getting to interact with pieces of equipment.
"Creating physical and virtual mock-ups allows us to see the space and get a true feel for it," said Chee Keong Lin, architect with SmithGroup. "Our team and clients get to see how big a bed will feel in that space or how big it is with five other bodies in the room. Being able to acquire feedback from clients on the design allows us to foresee problems and solve them before they happen on a large scale."
When completed in 2030, the California Tower will include a 14-story hospital facility and five-story pavilion adjacent to the existing medical center. It will add approximately one million square feet of space, including new operating rooms, an imaging center, new facilities for existing pharmacy and burn care units and approximately 400 private rooms for patients.