Wildfire smoke increases inflammation, lung disease risk
Northern California study was conducted during two-month period with poor air quality due to multiple wildfires
(SACRAMENTO)
Wildfire smoke is dangerous to patients suffering from chronic airway diseases such as asthma or chronic obstructive pulmonary disease (COPD), resulting in increased emergency department visits and hospitalization. However, it is less recognized that wildfire smoke elicits inflammatory changes even in healthy people, putting them at risk of developing lung disease.
During a heavy wildfire season in late August and early September 2020, a team of researchers at UC Davis Health launched a study to investigate immune cell and molecular biomarkers in the blood of healthy volunteers from the Sacramento region.
Over the two-month period that they collected blood samples, multiple wildfires were burning in Northern California, one of which went on to be the largest wildfire in California history.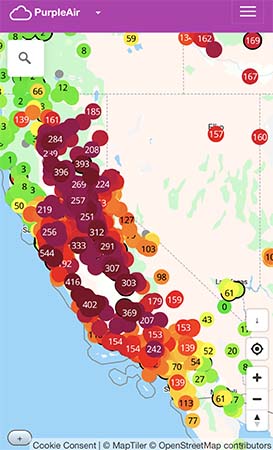 The mean air quality index (AQI) in the Sacramento region was 113, unhealthy for sensitive individuals. On some days, Northern California experienced the worst air quality in the world, with AQIs registering in the hazardous range.
Volunteers later donated a second blood sample outside of the wildfire season when the AQI was green or in the good range of 0-50.
Compared with these later samples, blood collected during the wildfire season showed significantly elevated levels of inflammatory markers. They also showed the activation of immune cells called dendritic cells.
Blood dendritic cells also expressed high membrane chemokine receptor 4 (CCR4) levels. The molecule is important in propelling dendritic cells through the circulation into the inflamed peripheral tissues. Cell activation and CCR4 expression were especially increased in cDC2, a type of dendritic cell that plays a role in sensitization to allergens and the development of chronic lung disease.
"I was very surprised by the significant pathological changes in these blood immune cells of all healthy volunteers without an apparent presence of major clinical symptoms," said Angela Haczku, senior author of the study. Haczku is a professor of medicine and respiratory immunologist at UC Davis Health. "Our results highlight how susceptible the immune system is to environmental exposures such as wildfire smoke inhalation."
The team presented their preliminary findings at the 2021 American Thoracic Society Conference and published an abstract of the study in the American Journal of Respiratory and Critical Care Medicine.
This current study shows that even without major symptoms, significant pathological changes are happening in the lungs and immune system when we are exposed to wildfire smoke."
Impact of wildfire smoke a global health issue
Exposure to wildfire smoke is becoming a global health problem as a hotter, dryer climate leads to more wildfires. Recent years have seen megafires in Australia, Greece, and the Western U.S. California's five largest wildfires have occurred since 2018.
Wildfire smoke contains inhalable toxic gaseous and particulate matter associated with various detrimental health effects. And the impact of wildfires can be geographically large. In July 2021, smoke from wildfires burning in California and Oregon reached the East Coast.
"This current study shows that even without major symptoms, significant pathological changes are happening in the lungs and immune system when we are exposed to wildfire smoke. Our work intends to provide scientific evidence for the health impact of wildfire smoke. As wildfires become more prevalent, it is important to find ways to mitigate the health effects," Haczku said.
Read more about the research into the health effects of wildfire smoke being done at UC Davis: https://magazine.ucdavis.edu/what-is-the-health-impact-of-wildfire-smoke/
Ways you can protect yourself from wildfire smoke
Wear an N95 mask
Close windows and doors
Run AC on recirculate with a new filter
Use a CARB-certified air cleaner.
Use a DIY box fan air filter (instructions here)
Avoid vacuuming, frying food or using gas-powered appliances
Find out more at the California Air Resources Board website.
Originally published February 4, 2022.