Willow Clinic Veterans Day Health Fair takes place Saturday
Medical students among volunteers who organize screenings, haircuts, a coat giveaway and more for local veterans
(SACRAMENTO)
Willow Clinic, which is run by UC Davis students, will host a Veterans Day Health Fair from 9 a.m. to 3 p.m. Saturday in Sacramento.
The 12th annual fair will be at the site of the clinic's partner organization – Veterans of Foreign Wars Post 67 – at 2784 Stockton Blvd., down the street from UC Davis Medical Center.
The event will offer free services, including:
General health exams
Psychological evaluations
Prostate cancer screening
Vouchers for eyeglasses from VSP, the vision insurance provider
Haircuts
Flu shots
Diabetes support
In addition, winter coats will be handed out. Food and coffee will also be available at no cost on a first come, first served basis.
Willow Clinic is one of a dozen student-run clinics staffed by volunteers from the UC Davis School of Medicine and undergraduate students from the Davis campus.
The health fair is an extension of the clinic's community outreach efforts to care for anyone who needs medical or psychiatric attention, including veterans, regardless of documentation or insurance status.
The event also helps address inequities that veterans and other people might face in accessing health care, said Om Patel, a medical student who serves as the clinic's co-director.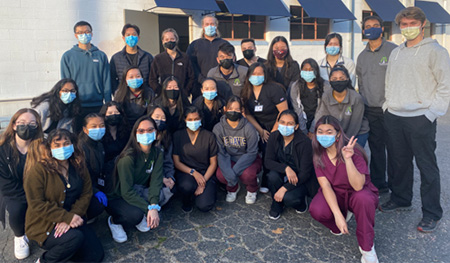 The health fair also has a special meaning for Patel, whose older brother Rudra Patel served five years in the U.S. Air Force.
"As first-generation immigrants, both of us have seen our parents sacrifice so much for our American dream to become feasible. The weight of their sacrifices instilled a pillar of service in both of our lives," he said.
Volunteering at the health fair allows Patel to express his appreciation to his brother and other veterans. "This is my way of saying, "thank you for your service, sacrifice, your bravery and the example you set for all of us.'"
Those interested in making appointments for the free exams can call 916-572-4502.