Your top COVID-19 questions, answered by White House Chief Science Officer David Kessler
Insights on mental health, COVID vaccines for kids, booster shots, oral antiviral drugs, and vaccine side effects
(SACRAMENTO)
On Nov. 5, Ralph Green, distinguished professor in the Department of Pathology and Laboratory Medicine at the UC Davis School of Medicine, interviewed David Kessler, the chief science officer of COVID-19 response at the U.S. Department of Health and Human Services. Kessler is leading the effort to accelerate the development, manufacture, and distribution of coronavirus vaccines.
During the wide-ranging interview, Kessler discussed antivirals, COVID vaccines for young children, booster shots and more. These interview highlights were edited for clarity and brevity. Watch the full interview.
On antiviral drug development, including Pfizer's oral antiviral drug
As you know Merck announced their antiviral several weeks ago, and Pfizer did that on Nov. 5. These are the first oral antiviral agents. If you look at the eligible population for the Pfizer, it was in high-risk individuals, at risk for hospitalization or death due to COVID with really stunning results. The Pfizer drug is a protease inhibitor. Its safety profile looks pretty clean from what I saw: some GI distress, a few cases of hypertension. It still has to be submitted to the FDA and has to be evaluated but I think this could be a game changer.
The most important thing to emphasize, this is not a substitute for being vaccinated. It is absolutely critical for everybody to avail themselves of vaccines. They are highly effective. I have seen people take the position that: "I'll just get a monoclonal antibodies or I just got an antiviral." You want to stop this virus before it attaches to any cells. Vaccines are first, second, and third, but I will tell you, if this bears out and the data hold up and I've every reason to believe that's the case, I can see the light at the end of the tunnel and I had not been able to say that before.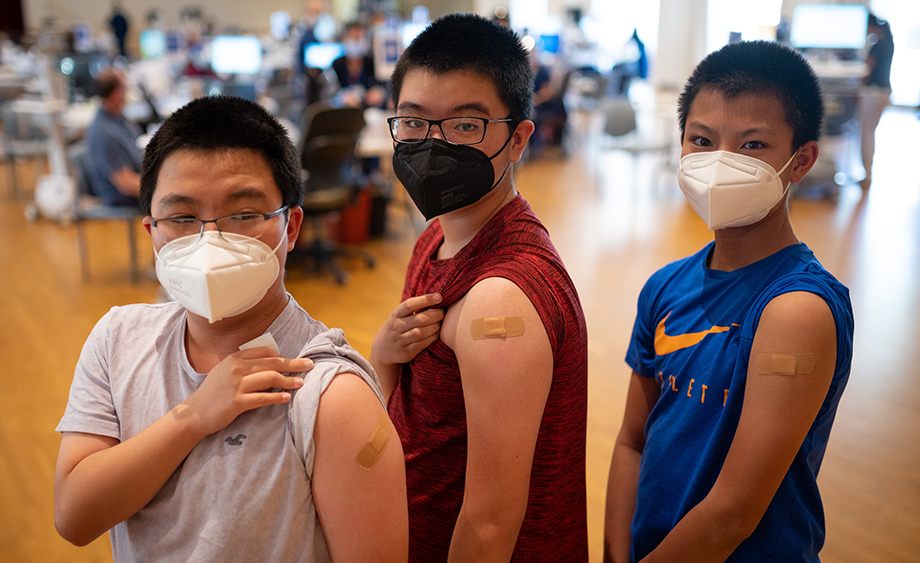 On COVID vaccine availability for children under 5 and rare severe vaccine reactions, including myocarditis
Children do transmit this virus. Obviously, some 1.9 million cases, some over 8,000 hospitalizations, and [there's] been an amount of multisystem inflammatory syndrome in children (MIS-C) cases. A third of the cases of hospitalization end up in the ICU. So, this is also a disease of the children. Some high 30% to 40% of children have positive serologies. The number that struck me the most in the presentations to the advisory committee was the number needed to treat. For every nine children vaccinated, you can prevent one kid from becoming infected. I mean, that's a profound ability to intervene.
I'm also very excited with regard to [kids] below the age of 5. There are two cohorts that are being studied right now: there's a cohort that includes kids ages 2-5 years and then those 6 months up to 2 years. I think it's fair to say the first quarter of next year, the 2-5 vaccine will be ready, and hopefully the next age cohort can follow suit.
The issue on adverse events, on myocarditis specifically, I think that we tend to see the peak of cases - and this has been studied really very closely - in that 16- to 24-year age group. The reality is, luckily, the cases of myocarditis that are seen are mild and certainly the benefits of the vaccine clearly outweigh the risks. The actual clinical trials of about 3,000 individuals who are in that age group were absolutely clear: there were no incidents of myocarditis. But again, you wouldn't expect to see it if it has incidence of one in 5,000 or one in 10,000 if there were only 3,000 participants. So, all very good news on the antivirals, great news on vaccine for kids. Antivirals and vaccines are very important if we're going to affect transmission. Also, very honestly, children [ages] 5 to 11 deserve to be protected.
On messaging to enhance public trust, especially regarding transparency on vaccine safety
We are always taking a position that the transparency is absolutely critical for a public trust. I think it's almost fair to say we've obsessed about that transparency. I think you saw that in seven cases of thrombotic syndrome with thrombocytopenia with J&J. We halted the use, even though their incidence was rare, to have a full public hearing. We've been very careful to make sure as soon as we see a signal, that signal is out. We, the teams both at CDC and FDA, I've never seen anything like it. The dedication and the seriousness with which they take these adverse events, really is something we can all feel comfortable in.
There's a lot of disinformation out there. I'm under no illusion. Just take kids, for example, this 5-11 year old cohort, you look at the Kaiser Family Foundation: about a third of the parents said they're ready to get their kids vaccinated; a third said they're not going to get the kids vaccinated. I think what we experience is once they start seeing other kids and they hear from parents that it was safely done and how they feel about it, that momentum picks up. I wish we were better at dealing with this information. The challenges to science, there's something afoot that is most troubling, but you know we worked very hard at it.
On transmissibility of the delta strain in naturally infected versus vaccinated populations
There is no doubt that people who were naturally infected have some levels of immunity. We don't know how long that immunity lasts or how much additional protection they can get from also getting a vaccine. But we do know that if you look at CDC research, that people with natural infection who remain unvaccinated are five times more likely to be reinfected than people who got the mRNA vaccine. If there is one thing that we can say with assurance is that if you've been infected with COVID and have natural immunity, that immunity is strengthened by vaccination and we encourage that vaccination. We certainly have neutralizing antibodies, but keeping those neutralizing antibody levels high, especially in the face of delta, is very important. We're going to have to learn more about natural infection. We just don't know how durable it is.
On the degree of immunity conferred by the third dose
That's the question that is before us that we don't have the data [for]. If you talk privately to my colleagues, I think almost all of us agree that if we were doing this from the beginning, certainly with the mRNA vaccines, this would have been a three-dose regimen and to include the 1, 2 and 6 months. I'm not ready to draw any conclusions on whether this needs to be annual. The way we work here is that we always have to be ahead of the game. We're planning for all these contingencies. For now, the boost data is exquisite, people should get boosted.
On the U.S. contribution to COVID-19 vaccines for low- and middle- income countries
We bought doses early on and I was involved in buying doses from Moderna, Pfizer and then J&J. Every dose that we didn't use, we were shipping and donating abroad. There have been heroic efforts. We've shipped out 225 million doses to date to over 110 countries. If you look at the cost of those doses, that was about $4 billion of U.S. taxpayer money. We also did a deal for an additional 1 billion doses from Pfizer that started, but that's over the next period, all to low- and middle-income countries. That costs another $7 billion worth for a total of about $11 billion in contributions.
I think there is still a gap that we're working on. We are working through COVAX. Increasingly there's an absorption problem. We are seeing doses that we have where you know getting uptake is becoming an issue. We have to not only worry about supply, but also about absorption by getting this in arms. I think at the end of the day, the world needs boosters and kids protected.
On the mental health implications caused by the pandemic, especially among students
My colleague the Surgeon General Vivek Murthy is eloquent on this. It is clear that the pandemic has taken a very serious toll on the mental health of many people, especially young people who have sacrificed so much of their lives. There has been so much isolation and I think it is profound. This was true before and this is certainly true now. We need to invest in mental health services and treatments, which we have done. I think SAMHSA issued some $2.5 billion in grants and there have been additional funds for pediatric mental health. We need to understand that we are facing long-term effects of the pandemic and we need to be able to offer support and treatment to people who need it. We've only begun to understand the tip of the iceberg. We have a major job ahead.
On returning to "normal" social practices and eliminating masks
I understand this is a complicated question. I will tell you, before I go to bed every night, I look at the number of cases of the CDC for that last 24 hours. We have some 70,000 cases a day and still more than 1000 deaths a day and we need to do all we can to get the virus under control. I would be much happier at answering that question if the caseload was below 30,000 or 20,000. We have to get cases down. I am uncomfortable with the 70,000 number and I don't think it's a time for letting up on our preventive measures yet.
I can see the light at the end of the tunnel, and I had not been able to say that before.
On long-haul COVID-19 cases in the U.S. and federal plans to address it
Let me assure you, there is a lot of money being spent to research the long effects of long-haul COVID. It's quite clear that after the virus' attaching, it starts kicking the organ system. That's why the vaccines are so important. It's much better to intervene before those viruses get attached to those receptors than having to deal with it after. There's no doubt that if you have a breakthrough case, the risk of long-haul COVID is lower after vaccination even with a breakthrough, compared to unvaccinated who get COVID.
On the likelihood of annual COVID-19 booster shots and the risks of a new variant and a new surge this winter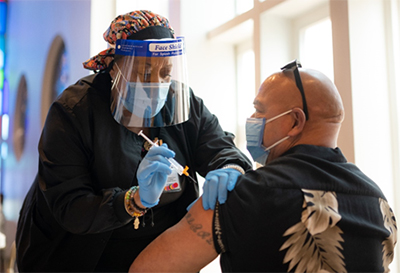 I think the one thing we have to learn the hard way is not to speculate. I think if we all do our part, we can contribute mightily to the surges and variance. No variants have come close to competing with delta. That's good news. Our vaccines continue to be highly protective, and the antiviral also should work across variants. Still, I would be a fool if I didn't worry about the next variant.
I look at that curve every day and every night. It's 72,000, 70,000, 75,000 cases every night, clearly plateauing. The rate of decrease over the last two weeks has certainly dropped. I can't even tell you where we're going to be after Thanksgiving. So, based on the place we're at right now, I don't know, and it's humbling.
On preparing for the next pandemic
The whole world of diagnostics has exploded. There have been many articles written over the last number of years by our colleagues on pandemic preparedness and prototypic pandemic preparedness. No doubt, the mRNA vaccines have demonstrated proof of concept, and clinical trial results have been beyond anything we would think we know. We need now to be preparing the prototypes of both mRNA and other platforms for a whole host group of viral families. We went from genomic identification to enough vaccine for all Americans in about 18 months. I think with planning, we should be able to do that and do some of the phase I, some of the prototypic preparedness, before there's any pandemic. And do some of the phase I work such that if there were another strain or another virus family, we should be able to be ready to have those vaccines, not in just 18 months, but in six months or less.
I think for our young colleagues who have lived through this pandemic, there is a lot of work to be done. There are careers to be made here, and I think our job is to train them and offer them the opportunities because we don't know when the next pandemic will happen. We're going to be dependent on them.
On government strategies and basic research advances that allowed for the development of drugs to treat and prevent COVID-19 quickly
I think when the history books are written, it will tell that what we achieved was not because we are smarter today, but because there are those who came before us who made this investment in biomedical science some 50-75 years ago. The basic science is what drove it. It wasn't because we were smart this time, it was because we made the investment decades ago. No one should forget that.