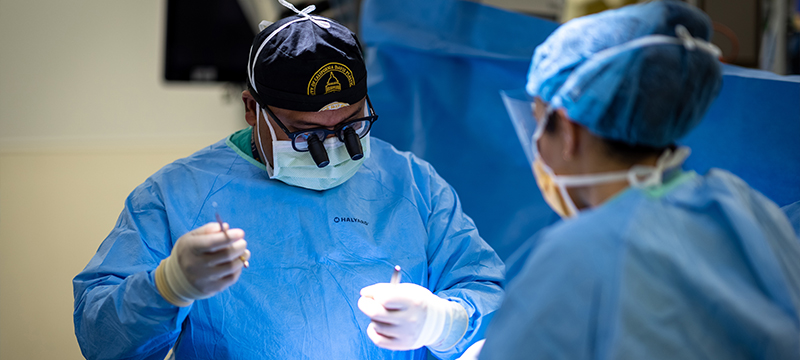 Advanced expertise for common and complex adult and pediatric cases
The Department of Surgery at UC Davis Health offers a suite of outpatient surgery services and excellence in patient-centered care for elective and urgent referrals across inland Northern California
Plastic Surgery Hand and Upper Extremity Services
Our hands and upper extremities (limbs) are important tools that help us interact with the world around us. We use them every day and when they become injured or compromised, it can have a dramatic impact on our daily lives. Our goal is to help restore the hand and upper extremities to the highest level of function possible.
The Division of Plastic and Reconstructive Surgery at UC Davis provides a broad spectrum of treatment and surgery for disorders of the hand and wrist. Our team of plastic and reconstructive surgeons specialize in hand and microvascular surgery and are dedicated to providing comprehensive care for a variety of injuries and pathological disorders affecting hands and upper extremities.
Beginning with your initial consultation, and concluding with your last visit, our multidisciplinary team strives to make your experience a positive one. From the simple soft tissue abnormalities to the most complex reconstruction, our surgeons approach each case individually, with a specialized plan designed to maximize the restoration of both form and function.
Our Services
We offer state-of-the-art diagnostic and treatment expertise for hand, wrist and forearm maladies. These include:
Upper extremity trauma care– Acute management of the mangled upper extremity; fractures/dislocations of the forearm, wrist, and hand; nerve transfers; tendon transfers; brachial plexus reconstruction; revascularization and replantation; free tissue transfer; and tetraplegia management.
Limb-loss and amputee care– Neuroma management, targeted muscle reinnervation (TMR), regenerative peripheral nerve interface (RPNI) construction, and osseointegration (in conjunction with UC Davis Dept. of Orthopedics).

Peripheral nerve decompression- Endoscopic or open carpal tunnel release, cubital tunnel release, Guyon's canal release, peroneal nerve decompression, tarsal tunnel decompression, and treatment of meralgia paresthetica.
Other chronic conditions – Osteoarthritis, rheumatoid arthritis, post-traumatic arthritis, Dupuytren contracture, DeQuervain tenosynovitis, trigger finger, hand and upper extremity masses, wrist and small joint arthroscopy for ligament injuries and other painful conditions of the wrist and hand, microsurgical treatment for scaphoid nonunion, Kienbock's disease and thumb absence (toe-to thumb transfer)
Complete, multidisciplinary care
We collaborate with our colleagues in departments across UC Davis Health – including Physical Medicine and Rehabilitation, Physical and Occupational Therapy, Neurology, Radiology, Rheumatology, Dermatology and with our regional Hanger clinics – to provide the best available care to our referred patients.
Surgical Research
In addition to a world-class patient care, our Plastic and Reconstructive Surgeons are among the leading researchers, teachers, and clinicians in the field of hand surgery. As such our surgeons strive to apply the most current technologies and they are at the forefront of research that creates these advancements. Our Plastic and Reconstruction Surgery Division's clinical and translational research covers a significant range of areas:
Neural tissue engineering
Microfluidic neural modeling systems
Axonal sorting
Multidisciplinary approach to prosthesis embodiment technologies
Large-Data analysis
Trends in opioid prescribing for common hand procedures
Risk factors for revision carpal tunnel release
Optimization of amyloidosis screening by tenosynovial biopsy during carpal tunnel release and trigger release surgery
Clinic hours
Mon. – Fri., 8 a.m. to 5 p.m.
Closed weekends and holidays
Appointments
For appointments, call 916-734-2680.
Please provide 24 hours notice if you need to cancel or reschedule your appointment.