Neuromuscular Research Lab
The UC Davis Department of Physical Medicine and Rehabilitation's Neuromuscular Research Lab was established to conduct clinical trials and research studies targeted at facilitating treatment advancement for those with neuromuscular diseases (NMD). Our research lab focuses on understanding the causes of diseases and their secondary conditions, improving preventative care, and developing therapies using state of the art technologies and innovative approaches to the study of disease. With expertise in the design and evaluation of clinical and patient-reported outcome measures, we work alongside other worldwide leaders in academia to design and conduct clinical trials that test new treatments for people with NMD.
Dr. Craig McDonald on Groundbreaking Stem Cell Treatment for Duchenne Muscular Dystrophy
Our Team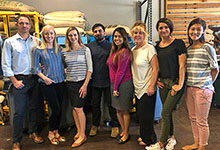 Our team consists of highly dedicated and knowledgeable clinical investigators and research staff that work directly with individuals with neuromuscular diseases to promote a better quality of life. We specialize in patients from a vast array of neuromuscular backgrounds.
In the News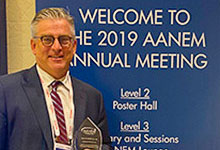 The Neuromuscular Research Lab physicians and staff are renowned for contributions to the muscular dystrophy community across the nation. Check out some of our team members' hard work and dedication featured in the news.
Our Team in the Community
The Research Team is highly involved in the local Sacramento Muscular Dystrophy Community. Our participation allows us to better understand the issues that affect Neuromuscular Disease patients the most. We take great pride in being advocates for our patients as well as connecting families to health education and services they need.