'Mammovan' rolls into Oak Park to bring breast cancer screening to women in community
(SACRAMENTO)
UC Davis Comprehensive Cancer Center is making it easier for women who lack transportation or access to health care to be screened for breast cancer. The cancer center joined with Bayer and WellSpace Health to host an all-day mobile mammography event in the parking lot of the Oak Park Community Center on Sept. 8.
Free mammograms were offered inside a "mammovan" for eligible, uninsured patients through California' Every Woman Counts Program. It provides clinical breast exams, mammograms and gynecologic cancer screenings to California's underserved populations.
To be eligible for the Oak Park event, women had to be 40 years of age or older and without current symptoms. Results from the mammograms will be provided within two weeks. Advance registration was required.
"We want to reduce barriers to mammography by bringing breast cancer screening services to the community," UC Davis Department of Radiology Chair Elizabeth Morris said.
Morris attended the event and spoke about new breast cancer screening guidelines that recommend starting screenings at the age of 40 instead of the previously recommended age of 50. Women with a family history of breast cancer may need to get screened even earlier.
"These new guidelines are especially important for Black women who are more likely to be diagnosed at a younger age and are 40% more likely than white women to die from breast cancer," Morris said. "We want women to be aware of that and to be screened. We've decided if they can't come to us, we'll go to them."
Morris said women also need to be aware that if they have dense breasts they are at higher risk of developing breast cancer. Dense breasts make it harder to spot cancer on a mammogram. In fact, mammograms can miss up to 40 percent of cancers in women with dense breasts.
"Not only should women with dense breasts receive mammograms annually, but they should also talk to their doctor about supplemental screenings such as ultrasound, contrast-enhance mammography or breast MRI," Morris said.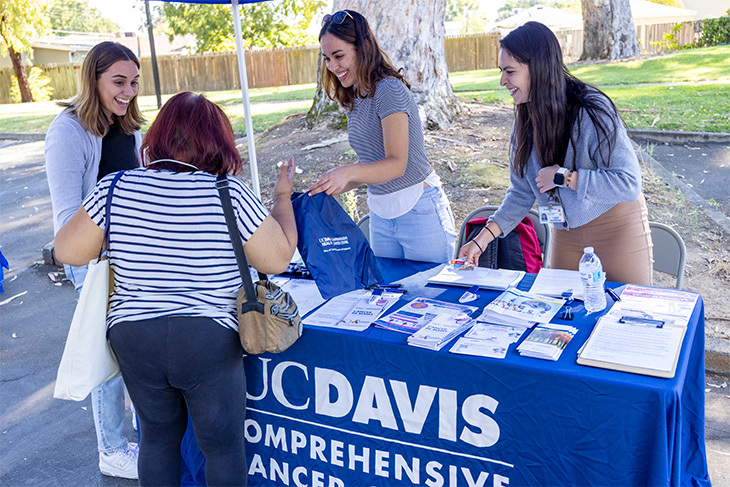 The cancer center provided $10 gas cards to participants at the event who agreed to take part in a UC Davis Comprehensive Cancer Center research study about their health and access to health care. The research results will help the cancer center's Office of Community Outreach and Engagement determine how to best meet the needs of underserved communities.
Even though breast cancer is highly treatable, the American Cancer Society estimates more than 32,000 California women will be diagnosed this year with breast cancer and nearly 5,000 will die from the disease.
"At UC Davis Health we are committed to making sure we understand the barriers women face so that we can ensure every woman, no matter her ZIP code, gets screened for breast cancer," Morris said.
UC Davis Comprehensive Cancer Center
UC Davis Comprehensive Cancer Center is the only National Cancer Institute-designated center serving the Central Valley and inland Northern California, a region of more than 6 million people. Its specialists provide compassionate, comprehensive care for more than 100,000 adults and children every year and access to more than 200 active clinical trials at any given time. Its innovative research program engages more than 240 scientists at UC Davis who work collaboratively to advance discovery of new tools to diagnose and treat cancer. Patients have access to leading-edge care, including immunotherapy and other targeted treatments. Its Office of Community Outreach and Engagement addresses disparities in cancer outcomes across diverse populations, and the cancer center provides comprehensive education and workforce development programs for the next generation of clinicians and scientists. For more information, visit cancer.ucdavis.edu.