Emergency Medical Services
The UC Davis Health EMS fellowship takes full advantage of opportunities within the Sacramento region of Northern California. UC Davis Medical Center, the only level 1 adult and pediatric trauma center serving Northern California, is a busy regional EMS center as base hospital, regional disaster control facility, poison control center, and 2 active helipads.
The EMS fellowship offers broad experience
Longitudinal experience in direct patient care, quality improvement review, and training with Sacramento Metro Fire District. The fellow is exposed to Swiftwater rescue, confined space rescue, Hazmat experience as well as acting as prehospital provider on 911 calls.
Direct patient care with AMR in Yolo County. This is a unique experience as the field experience works in concert with the Yolo EMS agency in policy development and oversight.
Direct patient care and training with REACH air medical services.
Fellow is an integral part of the UCDH medical center EMS team providing quality improvement oversight and review.
Fellowship supports trainings in specialty areas such as wilderness medicine, global health and EMS, tactical medicine, and austere medicine.
The fellow also can work with the California EMSA at the capitol gaining experience in larger EMS planning and operations within California.
Curriculum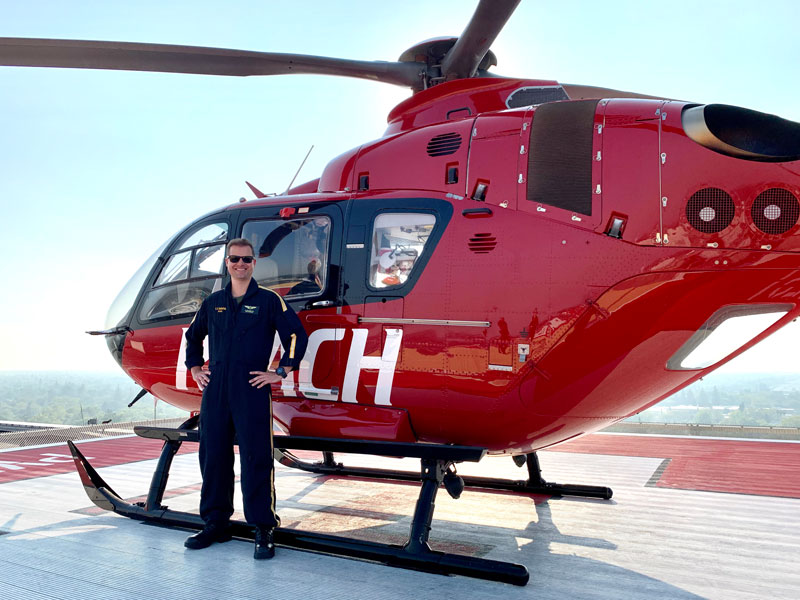 UC Davis Health Medical Center
Sacramento Metropolitan Fire District
American Medical Response, Yolo County
REACH Air Medical
Yolo EMS Agency
Pediatric EMS
Mass Gathering Event
Disaster preparedness training
Wilderness and swift water rescue
Tactical medicine
Austere medicine
---
Current and previous fellows
Mathew Maynard, M.D. USAF-MC
Dylan Ely, M.D.
How to apply and deadline
Fellowship participates in the EMS NRMP.
Candidate requirements and eligibility
Candidates must have completed an Emergency Medicine Residency and be licensed in California.