About Women in Medicine and Health Sciences
Our Priority Areas


---
To become an AAMC leader in the recruitment and retention of women faculty, especially for those at the ranks of Associate and Full Professor.
---
To identify vulnerable groups of women for departure, increase access to mentors and provide guidance on the advancement process.
---
To enhance and improve the current culture and promote women's careers in medicine and health sciences.
---
To develop navigation roadmaps to leadership excellence for women.
---
To provide advocacy and seek opportunities for scholarly contributions and other collaborative work.
Annual WIMHS Events and Networking Opportunities
The Women in Medicine and Health Sciences speaker series and fall faculty welcome reception focus on enhancing the institutional climate for inclusion.
---
WIMHS Speaker Series
Each year we host several guest speakers that are inspiring women leaders from across the country. They provide inspiring talks and meet with individuals and groups of women faculty to discuss a variety of engaging topics.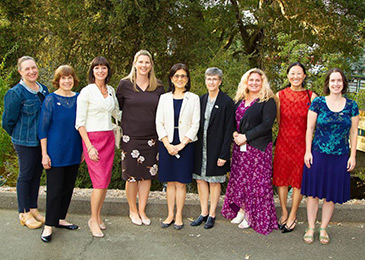 Fall Faculty Welcome Reception
Each year we host a reception to welcome our new women faculty. This event is attended by members of WIMHS and UC Davis Health leadership.
At this social networking event, each new woman faculty is introduced and is given an opportunity to meet other women faculty and health system leadership in a relaxed setting.
Need a co-sponsor for an event or faculty training opportunity?
WIMHS welcomes opportunities to co-sponsor events, training, speaking engagements and other faculty development efforts for women faculty. If you or your department have an event, speaking topic idea, or training opportunity and are interested in co-sponsoring with WIMHS, get in touch with us.