Advancing health equity in breast cancer care
2 research grants from Gilead Sciences will help cancer center close care gap for breast cancer patients
(SACRAMENTO)
Breast cancer rates in Latinas are lower overall than in non-Hispanic white women, but Latinas are often diagnosed at later stages and are about 30% more likely to die from the disease. Latinas also are less likely to seek genetic counseling for breast cancer as compared to non-Hispanic white women, and their rate of mammography screening is far lower.
That could all change thanks to two $750,000 grants awarded to UC Davis Comprehensive Cancer Center researchers by biopharmaceutical company Gilead Sciences. The researchers are using the funding to launch programs aimed at improving breast cancer health equity.
Grant awarded to the Women's Cancer Care and Research program (WeCARE)
"We need to close the gap in breast cancer care," said Laura Fejerman, associate director of the cancer center's Office of Community Outreach and Engagement (COE).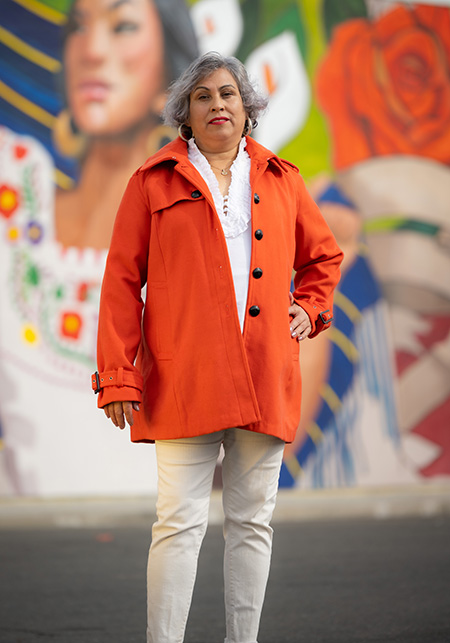 Fejerman also co-leads the cancer center's Women's Cancer Care and Research program (WeCARE), which received one of the $750,000 grants from Gilead Sciences.
Fejerman and her team will use the grant to partner with The Latino Cancer Institute and its founder Ysabel Duron to launch a new breast cancer outreach program. They'll do so at two Federally Qualified Health Centers (FQHC) in California: WellSpace in Sacramento and San Ysidro Health in San Diego.
Duron has been working for many years to effect policy changes around barriers to cancer prevention and care in Latinas. She is co-investigator of the grant program along with Fejerman and Julie Dang, COE executive director. Alyssa Reed will serve as the UC Davis program manager.
"Low-income Latinas are getting left behind because they are not aware of the role genes play in breast cancer," Fejerman said. "The answer is to integrate health educators, who speak Spanish and are community members, to educate Latinas and help them navigate breast cancer screening and care, if cancer is diagnosed."
These lay health workers, empowered and trusted to connect community members with information and resources, are called promotores de salud. They are part of the cancer center's new program called Tu Historia Cuenta (your story matters). The new funding from Gilead will expand the program by hiring promotoras as staff at the FQHC nonprofit clinics that care for medically underserved patients.
"What's exciting is that this community-clinic-academic partnership will lay the groundwork for a model to scale up across the state," Fejerman said.
The goal is to increase the number of Spanish-speaking patients screened for breast cancer, ultimately reducing the rate of advanced diagnoses among Latinas and improving survival.
Grant awarded to the Center for Advancing Cancer Health Equity
The second Gilead Sciences grant will be one of the first administered by the Center for Advancing Cancer Health Equity (CACHE). The center was established in the spring of 2022 to achieve cancer health equity for all regardless of race, ethnicity or socioeconomic background.
CACHE will use its $750,000 to lead a new project to train bilingual and bicultural promotores from underserved and marginalized Latino communities through what it's calling the "embajadoras project." Promotores trained through the pilot program will become Spanish-speaking health outreach ambassadors in the 19 counties that the cancer center serves, enabling community members to better access cancer education, prevention and care.
"The COVID-19 pandemic uncovered the effects of multiple structural barriers and inequities to delivering health care in Latino communities. An important lesson has been that trusted community health workers have the language, knowledge and trust of their communities," said Luis Carvajal-Carmona, associate vice chancellor for the UC Davis Office of Academic Diversity and chief diversity officer and associate director for the Inclusivity, Diversity, Equity and Accessibility (IDEAL) office at UC Davis Comprehensive Cancer Center. He is also the founding director of the cancer center's Center for Advancing Cancer Health Equity (CACHE).
The embajadoras project is a partnership between CACHE and the Health Education Council (HEC), a Sacramento non-profit organization that works to improve health outcomes in underserved neighborhoods.
With the cancer center's support, the project will develop its first accredited bilingual and bicultural promotores curriculum. The course will bridge an important educational gap and will encompass job skills training. HEC will further train promotores who have completed their accredited promotores training.
Working with CACHE, HEC will supply infrastructure, knowledge, and logistical support for the embajadoras project, training promotores so they can develop support systems for Latinas living with breast cancer in their communities.
Existing HEC health outreach programs Ventanilla de Salud, Mente Sana, Vida Sana and Peers helping Peers will also be leveraged by the embajadoras project. Together, they'll serve as an outreach hub to help Latinas navigate and overcome the challenges of living with breast cancer.