Cancer center clinical trial gives lung cancer patients hope
100th dose and seven years later, Sacramento man is still going strong
(SACRAMENTO)
In 2011, Ben Xiang received the news no patient wants to hear. Not only did he have cancer, but he had lung cancer, the deadliest of cancers — and it was late stage. Xiang was diagnosed with non-small cell lung cancer, which had a five-year survival rate of only 9% at that time. He underwent surgery, chemotherapy and radiation. By 2017, his local oncologist told him that nothing more could be done. He had exhausted all treatment options unless he would like to try a clinical trial at UC Davis Comprehensive Cancer Center.
Fast forward to the future
Seven years later, Xiang just celebrated his 100th dose as part of that clinical trial, which is led by the cancer center's director of thoracic oncology Jonathan W. Riess. The smile on 69-year-old Xiang's face told it all. The cancer center clinical trial infusion room medical staff marked the big day with a celebration that included Riess fastening a "100th" pin on Xiang's shirt.
Xiang spoke through his daughter who translated his excitement about reaching the important milestone.
"We cannot express how grateful we are to the cancer center here at UC Davis," said Xiang's daughter Helen Xiang. "My dad knew he would get the newest options here and he would also become part of the research effort to find a breakthrough for his type of lung cancer. He was glad to have the opportunity to be a part of helping others with the same disease."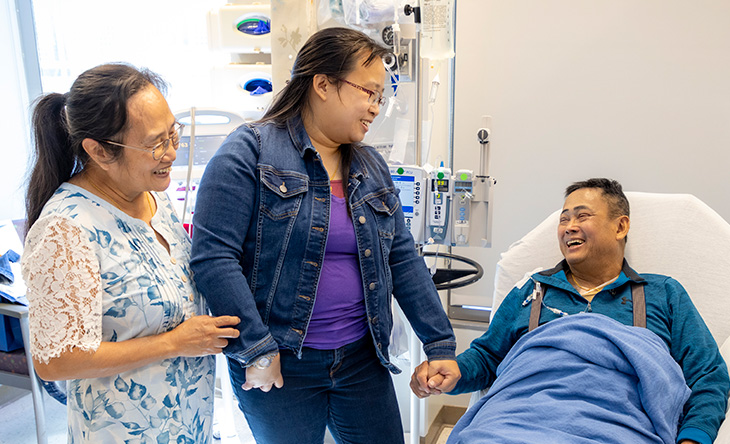 National clinical trial that started at UC Davis Comprehensive Cancer Center
The phase one clinical trial is sponsored by the National Cancer Institute to test treatment-resistant non-small cell lung cancer. About 80-85% of lung cancers are non-small cell, according to the American Cancer Society. The national trial, which started at UC Davis Comprehensive Cancer Center, focuses on a type of lung cancer that harbors a gene mutation of the epidermal growth factor receptor (EGFR), which is a protein that attaches to cells and makes them grow. The mutation can make cells grow too much, causing cancer. These mutations occur in about 10-15% of lung cancers.
Carcinogens in pollution may trigger gene mutation
Patients with EGFR-positive lung cancer tend to have minimal smoking history, but recent research indicates that environmental air pollution may play a factor. People with Eastern Asian ethnicity are also considered 30% more likely to carry the EGFR gene mutation.
Xiang immigrated with his wife, Nancy, to the United States in 1992, becoming a chef in some of Sacramento's favorite Chinese restaurants at the time. Previously, in China, he operated the engine of a diesel-powered passenger ferry that crossed the Pearl River in the province of Guangzhou in southern China. In addition to breathing the constant fumes from the large diesel engine, the ferry passed a large coal-burning power plant on its daily route.
Ironically, his daughter Helen now works at the California Air Resources Board regulating diesel generators in the state.
"The connection between cancer and my work regulating air emissions is uncanny given the health challenges my dad has faced that may be a result of the extensive pollution he experienced earlier in his career," Helen said.
How the therapy works
The clinical trial pairs cancer-fighting drugs Necitumumab with Osimertinib to overcome resistance to existing targeted treatments in EGFR-positive lung cancer patients. Known as "precision oncology," the researchers in the early phase clinical trial use molecular profiling of tumors to identify targetable changes. In other words, it's the science of using a person's genetics to customize a treatment for their particular cancer.
Xiang was one of the first patients to enroll in the phase one clinical trial, which requires infusion of the drug combination about three times a month. He usually comes with his wife and daughter.
High-level clinical trial homegrown at UC Davis
Riess created the trial shortly after joining UC Davis Comprehensive Cancer Center in 2013. He worked for several years to determine this combination of drugs to circumvent the way EGFR-positive lung cancer resisted conventional treatment.
Riess' clinical interests include lung cancer and other thoracic cancers, where he pursues novel diagnostics, targeted therapies and immunotherapy.
"It is a privilege to take care of Mr. Xiang," Riess said. "He has an endearing spirit and a joy for life that is wonderful to witness. His commitment to the clinical trial has enabled him to spend quality time with his family despite a cancer that metastasized many years ago."
Riess is the physician lead for the cancer center's new lung cancer integrated service line. The goal is to proactively reach people at risk of lung cancer, get them access to screening and, if cancer is found, provide them the advanced treatments they need to improve their chances of a normal life.
"Clinical trials are an important component of our new lung cancer program at the cancer center and are critical to improving outcomes for our lung cancer patients," Riess said. "These early phase clinical trials, such as the one Mr. Xiang is benefiting from, are absolutely critical to the success of our program."
UC Davis Comprehensive Cancer Center
UC Davis Comprehensive Cancer Center is the only National Cancer Institute-designated center serving the Central Valley and inland Northern California, a region of more than 6 million people. Its specialists provide compassionate, comprehensive care for more than 100,000 adults and children every year and access to more than 200 active clinical trials at any given time. Its innovative research program engages more than 240 scientists at UC Davis who work collaboratively to advance discovery of new tools to diagnose and treat cancer. Patients have access to leading-edge care, including immunotherapy and other targeted treatments. Its Office of Community Outreach and Engagement addresses disparities in cancer outcomes across diverse populations, and the cancer center provides comprehensive education and workforce development programs for the next generation of clinicians and scientists. For more information, visit cancer.ucdavis.edu.